Source: AP/Press Association Images
ATTENTION, SINGLE PEOPLE.
Do you dabble in online dating? Have a bio written about your love of GAA and horse-riding? You may want to read on.
EliteSingleshas surveyed 60,000 Irish users in order to ascertain what hobbies and pastimes Irish people find sexy… and what pastimes they find decidedly unsexy.
The five hobbies that women found sexiest in a male partner were…
Travel

Cinema

Fine Dining

Health & Fitness

Music
And as for the hobbies that women found least appealing?
It seems sport isn't top of their priority list with the top 5 least sexiest hobbies comprised entirely of different sports, including Gaelic football.
Racket sports

Equestrian sports

Winter sports

Water sports

Gaelic football & soccer
Main conclusion: hurling can still technically be described as 'sexy'.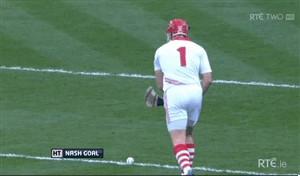 As for Irish lads?
Men and women seem to agree on what they find attractive in a partner and there's almost 100% overlap between what both sexes deem sexy.
Here are the most attractive hobbies, according to men:
Travel

Cinema

Health & Fitness

Fine Dining

Music
Source: Tumblr
And what turns men off?
Showjumping and plays, apparently.
Equestrian

Racket sports

Water sports

Art

Theatre
So, what can we learn from all this?
Do use a photo from your travels in Thailand as your profiler.

Don't mention your excitement for Wimbledon on the first date.
Do suggest going to see Jurassic World in the cinema.
Don't brag about how many lengths you swim in the pool.
Do mention in passing that you go to the gym. (But seriously, don't mention water sports, everyone hates them apparently.)