JOHNNY DEPP'S NEW film, Mortdecai, has left a lot of people scratching their heads.
A lot has been said about the marketing, which seems to assume you know anything about Mortdecai at all.
Source: Charlie Mortdecai/Twitter
"Johnny Depp is Mortdecai." Great?
Then there was that dodgy promoted tweet, which featured a picture of Depp grabbing his co-star Olivia Munn's boob: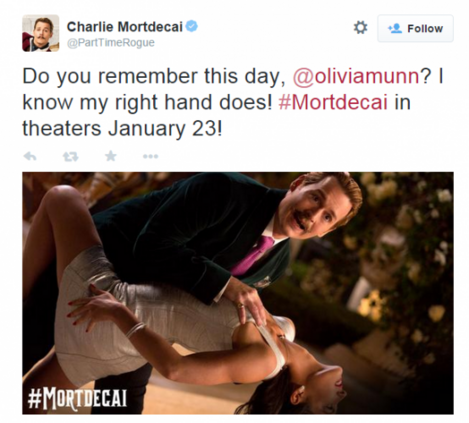 In fact, very little is known about Mortdecai, other than it is based on a series of cult 1970s graphic novels about a mustachioed art dealer – this is all the Wikipedia page provides in terms of plot:
Juggling some angry Russians, the British MI5, his leggy wife and an international terrorist, debonair art dealer and part time lover Charlie Mortdecai must traverse the globe, armed only with his good looks and "special charm" in a race to recover a stolen painting containing the code to a lost bank account.
Riiiight.
Basically, everyone is wondering just what has happened to the once-reliable Johnny Depp.
Source: Matt Graupman/Twitter
Source: Adam Richter/Twitter
Source: Ron Arsenault/Twitter
Many people are taking it as a sign that he has completed his transformation into Mike Myers:
Source: ben acker/Twitter
Source: Spencer Somers/Twitter
Others are demanding a ban on Depp taking any more roles that could be classified as 'quirky':
Source: Julie Van Huizen/Twitter
Source: MacBearPig/Twitter
Source: Hello Tailor/Twitter
Source: Danforth France/Twitter
And some just feel sorry for him:
Source: KCKINGTON SPICEMEYER/Twitter
Source: Mara Wilson/Twitter
Oh, Johnny, there's still time. Turn away from Tim Burton, the 'quirky' roles and the moustache and come back to us. We'll be waiting.