DailyEdge.ie rounds up the TV shows that you'll be tweeting about tonight and talking about tomorrow.
The Rose of Tralee International Festival 2018 (RTÉ One, 8pm)
It's not too late to catch up on the events from last night on RTÉ Player. The Westmeath Rose squatted with Dáithí on her back and the New York Rose took Dáithí's blood pressure. Plenty of strange happenings last night, and many more guaranteed tonight as Dáithí presents live coverage of the competition.
Manhunting with My Mum (Channel 4, 10pm)
TV presenter AJ Odudu has been killing it on social media, but not in her romantic life. As a last resort, she recruits her mother Florence to help her find love. The pair of them head on a road-trip around Florence's native Nigeria in the hopes of finding AJ's perfect husband. This one-off hour-long episode documents their best efforts, which find AJ paired up with a variety of men, from princes to professional Scrabble players.
Gordon Ramsay on Cocaine (3, 9pm)
Two-part documentary in which Gordon Ramsay explores the criminal business behind the global cocaine trade. He looks at the popularity of the drug in the UK, a country which consumes 30 tonnes of the drug each year, and how common cocaine use is in the restaurant business. Gordon visits the jungles of Colombia to meet farmers who risk everything to produce the drug, and witnesses the illegal cooking process by which the coca plant is transformed into cocaine.

Everybody's talking about… The MTV Video Music Awards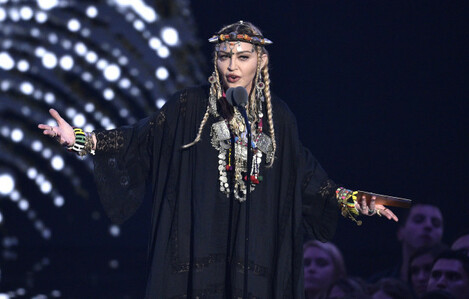 Source: Chris Pizzello
Madonna was supposed to pay tribute to Aretha Franklin, but spent a considerable amount of her performance celebrating herself. Twitter wasn't impressed at all, with people saying that the 60-year-old pop-star was "beyond disrespectful". Here's all of the other highlights from the award show.

Or flick over for…
Live UEFA Champions League: Benfica v PAOK Salonika (RTÉ 2, 7.30pm) Kicks off at 8pm, with coverage from Darragh Maloney and commentary by George Hamilton.
Ackley Bridge (Channel 4, 9pm) Jordan's desperate to pass his GCSEs, but fears he hasn't studied enough. Mandy is offered a lifeline for the school that forces her to risk her role as head teacher.
The Good Fight (RTÉ 2, 10.10pm) The US legal drama continues.
No Tears (TG4, 10.30pm) Drama based around the real-life hepatitis C scandal in the 1990s in Ireland.
The Truth About Healthy Eating (BBC One, 10.45pm) Fiona Phillips teams up with leading scientists to look at how to eat and drink healthily.
I'm 16 but Look 60 (3e, 10pm) 15-year-old Zara's rare condition Lipodystrophy is robbing her of her childhood, so she's seeking cosmetic surgery to help her lead a more normal life.
DailyEdge is on Instagram!