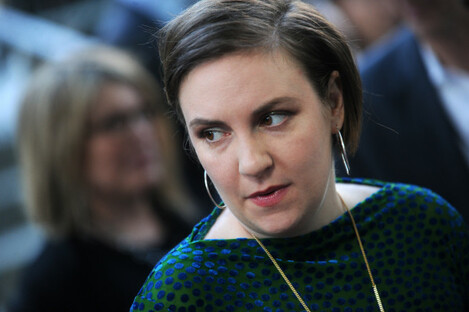 Source: Van Tine Dennis/ABACA
YESTERDAY MORNING, VARIETY broke a story about Lena Dunham's next writing gig. 
After shutting down her online newsletter earlier this month, Lena Dunham's moving onto bigger and seemingly better things, like writing a movie for Steven Spielberg. And it's not just any movie. It's a movie about a Syrian refugee, who found themselves stranded at sea for days.
The movie is an adaptation of Melissa Fleming's 'A Hope More Powerful Than the Sea: One Refugee's Incredible Story of Love, Loss and Survival'. Melissa Fleming is currently the chief spokeswoman for the United Nations High Commissioner and Flatiron Books. Fleming wrote the book to document the story of a mother named Doaa Al Zamel, who fled Egypt with her two children, hoping to make it to Sweden by boat. 
When the boat was capsized, Al Zamel was left with only an inflatable water ring to keep her afloat in open water as she held her two children in each arm. 
On Monday afternoon, Lena Dunham announced the news proudly on Twitter.
Had it been any other writer in Hollywood, the news that a white, American man or woman had written this movie would have been disappointing, but it most likely would have slipped under the radar. Steven Spielberg and co-producer J.J. Abrams could have picked literally ANY other writer for this project and avoided controversy. 
Lena Dunham has an extensive history of being publicly tactless, which most people are aware of. Because of this, people will be examining this production under the microscope in search of inaccuracies and fault. For that reason alone, it's a completely baffling decision on the part of Abrams and Spielberg.
Hiring one of Hollywood's most obnoxious voices to write a film that will generate profit from stark tragedy isn't a great look. 
Yet, the glaring issue here is that Lena Dunham has absolutely no authority on the topic of Syria and asylum seeking. 
Commentators on Twitter really didn't hold back. One Twitter user wrote: 
You are an unprincipled fraud whose performative social justice is almost as much a joke as your career. 
One British-Lebanese writer named Nasri Atallah asked Lena to ensure that she involves as many Syrians and refugees in the making of this movie as possible. He wrote, "You have a huge platform to get stories out, but I think it would be a sign of good faith to include the people whose stories you are telling." However, others believe that this would not be going far enough. 
Another person suggested that Dunham should step aside and make room for a refugee, or at the very least, a Syrian, who would be more qualified to write the story given their lived experience of the country's conflict. "There are many talented Syrian actors, writers, producers and directors out there, you know." 
American journalist Daniel Medina summed it up by saying, "Lena Dunham constantly talks about representation as crucial to enrich storytelling. Yet, in practice, she has shown a disregard for actually elevating those voices. Now, she's been signed on to write a Syrian refugee's story?
Hollywood, was no female Arab writer available? For one, I can think of a number of female reporters who've, you know, actually been on the ground covering the Syrian war and risked their lives for little pay to bring stories like this to readers and viewers. Surely they would bring more nuance and perspective? 
Never mind the fact that Lena Dunham mocked muslim women on Twitter back in 2012. 
Dunham uploaded a photograph of herself wrapped up in a blanket and joked, "I had a real goth/fundamentalist attitude when I woke up from my nap." Firstly, calling her blanket a hijab is pretty stupid, but associating hijabs with fundamentalism is just downright offensive. Dunham apologised for the post, after people pointed out it was made on the same day of a mass shooting at a Sikh temple in Wisconsin. 
Been in production and completely not reading the news. Didn't realise what a bad time it was to make a joke like that. Not a good excuse guys, but an excuse nonetheless. I'm glad you keep me informed and I'm deleting those tweets. Will spend tonight reading my pile of old NY Times, contemplating the boundaries of humour. I try and learn something new every day. 
So yeah, Lena's not really a great candidate for the job, but as we mentioned earlier, if any other white writer in Hollywood (who had absolutely no prior interest in Syria or the refugee crisis) had been chosen to take on this job, the announcement of the project would have been met with much less criticism (if any at all). That in itself is pretty grim.
DailyEdge is on Instagram!