A 21-YEAR-old woman is going viral after posting her first ever bikini photo.
In a post submitted to the Facebook page Love What Matters, Lesley Miller outlined her experience of losing weight and learning to not hide her body anymore.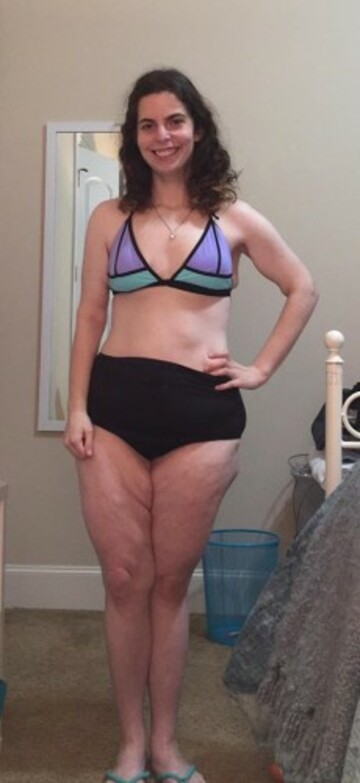 Source: Love What Matters/Facebook
"I've spent the past 18 years of my life waiting," she wrote. "I kept my body covered up and hidden away. I told myself that one day I would finally let myself be seen; I would finally do all of the things I dreamed of when I was enough."
Thin enough, happy enough, confident enough. When my body looked the way that it was "supposed" to.
She wrote that she was teased by classmates at the age of three for being larger than them. At the age of seven, she sneaked into Weight Watchers meetings and by age nine, she was going to weight loss camp.
Her journey continued until she was 20 and lost half her body weight in just nine months. To celebrate, she bought her first ever bikini.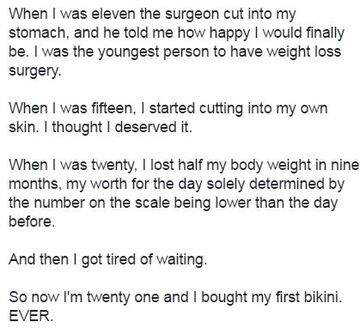 Source: Love What Matters/Facebook
She went on to write that she now feels she is "enough" and is no longer content to hide her body.
You can see it all. Weird bulges and rolls of fat. Hanging excess skin. Stretch marks, cellulite, surgical and self harm scars. Awkward protrusion on my abdomen from my lap band. I want to learn to love all of myself, not just the parts I've been told are "acceptable." Because the secret is, I was always enough. And you are too.
The post has received over 31,000 likes on Facebook since it was shared last week with the message of self-love resonating with many.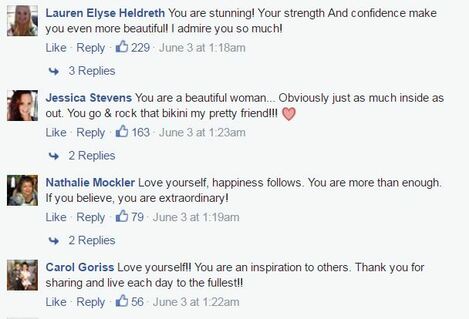 Source: Love What Matters/Facebook
<3
DailyEdge is on Snapchat! Tap the button below to add!