1. When Elle claimed to be releasing a new magazine devoted to avocados
This screams, "We forgot it was April Fool's and had to come up with something quick."
2. When Professor Green claimed to be partnering up with PG Tips
His face says it all, really.
3. When Senator Rand Paul teased the world with details regarding a political endorsement…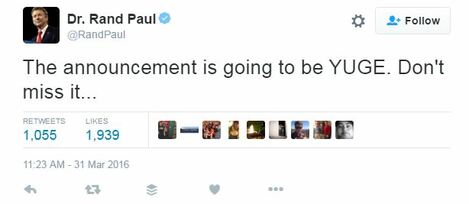 Source: amy
And then revealed that he was endorsing… April Fool's Day.
Oh, you're a gas man, Rand. A real ticket.
4. When The Daily Mail wrote that Olivia Coleman was going to be the next Bond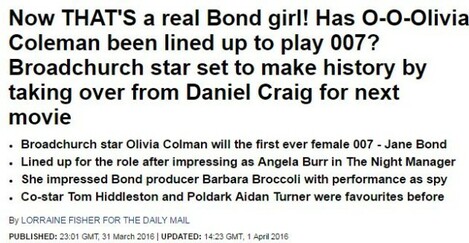 Source: Daily Mail
Hmm, but that would actually be good, though?
5. When Morning Ireland duped the world into thinking Marty Morrissey was getting an honorary knighthood
Nice try, guys.
6. When McDonald's couldn't really be arsed and were like, "Will we just stick 'Mc' in front of the word moon?"
"Sounds good to me, Jim."
7. When Citroen made an exceedingly dull video promoting the world's first retractable roof at Emirates Stadium…
And then revealed it was all a big gag!
Damn it. Now we have to text everyone to tell them Emirates Stadium isn't getting a C1 Airscape Roof after all.
8. When Churchill announced they were releasing a fragrance and 'smell insurance'
Okay, we *may* have chuckled at this one.
9. When Gwen Stefani went down the old "I'm pregnant!" route
Ah Gwen, that's the oldest trick in the book.
10. Come on, Richard Branson. Nobody has time for this elaborate prank.
It has come to my attention that a video has been circulating on the internet that appears to show yours truly helping to dig up what could potentially be a treasure chest.
OH MY GOD, NOBODY CARES. 
11. Elmo, what are you on about, mate?
12. Lads, no.
THE CRY LAUGHING EMOJI ISN'T ENDEARING YOU TO ANYONE.
Source: amy
13. Don't even joke about that, Pringles
14. Guys, this looks like the bottle of Coke has worms in it.
If you're pranking us, at least make it look appetising.
15. As for you, Snickers? You have a lot of nerve hopping on the #AprilFools hashtag when you haven't even been arsed to come up with a prank
At least Pringles and Coke tried.
*spits on the ground*