1. This is on offer for €950 in Harold's Cross.
At first glance it looks like a nice, large children's bedroom.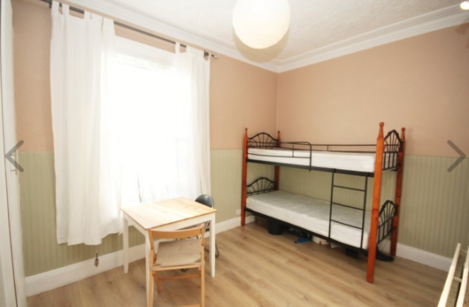 Source: Daft
Unfortunately, when you look around the room, you discover that it is not, in fact, a children's bedroom, but a bedroom, dining room and kitchen all in one.
Source: Daft
Just short of €1,000 per month, and this room doesn't even have a sofa. There are prison cells out there that are better furnished than this. The good news is that  "The bedroom currently has bunk beds but a double bed can be provided by landlord if required by the new tenant." So, if you can afford to pay the full €950 per month by yourself, you won't have to sleep in bunk-beds anymore. 
2. Alternatively, for €1,000 per month, you could have this setup in Knocklyon. 
That's all anyone wants, isn't it? A fridge-freezer beside their bed? 
Source: Daft
For some reason, there's also a very long bench in this studio apartment. Maybe if the bench wasn't there, they wouldn't be struggling to find somewhere to leave the fridge.
Source: Daft
And of course, no miserable property would be complete without those squiggly mirrors from IKEA that are often a very desperate attempt to make it look like som kind of effort has been made. The three mirrors aren't even the same. The middle one is less squiggly than the ones on the left or right.
Imagine moving in here and having to come to terms with that every day, while sitting there eating your breakfast at a dining table that looks like someone chose the cheapest options on The Sims 2.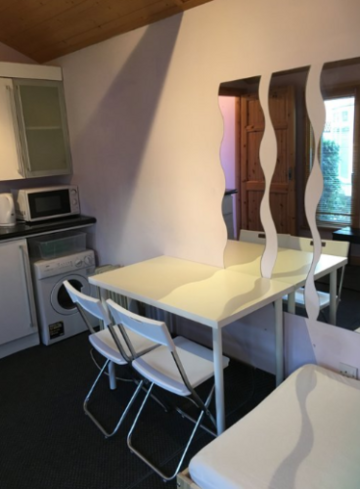 Source: Daft
3. This is currently €936 per month in Rathmines.
Sometimes you can smell a photograph.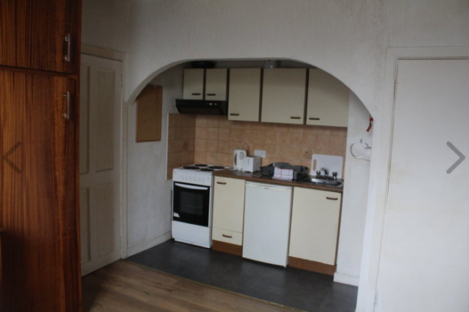 Source: Daft
There aren't any pics of the bed, but we assume it's to the right of the sofa somewhere. Note the bare lightbulb there – a true sign that no expense has been spared, huh?
Source: Daft
4. Here's what €900 per month will get you in Phibsborough. 
The height of the ceiling in this room makes this bed look way smaller than it actually is (or at least, we hope that's what's going on here). 
Source: Daft
Over on the other side of the room, we've got the kitchen. This look less like a kitchen you'd actually see in a real human being's home, and more like a kitchen you'd see in a youth club that hasn't received any major funding since Samantha Mumba's music was in the charts.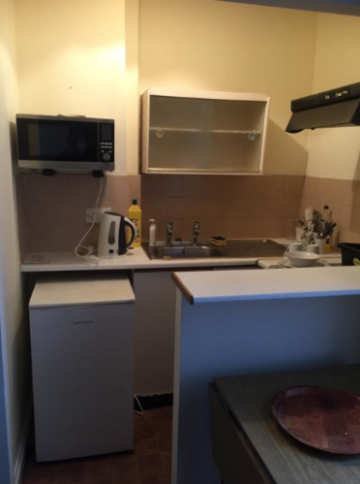 Source: Daft
For some reason, in the photo of the bathroom, we can see that the toilet brush and the bleach are being stored in the shower. Gross. Is this just the landlord's way of being like, "Hey, we'll even include some bleach and a toilet brush in the price."?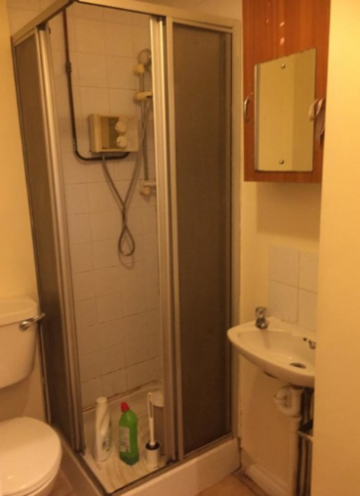 Source: Daft
5. In Beaumont, somebody sawed the legs off of a bad to fit it into this studio apartment and rent it out for €1,000 per month.
You've got to give them credit.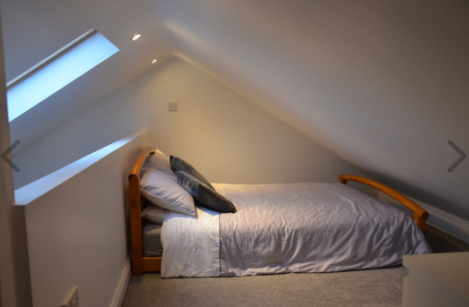 Source: Daft
The property description also adds that this rent goes up if you plan on sharing a room with anybody. 
Source: Daft
6. Those bunk-beds make an appearance in another Harold's Cross property, only this time for €1,200. 
Nothing suspicious about seeing the same bunk-beds in another studio apartment in the same area of Harold's Cross at all. This time they cost €200 more per month, as they are in a separate room to the kitchen.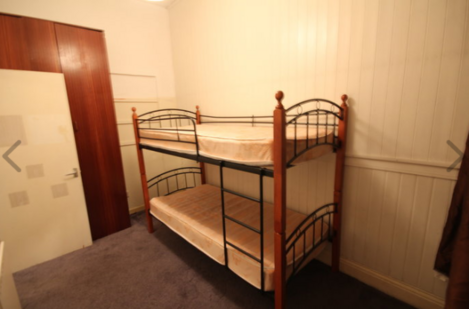 Source: Daft
Once again, the advertisement features the same line about the bunk-beds. 
Source: Daft
Although this apartment is a bit pricier than the first one, it's got a significantly less attractive kitchen.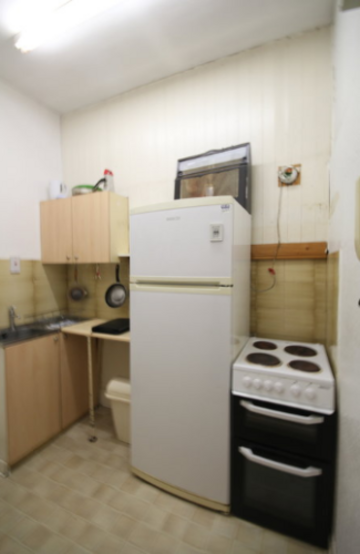 Source: Daft
The sitting room doesn't look too endearing either.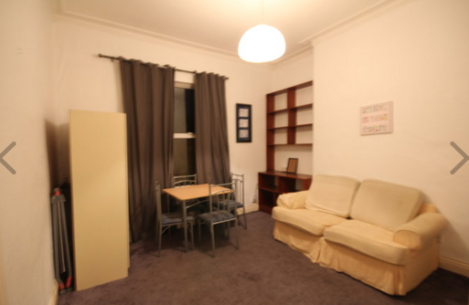 Source: Daft
7. Park West wins the prize for absolute worst property of the month, with this studio apartment going for €1,290. 
This price is reduced from €1,739, BTW.
Source: Daft
It starts off pretty harmless, looks like any regular apartment's kitchen in the first photo.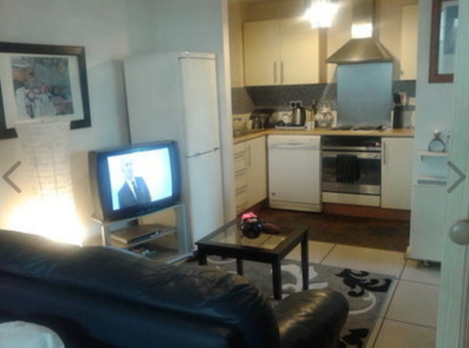 Source: Daft
Then, beyond the living room is not one, but TWO sets of bunk-beds.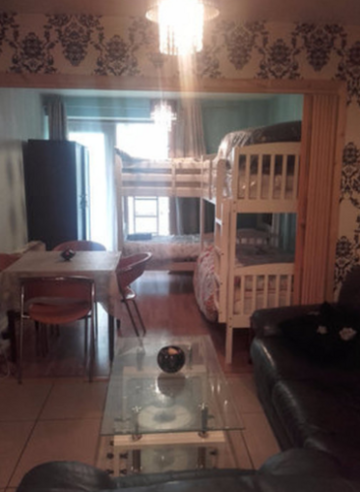 Source: Daft
There are no words. Apart from one: greed. For once, we really do not know what to say here, apart from pointing out that this looks like a landlord's attempt at their very own Stanford Prison Experiment.
Have a look at the property description, which is beyond grim: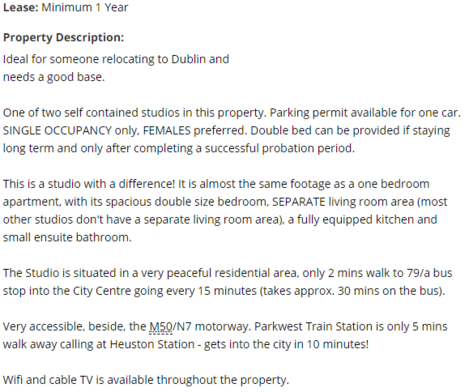 Source: Daft
"This is a studio with a difference!" That difference being that you're getting the full tenement experience, perhaps? The minimum lease is a YEAR.
And this is one of two properties on offer, presumably with a similar setup in the second. 
8. In Drumcondra, this €1,300 studio apartment is proof that you should always have low expectations when you're buying things online. 
The first photo really sells a dream. You, yes YOU, could be living in Drumcondra, a convenient location within walking distance of Dublin City Centre, with nice IKEA furniture, plants and a pricey Microsoft surface tablet in front of a huge window. Yes, that window might be looking out into a car-park, but young people nowadays aren't asking for too much.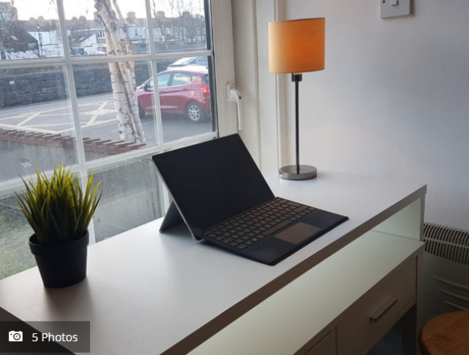 Source: Daft
It looks promising enough, until you click into the rest of the photos and find out that you have been catfished by a studio apartment.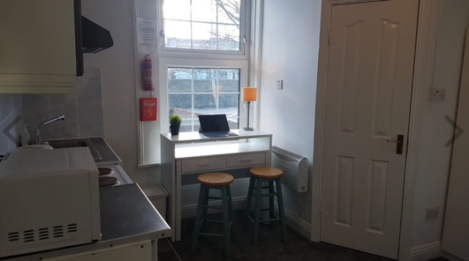 Source: Daft
From every other angle, this is exactly the same as every other below average studio apartment on the market for €1,300 per month. 
Source: Daft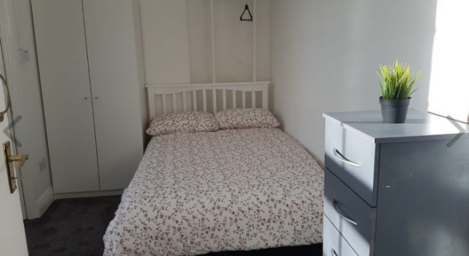 Source: Daft
In the property description, this is described as an "open-plan sitting and dining area". That's like calling the inside of your wardrobe open-plan. It also claims that Drumcondra is 'right in the city centre', which is fairly dishonest, especially for people outside of Ireland who are looking at the property. Drumcondra is hardly in the middle of O'Connell Street. Although, you'd have to wonder why anyone abroad wouldn't turn and run a mile when they saw these exorbitantly priced properties that offer so little. 
DailyEdge is on Instagram!