THEY CAME UNDER fire for selling Diet Coke to women with images of half-naked men but Coca Cola's latest marketing campaign is attracting even more attention.
A series of ads for the mineral – created by Manhattan-based advertising agency Droga5 – have popped up around New York city and seem to suggest that "You're on Coke" is the company's latest campaign slogan.
New Yorkers like famed American sports writer David Roth are very amused.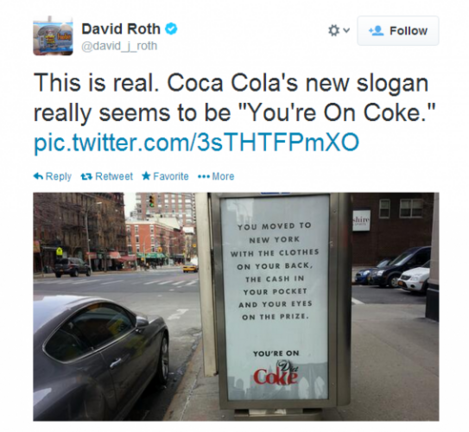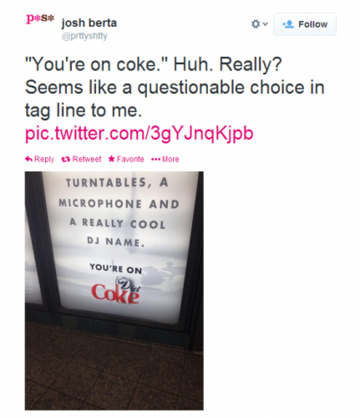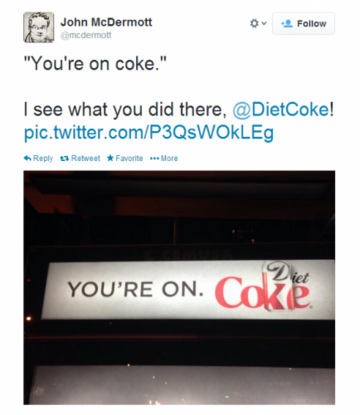 A representative for the Coca Cola company told Adweek that the campaign's actual slogan is 'You're On', and is in absolutely no way related to the illegal substance.
It celebrates ambitious young achievers from all walks of life and reminds them that Diet Coke is there to support them in the moments when they are at their best. Every single day, young people around the world experience 'You're On' moments big and small. It could be a job interview or a national TV interview, a first date or a final exam, a presentation to your boss or a performance in front of thousands. The Diet Coke logo is the centerpiece of the ad campaign. Diet Coke in no way endorses or supports the use of any illegal substance.
It's all a case of VERY unfortunate positioning, it seems.
Here's the accompanying TV ad, which illustrates what they were really trying to get at.
Source: Diet Coke
Whether it's an intentional blunder or a REALLY unfortunate mistake, one thing's for certain: Everyone's definitely talking about Diet Coke now.