EVERY WEEKDAY MORNING, DailyEdge.ie rounds up the best of the day's celebrity dirt from the top to the very bottom.
So, the first official song from Zayn Malik's forthcoming solo album is finally here.
Pillow Talk is a somewhat steamy grower of a tune about doing the nasty and annoying the neighbours.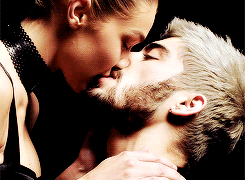 Zayn and rumoured girlfriend supermodel Gigi Hadid get the shift (and the metaphorical ride) in the video, but Malik is being all coy about their relationship, telling Zane Lowe (in an unprecedented Double Zanebow):
Yeah, we're good friends.
Like, is that his Matt Damon Breaking Up With Minnie Driver On Oprah way of telling her it's over, or are they really good friends, if you know what I mean?
Or is this all just a cynical marketing ploy designed to boost both of their careers even higher?
Either way, we're going to need more photos of them coming out of dimly lit restaurants hand-in-hand. We deserve it.
Meanwhile Zayn has also spoken about the birth of former One Direction bandmate Louis Tomlinson's son Freddie. 
Source: Louis Tomlinson
Malik 'liked' a picture Tomlinson posted of his son on social media, but says they're still some way away from a visit.

Source: gogoartqueen on tumblr
Update: we'd like a picture of Zayn, Gigi, Louis and baby Freddie coming out of a restaurant. Maybe Zayn is holding the baby. Harry Styles can be there too.
Poldark megaride Aidan Turner has scoffed at suggestions that he needs hair extensions. 
Source: Jennifer and Mary/Twitter
The Dubliner said he has no problem growing some tumbling curls to play the brooding character, telling RadioTimes.com:
Hair extensions? NEVER! I grow my own hair I'll have you know. It's all I do really well, are you kidding?  I'm covered in hair head to toe. That's all I do. Zero talent, loads of hair.
Covered. In. Hair. Head. To. Toe.
And the rest of the day's celebrity dirt…
2FM's Eoghan McDermott thinks Brian McFadden will be "kicking himself" after his Twitter rant. Thanks Eoghan (Goss.ie) 
Peaches Geldof's widower Thomas Cohen is going out with Daisy Lowe and met her parents and grandparents (Daily Mail)
Rob Kardashian really is going out with sister Kylie's (ex?) boyfriend Tyga's ex-girlfriend, and sister Kim's ex-best friend Blac Chyna (3am)
Mariah Carey's engagement ring is BLINGBLINGBLINGBLINGBLING (Just Jared)
This week's Dredges: