EVER WONDERED HOW sleazy punk bands make their point?
Well, wonder no more.
Get Shot!, who describe themselves as the "sleaziest punk band in the world" have just answered that question!
The band were travelling to Denver when they decided to make a pitstop in Topeka, Kansas. There, they filmed their bass player, Laura Lush, masturbating on the lawn of the conservative Church.
In a press release, Laura explained her actions saying, "The Phelps family and Westboro Baptist Church are ridiculous and do nothing except spread hate and cause controversy. As a bisexual woman and the bass player of a ridiculous punk band, I wanted to spread my legs and cause controversy."
The clip has been uploaded to the band's free porn site and has apparently caught the attention of a member of the WBC (Westboro Baptist Church).
There has been no reply from official Twitter accounts associated with the WBC but after a heated exchange, @Fredphelps316 had this to say on the matter.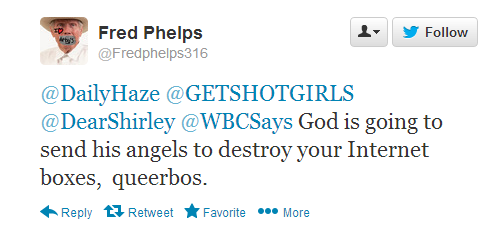 Amazingly, despite Kansas' strict obscenity laws, as well as armed security and surveillance cameras, the band managed to avoid arrest.
They have promised to come back with a group of girls if someone is willing to post bail for them though. So that's something to look forward to.
Catch the very NSFW footage in all it's glory here.
Animal rights charity calls for Love/Hate boycott after cat shooting scene