THROUGHOUT THIS ST Patrick's Day the Temple Bar live cam has been, at times, compelling viewing.
Last night it provided this image of a packed Essex Street East leading up into Temple Bar.
We've kept an eye on it throughout the day to see how the celebrations have progressed.
9.30am
After the madness of last night, quietness has descended on Temple Bar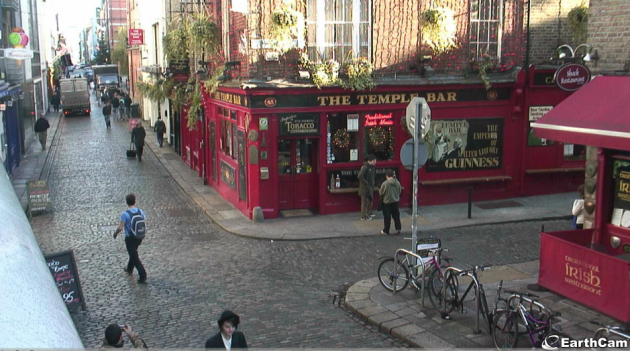 11am
A busker plays Neil Young's Needle and the Damage Done. We try not to weep.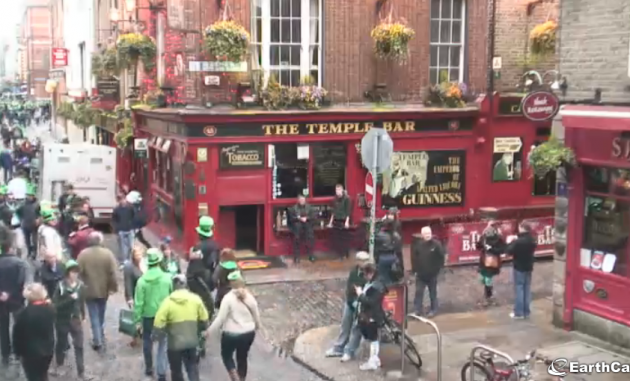 11.30am
The busker has moved onto Pink Floyd's Wish You Were Here, before livening it up with U2′s One.
11.50am
Ah yes, that most Irish of St Patrick's Day traditions, a blow up sex doll: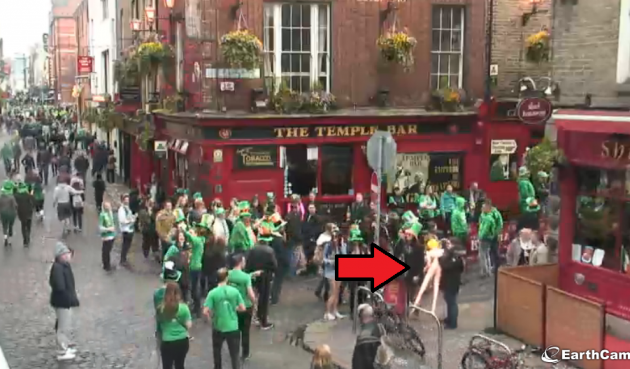 12.25pm
THE PUB IS OPEN!
1.00pm
The busker (or possibly a singer inside The Temple Bar pub) is really getting the party started with Sometimes You Can't Make it On your Own. A lone vuvuzela drowns him out.
1.40pm
A second blow up doll! And it looks like it belongs to a different person. Bless.
The parade is currently snaking through the city centre, which is probably why it's relatively quiet.
2.15pm
Well, that escalated quickly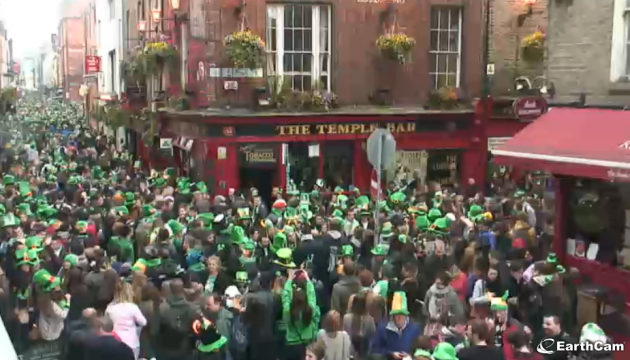 3.00pm
Bouts of spontaneous cheering and singing of 7 Nation Army. Just the opening bass line mind.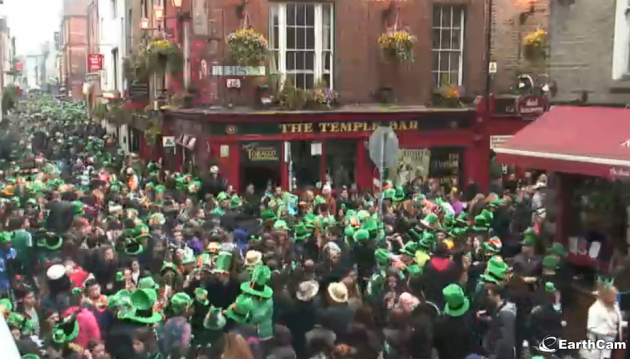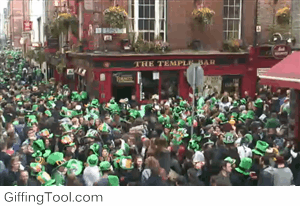 3.15pm
At 3.15 there's a big crowd singalong to that popular Irish classic Wonderwall.
Followed swiftly by some Mumford and Sons. And Teenage Dirtbag.
4.00pm
Increased whistle blowing.
A vehicle attempts the impossible.
4.30pm
We hear Galway Girl for the first time. The visitors are unsure of the words, but gladly join in with the diddly-eyes and whoops.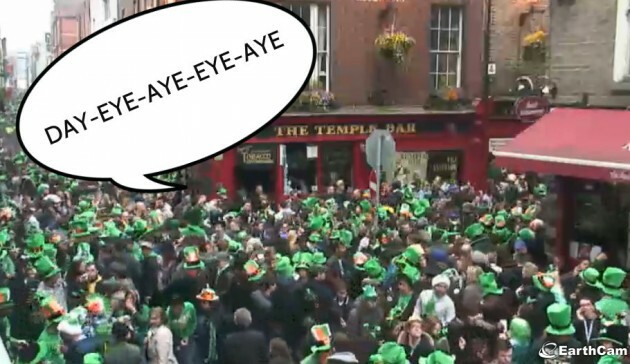 Followed by Mumford and Son's Little Lion Man for a second time. A popular choice.
5.00pm
More inexplicable White Stripes singing. More vuvuzelas. We spot a culprit.
That concludes our Temple Bar live cam coverage for now. Stay safe out there!