PEOPLE AREN'T HAPPY with Vogue this evening. The fashion bible has come under fire for appearing to refer to model Cara Delevingne's relationship with a woman as a 'phase'.
Cara is the cover star of this month's issue, and opens up about her relationship with her girlfriend musician Annie Clarke, aka St. Vincent.
She spoke openly about coming out as bisexual and confirmed the rumoured relationship.
I think that being in love with my girlfriend is a big part of why I'm feeling so happy with who I am these days.
It took me a long time to accept the idea, until I first fell in love with a girl at 20 and recognized that I had to accept it.
The model was later paraphased by author Rob Haskell, who said her family think her bisexuality is a phase. He writes:
Her parents seem to think girls are just a phase for Cara, and they may be correct.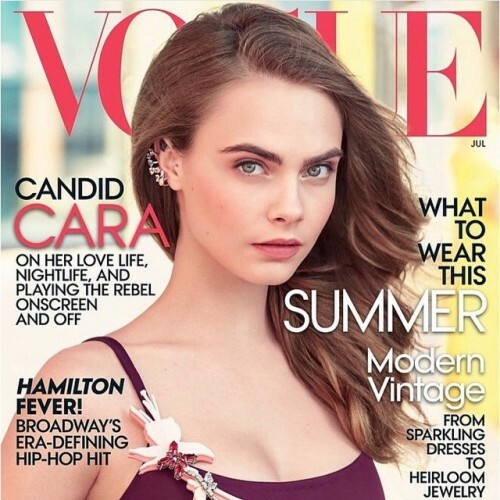 caradelevingne caradelevingne
He appeared to then suggest her sexuality is a result of her upbringing:
When I suggest to Cara that to trust a man, she might have to revise an old and stubborn idea of hers, that women are perennially troubled and therefore only women will accept her, her smile says she concedes the point.
The comments have outraged LGBT groups and a Care2 petition has been set up by Julie Rodriguez to ask Anna Wintour, editor of the magazine, to issue a public apology. The petition already has over 13,000 signatures.
The petition states:
People are quick to assume queer women's identities are a 'phase' and to refuse to recognize the important relationships in their lives… an attitude which can cause depression, result in families rejecting their daughters (or forcing them into abusive conversion 'therapy'), and even put young women at risk of suicide.
They also blame Cara herself for "describing herself as insane and assuming guys will walk away when they encounter her instability".
One person who took no issue with it though, is Cara's ex, actress Michelle Rodriguez. When asked to comment on Cara's 'coming out' by E!, the Fast and Furious star said:
Oh that's so sexy, you go girl! That's hot.
She continued:
I think everybody should be open about everything in their lives, but at the end of the day the world isn't that black and white. You've got some people who, if they really did say what they do for a living, they'd lose their job. And that's the real world. The real world is that with the truth comes judgment. And with judgment comes opinion and with opinion comes stupidity, ignorance and all these other things that can really mess up your life.