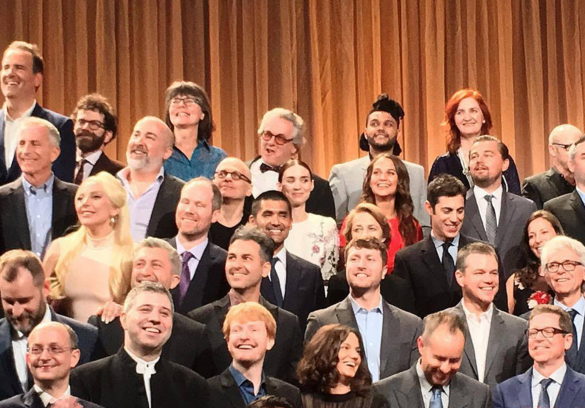 THERE IS LITTLE we like better than celebs hanging around together, being a bit awkward and taking unlikely snaps.
So, the annual Oscars lunch is a bit treat. Because things like this happen…
1. Jacob Tremblay loafing Sylvester Stallone
Just shooting the breeze. Tell us again why Jacob isn't nominated for an Oscar?
2. The lunch menu
We'll have 7 Cakebread Sauvignon Blancs please.
3. Leo and The Weeknd catching up
Watch Mark Ruffalo swoop in for a hug too.
4. Stallone called up first for the class photo
No better man.
5. The view from the stands
Is that J-Law's hair?
6.  Celebs standing awkwardly together
Leo, Alicia, Rooney, The Weeknd. All wondering what to do with their hands.
7. "Over here lads"
Can you spot Sam Smith, Rachel McAdams and Eddie Redmayne?
8. "Now, over here lads"
Gaga! Ed Guiney! Leo!
9. "Cheese"
10. The Irish contingent, lashing on the factor 50
Bonus Oscars pool floaty thing in the background.
11. Brie Larson, acting the maggot
Cakebread Sauvignon Blanc for everyone!
12. Schmoozing. So much schmoozing
How many can you spot?
https://vine.co/v/i1DBHml05e7
13. Jacob Tremblay's dad taking a picture of his son with Lady Gaga
Precious memories.
@adambvary @adambvary
14. Saoirse Ronan doing her best not to go on her snot
Those heels *praise hands emoji*.
15. The Weeknd, Emma Donoghue and Lenny Abrahmson, having a lean
They had to stand up there for ages, to be fair.
16. The bit of dessert
Straight into the handbag.
<h3>DailyEdge is on Snapchat! Tap the button below to add!</h3>