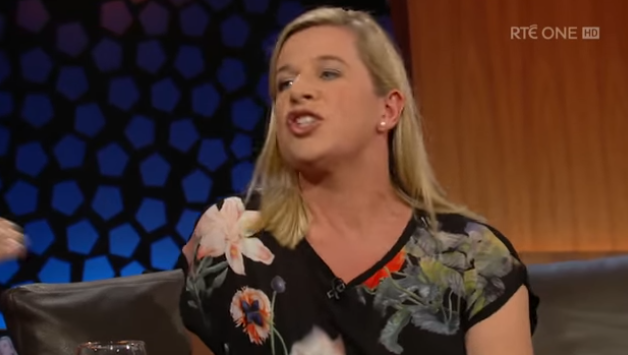 The Late Late Show on You Tube The Late Late Show on You Tube
IF YOUR DESPAIR isn't ramped up to ninety already today, here comes the news that Katie Hopkins will be on this Friday's Late Late Show.
The controversial presenter and reality star has been invited to appear on the show in the wake of the results of the US presidential election.
An RTE spokesperson told DailyEdge:
Still celebrating the election of Donald Trump, controversial newspaper columnist and broadcaster Katie Hopkins joins Ryan to talk about her promise to move to America in the event of a Trump victory as well as her gloating claim that 'Trump has crushed the lefty luvvies".
Writing in her Daily Mail column today Hopkins said that Trump's triumph has indeed:
…crushed the lefty luvvies, useless pollsters, multicultural mafia and gender Nazis who refuse to listen to regular people. So, from a Brexiteer, thank you America.
Responding to a tweet which suggested that Hopkins was a 'solution' to a dearth of female guests on the Late Late, she responded:
This will be the fourth time Hopkins has appeared on the Late Late.
In February 2014 she riled up the country with a chat about full time mams and children's names.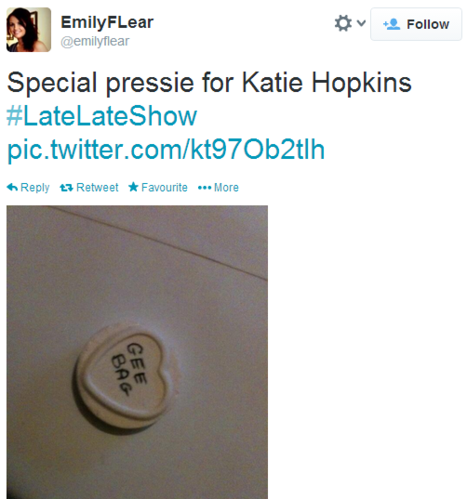 She was back in September 2014 for more of the same to speak about the project she undertook to gain and lose three stone to "prove I'm right on fatties".
That time, some people thought she had a point.
And her most bizarre appearance yet came on the 2015 Valentine's Day Late Late Special which saw her… well… just watch:
https://vine.co/v/OPgKJWt1zrq
"I'D RIDE YEH". Only. In. Ireland.
There were suspicions at the time that the audience had been at the cooking sherry, but this Friday's discussion is likely to be a more serious affair.
DailyEdge is on Snapchat! Tap the button below to add!