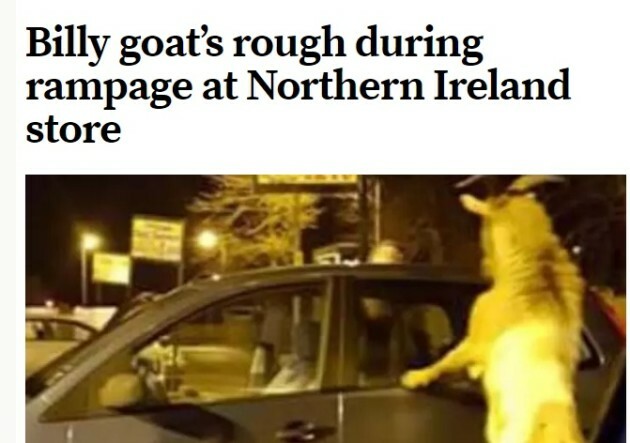 THERE WAS CHAOS in the Antrim town of Carrickfergus over the weekend – when a stray billy goat appeared outside a local Eurospar.
His rampage began after "he was refused entry"  to the shop – so he started jumping on cars and headbutted a passerby.
There is video evidence of the goat you'll be glad to hear
Kon Khmer love / YouTube
It was originally reported by the Carrickfergus Times on Sunday evening, and the store manager Jonathan who witnessed the commotion gave some gas background information:
We have a pensioner named Billy who shops here and it charged at him and I grabbed him and dragged him through the door just in time before the goat crashed into the door!
Billy was being attacked by a billy goat!

Metro Metro
And the manager of the Eurospar was working some beautiful puns into his account too:
It was into the baskets eating all the plants and running round the car park, I thought: 'you've got to be kidding me!'
The incident ended when someone, "believed to be the goat's owner", arrived and dragged the goat off by the horns.
Once the story made it to the papers, it was a source of so much craic for Irish people:
"American media: mass shootings Irish media: rampant goats"
"We're not kidding"
It's rare that you'd ever read a better interviewee than Jonathan, who closed his story with:
It was great, it made my day. When I saw it I burst into stitches.
What a day.
DailyEdge is on Snapchat! Tap the button below to add!