ROLLING STONE HAS interviewed Harry Styles about his new solo album, his relationship with Taylor Swift but most importantly his attitude to his largely young and female fan base, and everyone is incredibly impressed with him.
S S
One on one interviews with Harry Styles have been rare up until now.
As he states in this one with Rolling Stone, most of his work and decisions have had to be made democratically as a member of One Direction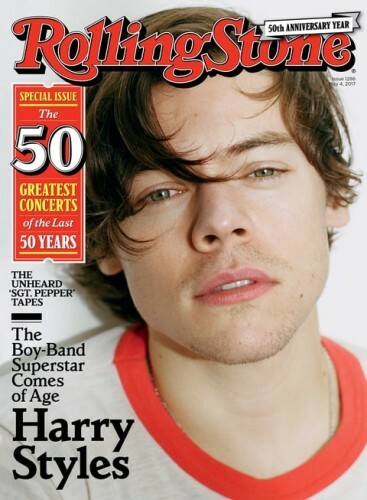 Rolling Stone Rolling Stone
He raised some really valid points about his career. One of which was the fact that having a predominately young female fan base is absolutely nothing to be ashamed of.
For so long we have endured stale opinions from people claiming that pop music is not as credible as other types of music.
How many of the people who berate the likes of One Direction and Justin Bieber believe that only bands like the Beatles make "real" music, while totally disregarding the fact that the Beatles main audience were the beliebers and directioners of the 1960s?
When asked about his teen female fanbase, he had nothing but good things to say
Who's to say that young girls who like pop music – short for popular, right? – have worse musical taste than a 30 year old hipster guy? That's not up to you to say. Music is something that's always changing. Young girls like the Beatles. You gonna tell me they're not serious? How can you say young girls don't get it?
They're our future. Our future doctors, lawyers, mothers, presidents, they kind of keep the world going. Teenage-girl fans – they don't lie. If they like you, they're there. They don't act 'too cool'. They like you, and they tell you. Which is sick.
This is a stark contrast to Zayn Malik of One Direction's most recent take on pop music. To which Harry responded incredibly graciously:
Somehow he remained totally devoid of shade to someone who was supposed to be a close friend, insulting his career with One Direction.
Katherine Speller / Twitter Katherine Speller / Twitter / Twitter
Who has that kind of restraint?
Bad Sea / Twitter Bad Sea / Twitter / Twitter
Harry also spoke about having no time for playing the over romanticized role of tortured artist:
I had a really nice upbringing. I feel very lucky. I had a great family and always felt loved. There's nothing worse than an inauthentic tortured person. 'They took my allowance away, so I did heroin.' It's like – that's not how it works.
And buying carrot cake for Stevie Nicks.
He even bought a carrot cake to present to Stevie Nicks at a Fleetwood Mac concert. ("Piped her name onto it. She loved it. Glad she liked carrot cake.")
He covers a lot with Rolling Stone, and regardless of what you thought of Harry Styles or One Direction before this interview, you can't help but admit that he seems like a really sweet young man.
DailyEdge is on Snapchat! Tap the button below to add!