YESTERDAY, LEO VARADKAR got the backing of the Dáil to become Ireland's youngest ever, first openly gay Taoiseach.
PA Wire / PA Images PA Wire / PA Images / PA Images
So, how does a young leader celebrate his new position? Why, a private party in Coppers, of course!
Varadkar is famously a big fan of the Dublin nightclub, even attending its 20th birthday bash last year, so it's probably not too surprising.
But still – a Taoiseach in Coppers? It's a brave new world.
After announcing his new Cabinet, Leo hit the dancefloor late last night with his ministers – super junior minister Mary Mitchell O'Connor showed up with her son:
There was even a special message from Coppers congratulating the new Taoiseach.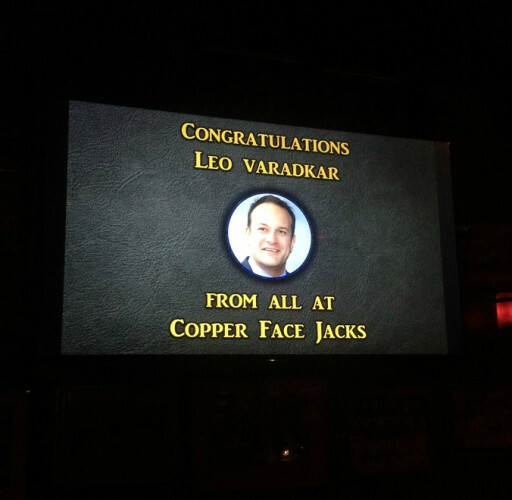 DailyEdge.ie DailyEdge.ie
According to DailyEdge.ie's source from inside the party, the night went almost exactly as you'd expect:
Leo left at about 2am but others went on til all hours dancing to Maniac 2000 and the likes. There was also a feed of sambos at around 3am. Some Fianna Fáil lads even came later on (but that might have been to stake their claim, as Coppers is typically the Fianna Fáil place to go).
Gold Cards for all under Taoiseach Leo Varadkar. This is the New Ireland.
DailyEdge is on Snapchat! Tap the button below to add!