NEW YEAR'S EVE is a divisive one, and people tend to fall into one of two camps.
giphy giphy
Your group have either earmarked a venue months in advance, meticulously planned an itinerary, and can't wait for darkness to fall on December 31st so you can put your plans for a mammoth night out into action.
Or you've raged against the notion, refused to reserve a spot anywhere and will likely ring in the new year from the comfort of one of your own homes.
If you fall into the latter camp, then you'll know all too well how messy gaff sessions can get, and if you don't plan to spend the first day of the new year heaving into a bin and questioning your life choices, it's worth keeping a few tips in mind before you crack into that last session of 2018.
DailyEdge.ie spoke with DrinkAware about the issues that can arise from drinking at home, and they provided some helpful hints to keep in mind this New Year's Eve.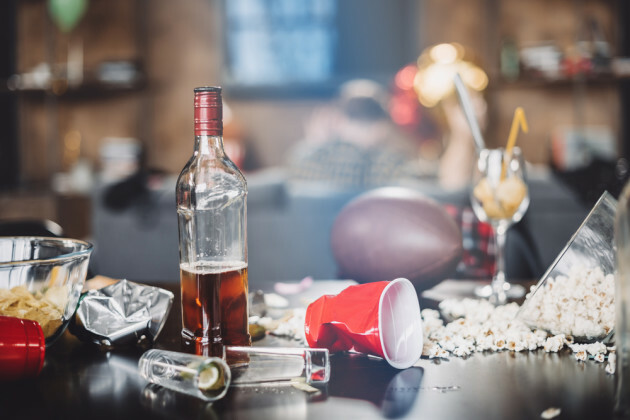 Shutterstock / LightField Studios Shutterstock / LightField Studios / LightField Studios
CEO of Drink Aware, Sheena Horgan, says on the topic: "Drinking at home can present its own issues that make it more likely a person will drink more alcohol than intended."
For example, we have seen a rise in the number of people who find it increasingly easy to drink a full bottle of wine or six-pack of beer a few times a week, without setting out to or even realising until it's too late.
"There are a number of factors at play here – people are comfortable, relaxed – but top of list really is free-pouring of spirits and wine."
Look, whether you're the host or a guest, we know it can be hard to keep an eye on your units during the height of a house party, but here are three simple ways you can keep on top of it.
Always use a measure for spirits or wine. Never free-pour – this can make it almost impossible to know how much you are drinking.
Alternate each drink with a glass of water to reduce the dehydration associated with alcohol. Keep a jug of water handy to make this easier.
Stock up on non-alcoholic alternatives for you and your guests. There is now a wide variety to take advantage of so it's a good time to make the swap.
While ostensibly we know the benefits of these measures, how many of us put them into practice when it's edging towards 2am and another bottle of gin has been unearthed from beneath a pile of coats?
So with that in mind, make it your mission to consistently implement at least one of those steps across the entire night, and you'll almost certainly feel the difference the following morning; both physically and mentally.
And with 72 per cent of drinking occasions in Ireland taking place at home, it's worth keeping these tips in mind all year round!
DailyEdge is on Instagram!