INSTAGRAM IS POSSIBLY my favourite social media app. 
Yes, I know a lot of people flirt constantly with the 'deactivate' button because they say the platform can make them feel sad, but I, on the other hand, love nothing more than my 20-minute (it's never just 20 minutes) scroll through my feed on the bus home from work. 
And as someone that spends such a huge chunk of my day on the social media app, I am a prime target for #SponCon, namely sponsored posts for products.
Every six or seven posts, a branded post is generated, and every three or four Instagram Stories, I have to sit through a commercial video for some new beauty buy.
And while I had gotten into the habit of scrolling past and getting on my double-tapping way, recently I began to get curious about the brands I was coming across.
So, purely in the name of research, in this series I'm going to be trying out products from some of the most regularly seen sponsored posts on my Instagram.
This week it's the turn of the Insta-famous, semi-permanent brow product - Wunderbrow.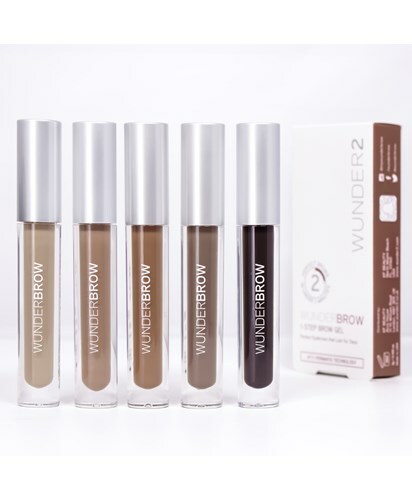 Wunder2 Wunder2
Wunderbrow is one of those products that, for a long while, was a constant sponsored interruption on my Instagram feed. 
The product comes from the brand Wunder2 Cosmetics who say they are 'passionate about creating high-tech beauty products' and strive to 'translate coveted runway looks into everyday relatable beauty'.
They say they use cutting-edge technology and the latest innovations in beauty to create products that work - their most well-known product being the Wunderbrow brow gel.
Wunderbrow is made using the brand's permafix gel technology to create a brow gel that claims to last up to three days.
Yep, three whole days. Now, I don't know about you, but I definitely spend the most time on my brows when doing my makeup each morning so if there was a way I could make that effort last for three days, you have my full attention.
Wunderbrow claims to 'define, fill and thicken' your brows for a more natural brow look that is completely waterproof, smudge-proof and transfer-proof.
They say the product can survive any gym session, shower, swim, heavy rain, sweat - the lot.
I was intrigued to say the least. 
The product comes in five different colours - blonde, brunette, auburn, black/brown and jet black - a fairly standard range for a brow product.
On their website, they give you a guide to help you choose which colour should suit you best.
From that guide, I guessed that auburn would be the colour for me. I like a darker brow than what I have naturally but it has to have a warmth to it to work with my reddish brown hair.
When the product arrived, it came with a set of instructions and a spooly. It explained that this was to help achieve a naturally full brow and to help set the brows in place after the product had been applied. 
The first thing I noticed about the gel itself was the applicator - it was in a tube and was to be applied with a paint brush. The product itself was also much runnier than I expected, resembling the consistency of a light-weight concealer more than any brow product I'd tried. 
I was nervous to try this out - I won't lie. The idea that any mistake would last for three days meant it sat in my makeup bag for nearly a week before I had the time to sit and focus on my application. 
The applicator also worried me - I didn't think I'd be able to achieve a precise look with such a fluffy applicator and runny product. 
The colour was much lighter than I expected too - nearly matching my natural brow hair perfectly which, at first, I didn't like. 
I was very light-handed with the product but, with fairly bushy brows, being delicate meant that it was just coating the ends of my brow hair rather than actually defining the shape. 
When the product was applied, it looked fairly messy and smudged. Brushing it through with the spooly definitely helped, and it ended up looking incredibly natural, if still a little smudged. 
A quick tidy-up with my concealer and my brows looked class. Normally a lover of a brow pencil, I tend to not need concealer to tidy anything up after I've done my brows but I couldn't argue with the results here.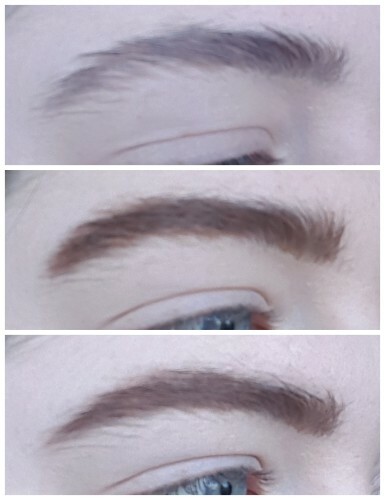 Top - bottom: brows before product, applied with application brush, after concealer clean-up
After the product had dried down fully, I ran my finger over the top and it didn't budge. No product, no flaking, nothing. 
I also ran a dry cotton pad over top and again, it came up clean.
That night, I was careful to remove all the makeup from my face except for my brows - I was determined so how this would last. 
Waking up the next morning, my brows just needed a comb through to get them looking fresh, although I did add a little more product to the tail of my brows just for a little more definition. 
I went to the gym and took a shower with the product on and while they didn't withstand both 100%, there was definitely a good bit of product on there afterwards. 
Eventually I used a cotton pad and eye makeup remover to dissolve the product and it came off rather easily.  
My second attempt with the product, I decided to go in with a brow brush I owned myself. I put a little blob of the brow gel on the back of my hand and used a more tapered brow brush to apply it this time and the results were so much cleaner. 
I was able to create a much more defined arch and tail to my brow even if it did take a lot longer.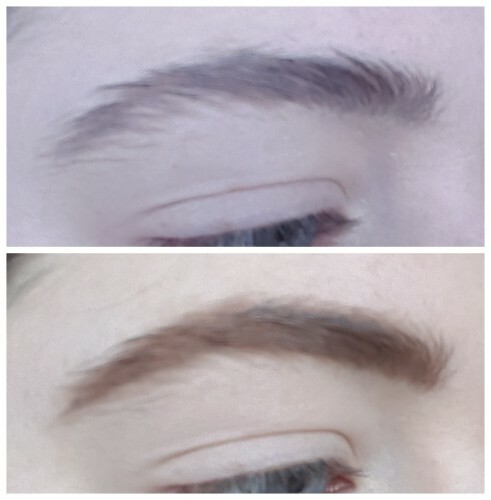 Top - bottom: brows before product, applied with brow brush
It's the method I imagine most of the girls on the Wunder2 Instagram page used to achieve their looks - including Perrie Edwards.
Now, let's get into the cost. These products do not come cheap at just under €30 a pop but on the plus side you won't have to pay for shipping costs.
Wunderbrow is also stocked in selected Boots stores and for some reason, is cheaper than on its own website at €26.99.
On the whole, I was reasonably impressed with the product. The colour was nicer than expected and it really was long-lasting.
On the flip side, the colour range in general is not great, the applicator is just flat-out annoying and when I compare the price to some of my favourite brow products (Anastasia Brow Wiz - €25, Anastasia Dip Brow - €22, Glossier Boy Brow - €15) it wouldn't be my first choice. 
However, this is the type of product I can imagine gravitating towards for a holiday. In hot weather, when you're in and out of the water, slightly sweaty and not arsed doing your makeup every day, I would definitely be reaching for this guy.
Note: These products were gifted to the the writer upon request to review them.
DailyEdge is on Instagram!