EVERY WEEKDAY MORNING, DailyEdge.ie rounds up the best of the day's celebrity dirt – from the top to the very bottom.
#VAJAYJAY UK journalist, author and feminist Caitlin Moran was in Dublin last night as part of the Dublin Writer's Festival.
During a Q&A session in front of a sold-out crowd at the National Concert Hall, Moran described her last visit to Ireland, which saw her appearing as a guest on the Late Late Show, alongside 'Chris De Burgh's daughter, a boy playing a tin whistle surrounded by his family, a Swan Lake performance, and a woman whose husband was killed by wild dogs so she bought a donkey, and the donkey died'.
We're paraphrasing here, but that was the general gist of her experience on RTÉ's flagship talk show.
Moran also explained that she had been warned that the show would go on for approximately 6 years, and there would be at least one nun sitting in the Late Late audience, knitting. She said she wasn't disappointed.
#SHE'S THE MAN Amanda Bynes, what are we going to do with you?
The actress was arrested in in New York last night after allegedly throwing a bong out the window when police came to her apartment. (TMZ)
All this is happening just as the internet gets its head around the fact that Bynes tried to board a plane in New Jersey by telling airport officials to Google her, because she didn't have any ID. (NY Daily News)
Will someone send an Irish mammy after her with a wooden spoon, for the love of God?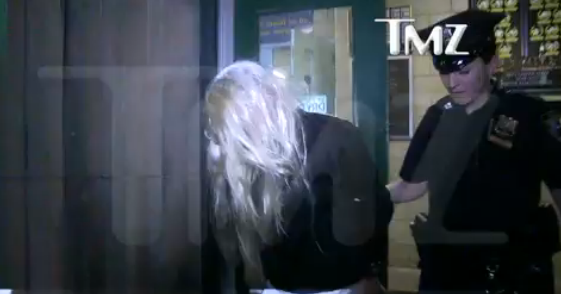 via TMZ
#MULLINGAR MASSIVE Prepare yourselves ladies!
One Direction's Irish lothario Niall Horan is reportedly doing the dirty with Made in Chelsea star Louise Thompson. (Sun)
Not to be confused with Horan's bandmate Louis Tomlinson. Although we think they'd make a lovely couple.
Don't wear that hat to Mullingar Louise, they'll think you have "notions" (Twitter)
And the rest of the day's celebrity dirt…
Missed any of these week's FILTHY Dredges? Here they are>