ON FRIDAY, THE Duchess of Sussex, Meghan Markle, along with her husband, Prince Harry, visited One25 – an organisation in Bristol which seeks to provide support to women hoping to extricate themselves from street sex-work, addiction and 'other life-controlling issues'.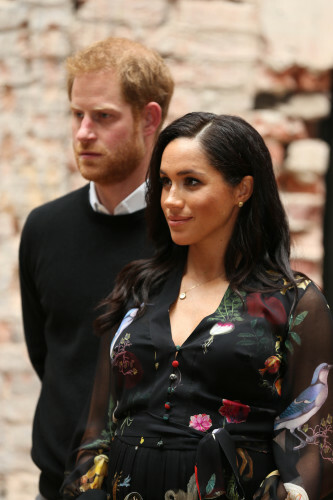 PA Wire / PA Images PA Wire / PA Images / PA Images
During the unannounced visit, Meghan helped staff to prepare food parcels which are distributed to the women the organisation help.
Buoyed by an initiative she was familiar with in the United States, the Duchess decided to write a note of affirmation on each banana contained with the parcels.
According to CNN, Meghan elaborated on the program, saying:
I saw this project that someone had started somewhere in the States, this school lunch program, where on each of the bananas she wrote an affirmation or something to make the kids feel really empowered.
"It was this most incredible idea, this really small gesture," she said.
In an Instagram post shared by Kensington Palace, Meghan declares herself  'in charge of banana messaging'.
While helping volunteers pack food parcels for some of Bristol's street sex-workers, The Duchess asked if she could write empowering messages on the bananas to the women – a simple gesture and a way to incorporate positivity and kindness for those needing a self esteem boost.The messages included 'you are special', 'you are strong' and 'you are brave'.
Unfortunately many members of the public took exception to the fact Meghan used a phallic-shaped fruit to write the message, branding the gesture 'stupid', 'offensive', and 'patronising'.
Did Meghan Markle really think writing "you are loved" on banana's to sex workers was a good idea? pic.twitter.com/wubzQqIY35

— Harry Barnes (@HarryBarnes1) February 1, 2019
I do not think that I can read about Prince Harry and Meghan Markle further. The naive and childish scribblings put onto bananas (no, you could not make it up), in some sort of vain attempt to think that it would make a difference, is ridiculous. This is not practical help.

— Kim Onslow (@kim_onslow) February 3, 2019
Meghan Markle writing inspirational messages on BANANAS for sex workers. SPARE ME!

— Erin Dunn (@erindunnxo) February 4, 2019
What a crock....writing on a banana counts as outreach? She is a naive, patronising, inadequate and inappropriate addition to the royal family.

— Dan Nelthorpe (@DanNelthorpe) February 2, 2019
Others, however, are struggling to understand the backlash which has been directed at  the Duchess in the wake of the gesture.
Indeed, during a segment devoted to the topic on today's episode of Good Morning Britain, Telegraph columnist, Rebecca Reid countered Piers Morgan's assertion that the choice of fruit, alone, was inappropriate.
Sex workers are people like everyone else. They don't look at things that are phallic, and start crying. Sex workers are just like you or me.
'A lot of sex workers say they feel really seen and validated by this.'@rebeccacnreid supports Meghan Markle's idea to write personal messages on bananas and says her comments are motivational.

What do you think? pic.twitter.com/wrsAYeUos9

— Good Morning Britain (@GMB) February 4, 2019
People are debating whether #MeghanMarkle is 'bananas' for writing sharpie messages to sex workers 🙄 firstly there are more beneficial things to discuss and secondly what happened to 'be kind'? You are trolling her for being KIND?! Wow. #goodmorningbritain

— Helen Searle (@Searles_H) February 4, 2019
The world has officially gone mad. THEY ARE WORDS ON A BANANA. The woman thought she was making a nice gesture. Let it go! There are bigger things to worry about. #MeghanMarkle #BananaGate @GMB

— Mrs B (@Vikbat) February 4, 2019
why is meghan markle getting abuse for signing bananas for sex workers? It was a nice fucking gesture, leave her the fuck alone

— liv ☾ (@vitalogys) February 4, 2019
DailyEdge is on Instagram!