IT'S OFFICIALLY ANT season. The flying pests have been terrorising parts of Dublin today.
It's not OK. In fact, everyone is freaking out about it.
So what's the DEAL with them?
Blame the humidity. The weather we're having right now happens to be the perfect mating conditions for the common garden ant. A warm, clammy day is ideal for them to get all in your face and down to business.
What happens?
The female ant (the queen) stays underground for winter, laying her eggs just before summer. After 12 weeks, the new ant generation are ready to collectively head out to mate with other colonies in a reproductive phase called 'nuptial flight'.
Why do they all go out the same time?
Once in the air, the queens emit pheromone signals to call each other out. It's quickly picked up by ants in the vicinity, and all hell breaks lose. The mass exodus also helps to combat any potential predators, like birds, from feasting on too many of the ants.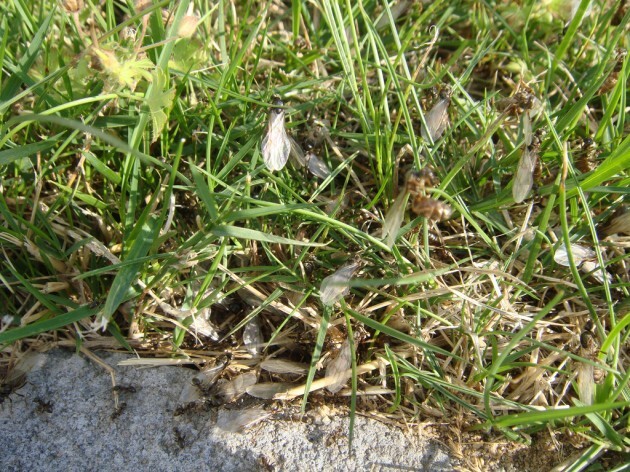 ollesvensson ollesvensson
What happens to the queens?
After they've mated and left the males to die (they're only used for their sperm), they crawl underground and lay eggs after sealing the tunnel behind them. They survive on digested protein from their wings after they've fallen off, or nibble an egg if things get desperate.
The eggs eventually hatch as sexless workers, and grow to tend to the queens every need, before they go out again to join others on a nuptial flight. Only those that get special attention become female. According to the British Society of Biology, there can be up to 15,000 in a colony, hence they're EVERYWHERE right now.
When will it all end?
Soon. As you've heard, the male ant dies soon after mating, literally exploding his genitalia into the queen. The queens will hide out to lay their newly fertilised eggs.
Surely the seagulls have something to do with it
Obviously.