YEAH, IT'S THAT time of year again. It's Rose of Tralee time, formerly known as back-to-school dread time. Luckily, your mam won't be dragging you into Clarks to get your feet measured any time soon, so sit back and enjoy.
Tonight, lovely ladies from all over the globe will battle it out to be named our new Rose of Tralee. DailyEdge.ie will be here, liveblogging the whole thing. I'm not sure who is luckier.
Buckle in for some proud dads, mortified mascots, and a whole lot of Dáithí Ó Sé hi-jinks. Let's go!
Eastenders is nearly over, that's your cue to stick on the kettle and get cosy.
If you're living abroad, you can still keep up with all the action on the RTE Player or on your iOS or Android app.
No excuses! Oh, and if you're watching with anyone, here's how to explain everything to them. It's not gonna be easy.
So what do we know so far? Tonight, we'll meet the first 18 of the 32 Roses. No, they're still not allowed use poetry for their talent, which is extremely fair enough in my opinion.
The Roses we'll be meeting tonight are Yorkshire, Armagh, Hong Kong, Melbourne, Offaly, Cork, San Francisco, South Carolina, London, Fermanagh, Kentucky, Chicago, Limerick, Toronto, Louth, Donegal, Darwin and Westmeath.
They're all ready!
Daithi is looking very… bondlike.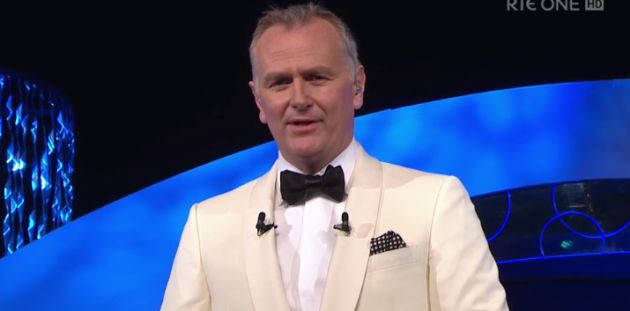 Off-white, how extremely notiony.
FINALLY. Have we all got RTE's social media information? They're not gonna be able to read out your tweets anyway, you monster.
Our first Rose is up, South Carolina, Ellerslie McCue. What a name.
But the hand action isn't immediately pulling us in.
Named after her family's farm. She's definitely Irish.
I'm getting some serious Orla Kiely vibes off that jewellery too.
OMGWACA.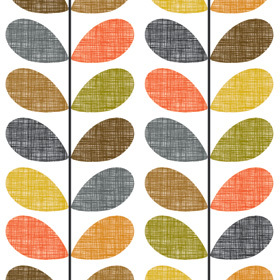 Here comes Stephanie McGuire, the Fermanagh Rose. Look at that wave! A PRO.
She's studying for a PHD and a part time teacher. Ticking all the boxes here. Let's see if her dad cries.
When is this guy on though? Can we vote?
We have our first proud dad!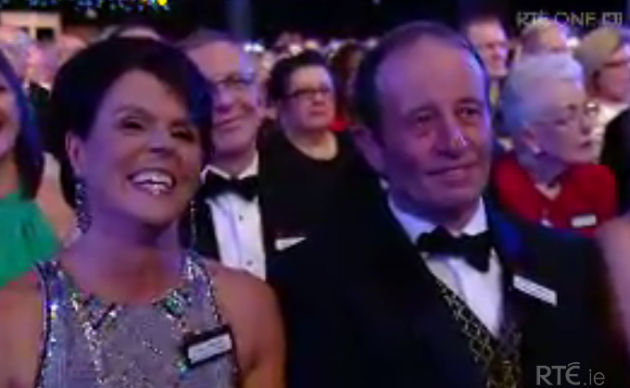 And Daithi is mortifying the Fermanagh Rose about her escort. Things are right on track.
DAITHI IS DANCING.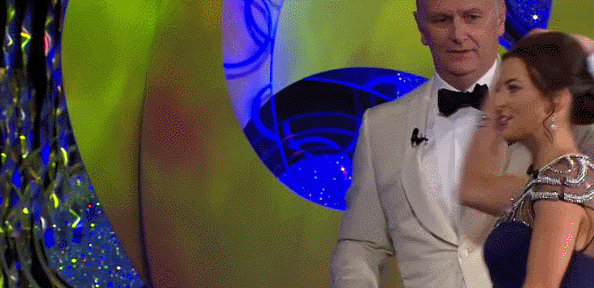 And Derek Ryan showed up! It's like the toy show all over again! Her lil face!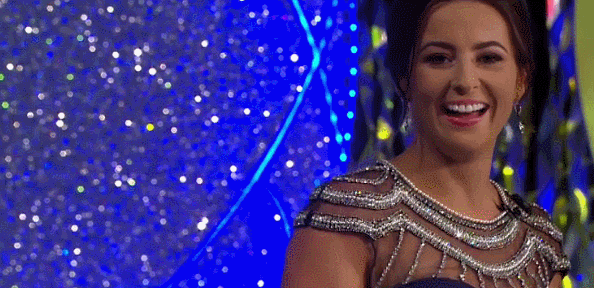 Here comes Kayleigh Maher, the Limerick Rose.
Her family have brought proper industrial sized banners. Fair play.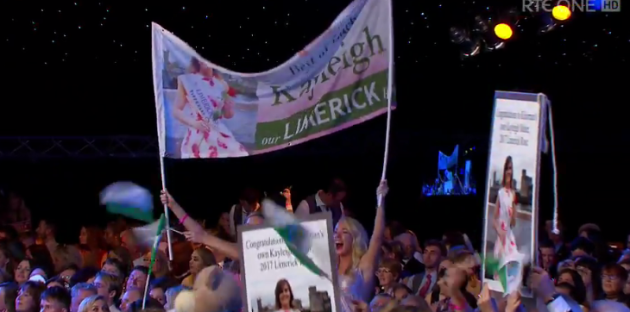 Daithi is slagging poor boyfriend Joe.
He's dying to be on telly, so naturally they're making a show of him. There's the first incident of Daithi pressuring an unsuspecting boyfriend into a proposal.
Prayers go out to anyone playing a drinking game.
We're not one for a conspiracy theory but…
HMM.
Our first break. So far, we've had what seemed like an hour-long monologue about horses, a mortified boyfriend, a surprise appearance by Derek Ryan, Daithi dad-dancing, and a Korean stalker!
Ladies and gentlemen, we've got it all.
Please share your Rose checklists in the comments. Keep them clean.
We're on to exotic Westmeath, Eva Cooney. She went to Trinity, loves chatting about the weather, has great eyebrows, and can wear a seriously bold lipstick without looking like a child doing her mam's makeup.
She's a better woman than I.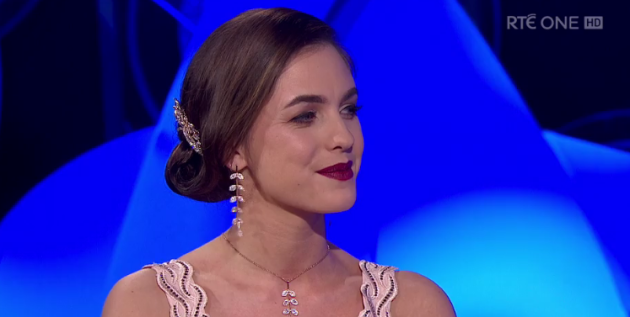 The Westmeath Rose got a tattoo of an elephant when she was on holiday.
Literally the tamest tattoo a drunk person has ever woken up with in Thailand.
She's only gone and made a puppet of Daithi…
Em…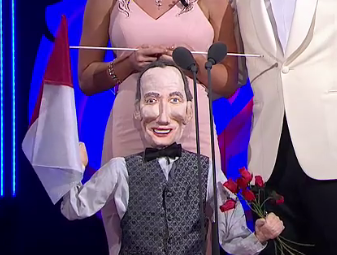 Er..
The Darwin Rose is up! She thinks the place is freezing.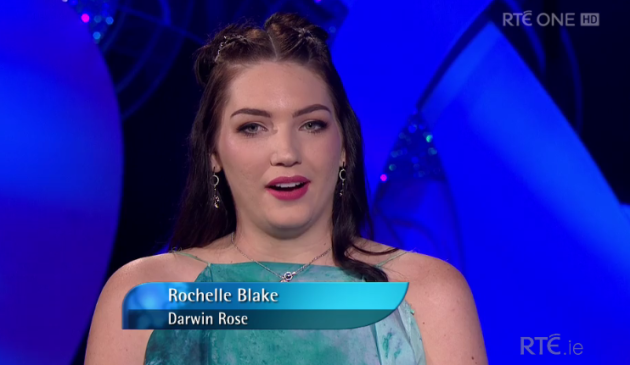 She's talking about digging in to black pudding while she's here. She's truly living our authentic lives.
Daithi is getting so many presents.
This is what we're working with right now:
Note the whip. Fifty shades of Daithi.
Seriously, how are people explaining this to their pals abroad?
Donegal Rose Mimi Callaghan has the best wave we've seen so far.
Her opening VT contained a photo of her with Daniel O'Donnell. We've reached peak Rose of Tralee and it's not even nine.
Lidl on the ball, once again. Are they the Korean stalker?
The Donegal Rose just blew our minds.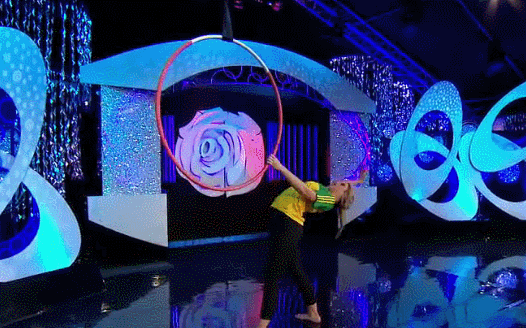 She climbed over a hoop for her party piece while Clannad filled the dome.
Truly, a vintage year. Thank God it wasn't a fecking poem.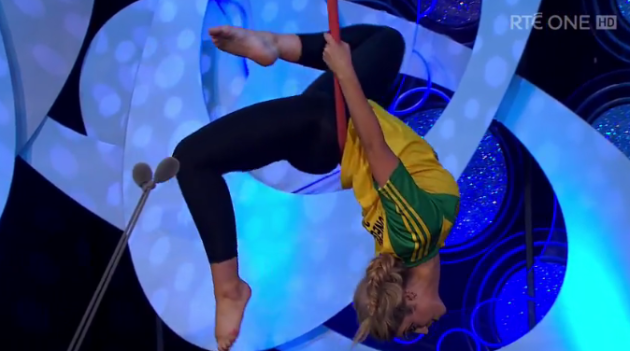 What do you think, Sharon?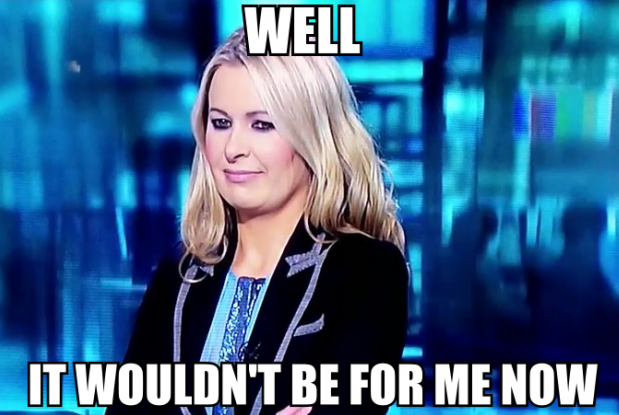 It's time for the news. Snooze.
Make like this beauty and forget the tea, grab a bottle of wine.
Hold on, do people actually have Rose of Tralee parties?
The perfect fusion of my interests.
AND WE'RE BACK. Shout out to this auld lad getting shot down for a handshake with Daithi.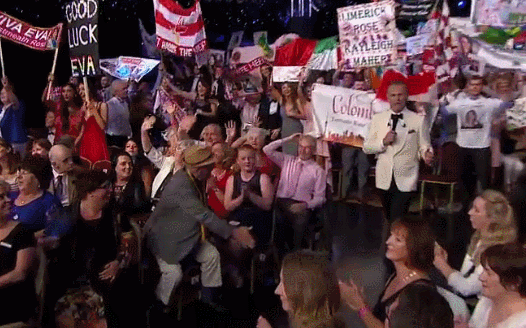 Way harsh, Dots. Justice for this lad! Who'll set up the GoFundMe?
It's the Louth Rose, Aoife Heffron.
She's on the hunt for a micropig, apparently. Well, you can't say they're not using their platform for good.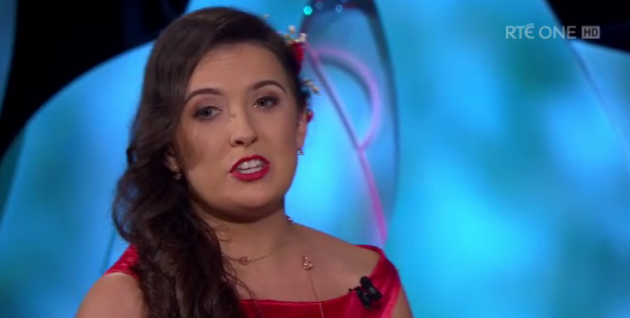 If you're interested in her blog it's right over here.
People are loving the Louth Rose's honesty in talking about her hair loss.
The Toronto Rose is up but just LOOK at her dad's moustache!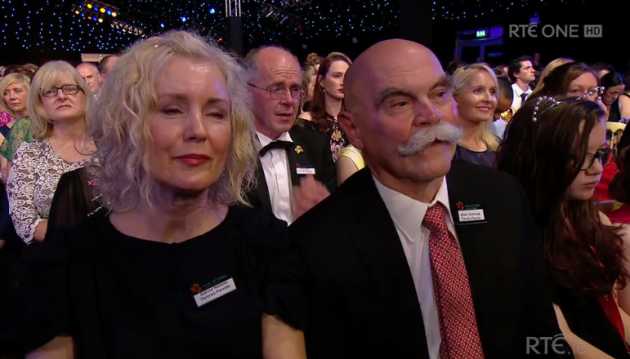 Absolutely epic. He kinda looks like Rich Uncle Pennybags.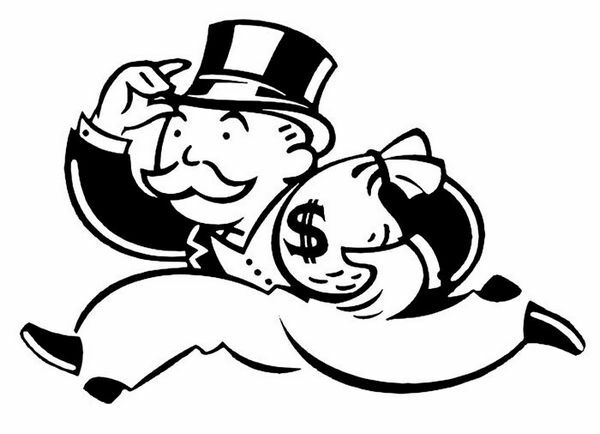 Staying superficial here we really need to talk about Colombe Nadeau-O'Shea's lipstick.
Yes, that was a three minute handshake lesson on national TV. Welcome to Ireland!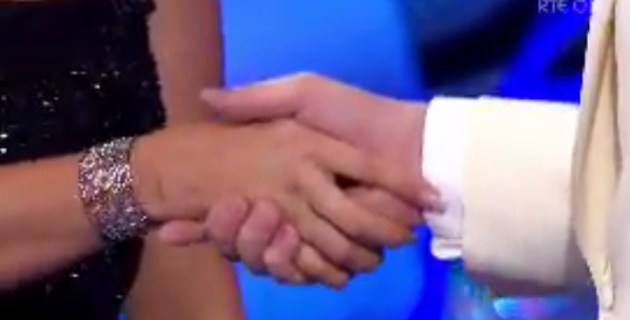 The Toronto Rose is getting serious value for her money. Teaching Daithi how to shake hands, AND limbo.
He's bad at both things, apparently.
Caoimhe Gallagher is the London Rose! She works in a hospital over there, and her family are bravely waving around a bunch of Union Jacks.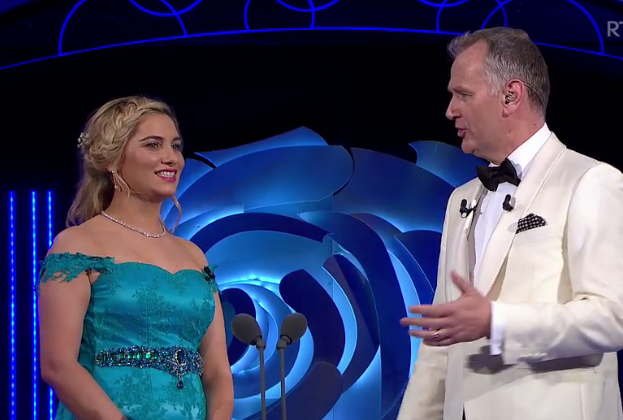 She's also our annual Frozen representative, fair play to her.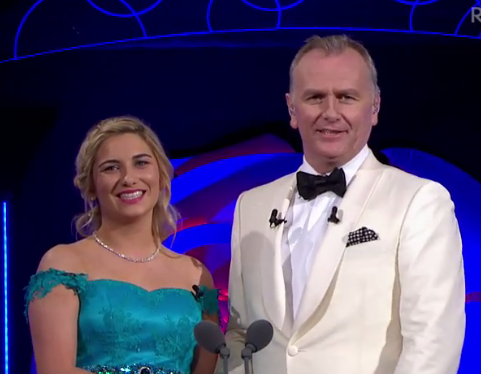 A Carrickfergus, Galway Girl, and Wagon Wheel mash-up. The Irish version of Frozen was weird.
The Chicago Rose has been on the stage for at least ten years now. She's getting Daithi to eat food and through his smell.
Or something, I don't know, it's been a while since this started.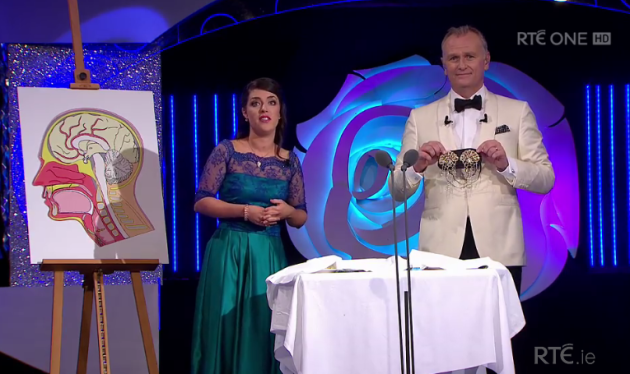 This looks like a very sinister biology lesson. Did we learn nothing from the whip? #FiftyShades
She is literally feeding him potatoes, I CANNOT.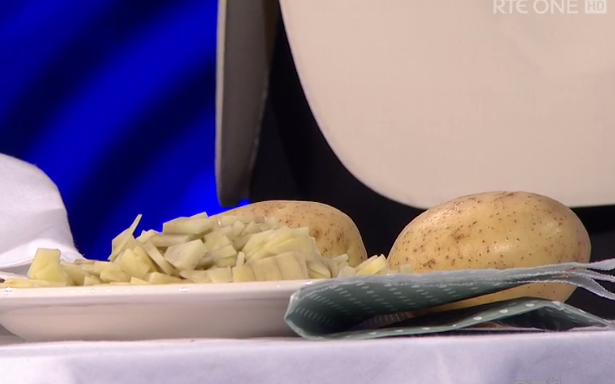 Derek Ryan here, singing Hold On To Your Hat.
The dome is loving it, the clapping out-of-sync is unprecedented.
Did we all survive that plethora of dad jokes? Sinead Ryan, our Melbourne Rose, is up next.
Her boyfriend proposed to her at Malahide Castle, and he's only delighted with himself.
No taunting from Daithi so.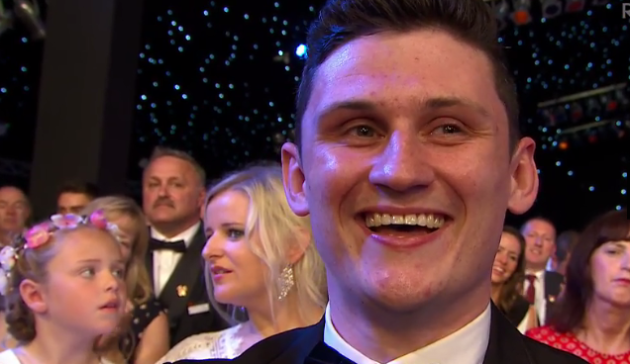 The Melbourne Rose is proper bringing people to tears with her rendition of She Moves Through The Fair.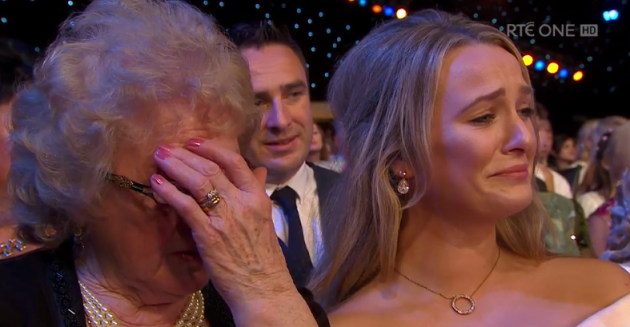 SCENES.
The Kentucky Rose Martha Mortell. She brought her pony with her to America. Lovely.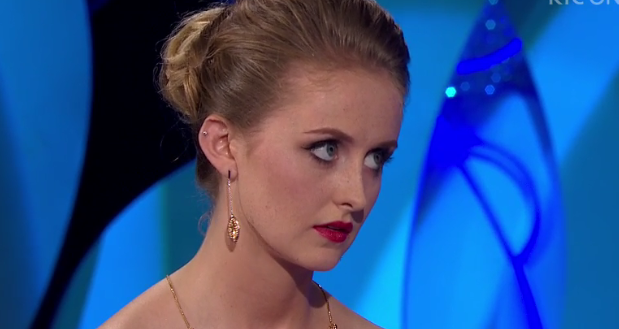 We're on immigration now. So far tonight we've had chats about mental health, terrorism, female hair loss, and domestic abuse. The Roses aren't playing around.
Is she about to beat the crap out of Daithi? C'mon, it'd liven things up a bit.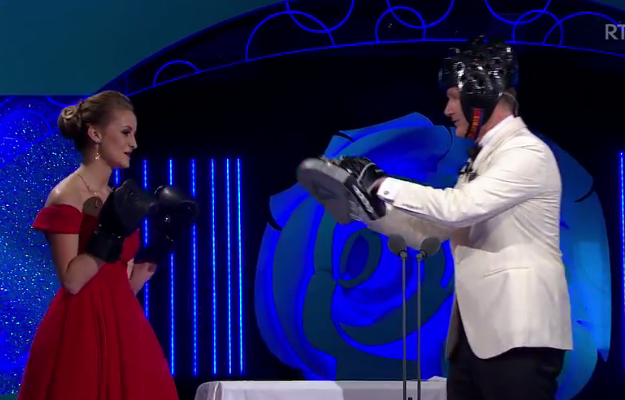 It's the Offaly Rose! Another doctor.
Her talent is Irish dancing, of course. She's also a talented GAA player. Ticking all the boxes, every single one of them.
Look at that dress-holding action.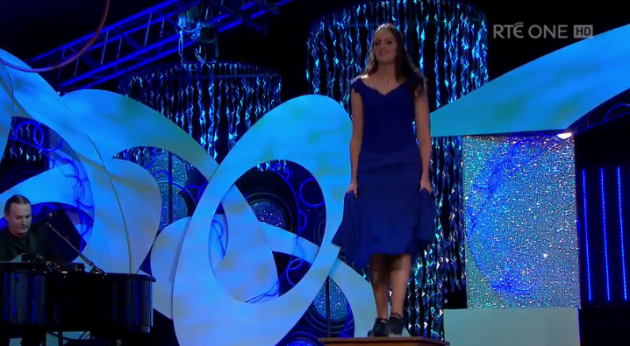 I'm just realising we haven't had a ripping off of one gown to reveal a smaller one? Sad times.
The Hong Kong Rose has a very intriguing accent. Clarissa Langely Coleman is the first rose from Hong Kong and she can speak five languages and is currently learning Dutch.
She looks the part, in fairness.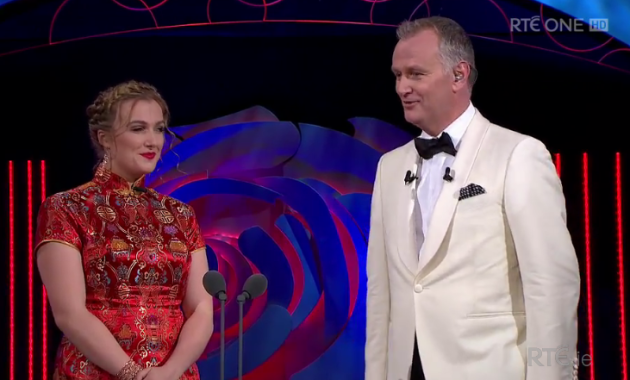 Sorry yeah, we're still on this.
OK we were not expecting that. Are we all ok? She just sang Danny Boy… in mandarin.
Is it just us or was that actually… good?
Here it is. The escort segment. There's the lads cutting turf.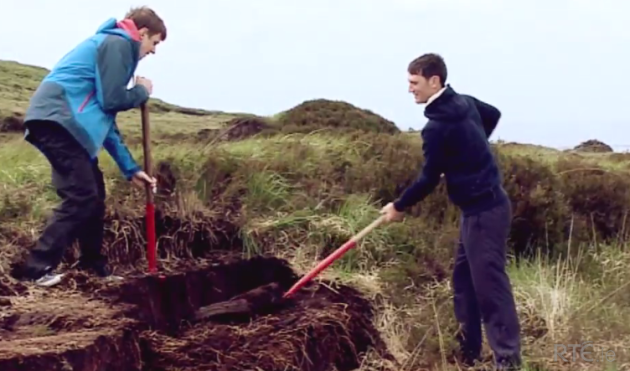 Christ.
The escort of the year is Thomas Lynch.
The most important thing is that they all drink pints of milk with their dinner.
It is absolutely no coincidence that RTE are advertising a showing of Fifty Shades of Grey during the break.
Chancers.
We're almost there! Up next, it's the San Franciso Rose, Amanda Donohoe.
Her dress is only massive.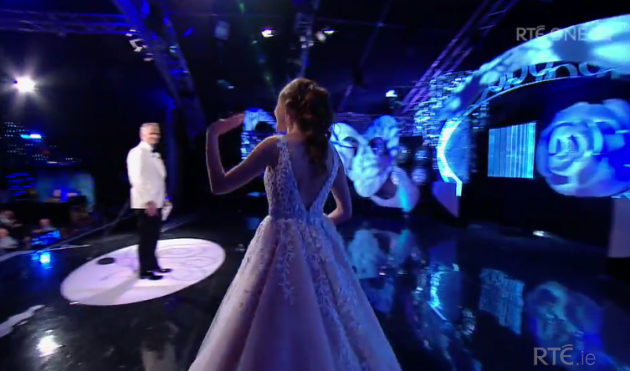 Amanda lost her sister Ashley and cousin Olivia Burke in the Berkeley tragedy in 2015.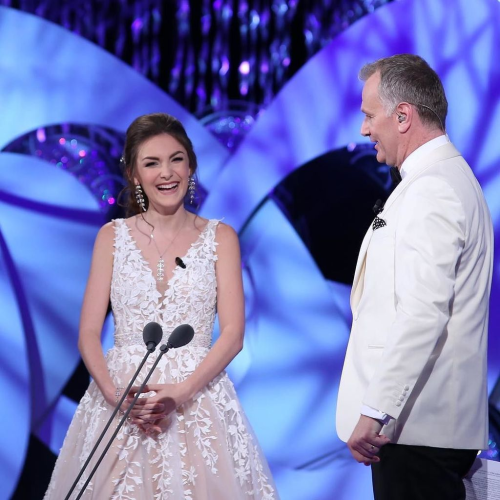 She spoke of how lovely the Irish people were to her in the aftermath <3
She also drew a picture of Daithi's late dad, Maidhc Dainín Ó Sé.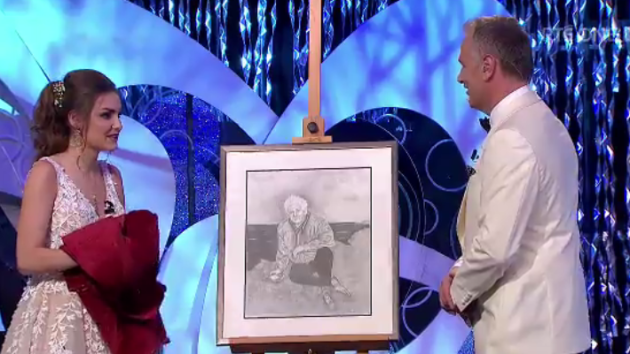 My heart.
The Armagh Rose is up now. San Fran is a tough act to follow but she's coming across well.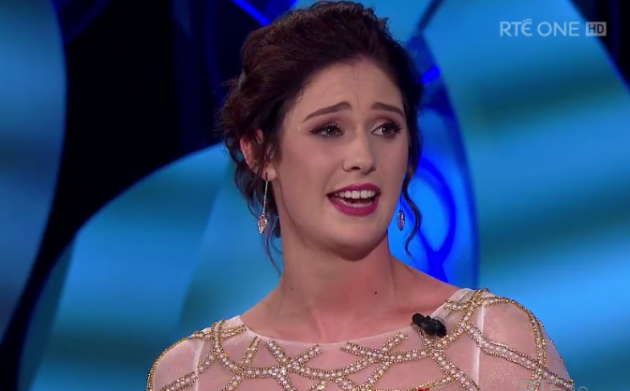 Danger, she's revamped a Wicked song with Rose of Tralee lyrics. A+ for effort though.
The Yorkshire Rose Aisling McArdle, is up next.
She's seriously smiley. Maybe because she will be in her bed in a matter of hours.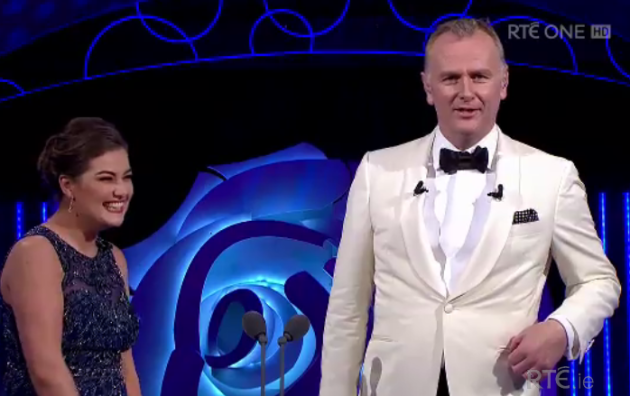 Oh great, Daithi is doing yoga.
Well, it looks like she's about to sit on his back and use him as a chair. Either would do at this stage.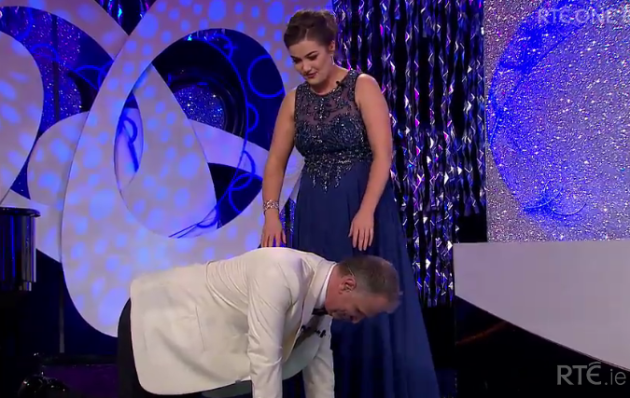 It's the final rose, the Cork Rose! Aisling O'Connor is already stuck into talking about GAA. Good girddle yourself!
She works for Apple. Any chance of a free iPhone?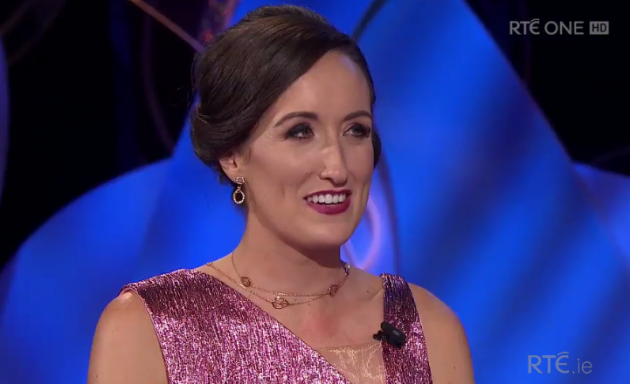 Eight years and no proposal. Ronan, the Cork Rose's boyfriend, is SWEATING.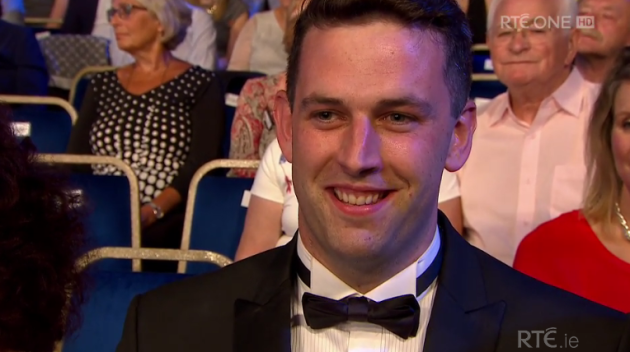 That's two poor lads pressured into marriage tonight alone! Success, Daithi!
That's it for the first night of the Rose of Tralee! There were songs, dances, kick-boxing, and blind potato-eating. Something for everyone, so.
Join us tomorrow when we finally crown this year's winner. Off to bed with you now!
DailyEdge is on Instagram!