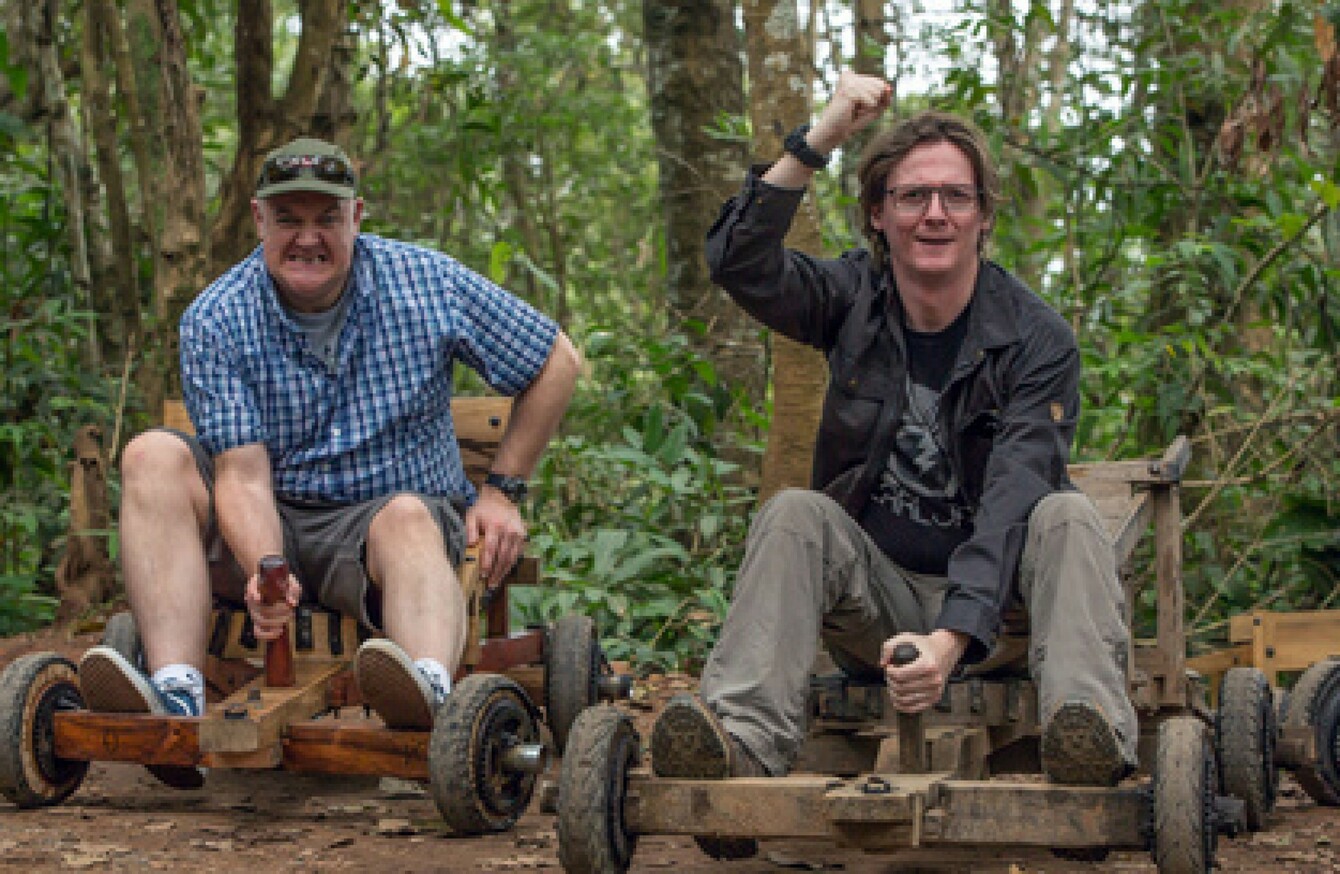 Image: BBC/RTE
Image: BBC/RTE
DailyEdge.ie rounds up the TV shows that you'll be tweeting about tonight and talking about tomorrow. 
Dara and Ed's Road to Mandalay (RTÉ One, 10.15pm)
It's the third and final episode of the lads' epic adventure around South East Asia. Dara O Briain and Ed Byrne arrive in Myanmar at a time of great political change. After 50 years of military rule, the first elections were held, heralding a new era of democracy. Along the way, the duo take part in a Buddhist Festival of Light, have their fortunes read from chicken bones and try to master the art of `leg rowing'. The last leg of their journey takes them up the historic road to Mandalay – not in fact a road, but a river – and when they reach their final destination, they visit a comedy troupe called the Moustache Brothers, with whom Ed has a personal connection.
Kat and Alfie: Redwater (BBC One, 8pm)
If you missed it on RTÉ One last Sunday, now's your chance to catch up on Kat and Alfie from EastEnders and their trip around a small, ominous Irish village. They're looking for Kat's long-lost Irish son – but they get more than they bargained for along the way. Watch out for the hipster priest! He'll have you listening to Bon Iver on vinyl by the end of the episode.
The Only Gay in the Village: Reality Bites (RTÉ 2, 9.40pm)
An intimate portrait of life in rural Ireland for those who are gay, lesbian or bisexual, and the personal struggles they face growing up, coming out and finding acceptance.
Everybody's talking about… Arrested Development has been officially renewed for Season 5 on Netflix
And the entire cast will be back.
As The Hollywood Reporter article yesterday says:
The streaming giant has finally confirmed that it's ordered a fifth season of the cult comedy. Creator Mitchell Hurwitz and the entire series regular cast — including Jason Bateman, Michael Cera, Jeffrey Tambor, Jessica Walter, Will Arnett, Tony Hale, Portia de Rossi, David Cross and Alia Shawkat — will return for the new episodes, which will premiere in 2018.
The announcement comes just a week after Jason Bateman tweeted this:
The Bluths are back!
Or flick over for…
Mission: Impossible – Ghost Protocol (Film4, 9pm) Highly enjoyable action adventure sequel, starring Tom Cruise, Jeremy Renner, Simon Pegg and Paula Patton.
Fair City (RTÉ One, 8pm) FREE THE CARRIGSTOWN ONE.
Horizon: Strange Signals from Outer Space! (BBC Two, 11.15pm) The exclamation mark means this has to be good. Follow the work of scientists scouring the universe for signs of extraterrestrial life.
Shut-Ins: Britain's Fattest Woman (Channel 4, 9pm) A follow up documentary on Sharon Hill – who shed 14 stone after appearing on Shut-ins: Britain's Fattest People in 2015.
First Dates (Channel 4, 11pm) Another chance to see Tuesday's episode.
DailyEdge is on Snapchat! Tap the button below to add!