WE ALL LOVE a good 'he said, she said' documentary, right?
Like, wouldn't we all die to know what went on behind closed doors when it comes to Fleetwood Mac, One Direction, even the Sugababes, from the people that lived it?
Well, Taylor Jenkins Reid's latest novel, Daisy Jones & The Six looks to do just that, pulling the curtain back on a fictitious band that's every bit as compelling as the real life musicians that inspired it.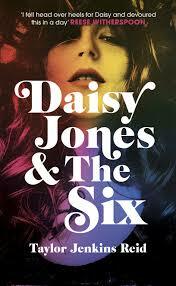 Penguin Books UK / YouTube
The critically acclaimed novel has since been snapped up by Amazon for a series adaption, with Reese Witherspoon on board as producer.
DailyEdge.ie spoke to Jenkins Reid about the runaway success of the immersive 70s-set novel …
How did writing this book compare to your previous novels [The Seven Husbands of Evelyn Hugo, One True Loves, Maybe In Another Life]?
Taylor Jenkins Reid: "It was the same in that I'd get it done in a specific period of time. It was different in that, because it's written as an oral history and you're hearing from all of these different people, it was difficult to figure out how I give the reader as much information as they need. That took a little bit longer to find my stride in the first draft. Once I did, it was good."
Was the story always going to be structured as an oral history?
TJR: "I was always going to tell it as an oral history. For me, it felt it had to be that. I was very gung-hoe about it at the minute and I thought, 'this'll be awesome, I've never seen this done before', and then I looked at the first blank page and I thought, 'I don't even know how to start'.
"This is my sixth book, so looking at a blank page and not knowing where to start was a feeling that I had not had in a very long time. I really felt like there was no other way to tell the story, so I just had to power through.
I found it very freeing to write badly … That allows you to move past the blank page, which is sometimes the hardest past."
Did you find the world of the 70s as immersive as readers have found it, and therefore hard to separate yourself from it post-script?
TJR: "A lot of times, when you're doing research, you're reading books or looking at Wikipedia, even watching movies. But you're rarely listening to music. There was a period of time in my where, if I wasn't writing, I was listening to 70s rock and it was all that I was doing.
"I definitely feel that I lost myself more in the world of this book more than any other book I've written before. It was such a joy to spend all of my time listening to Tom Petty and Dire Straights and feel like I was also working.
"Once I finished the book, I took a little bit of time away from it and was listening to more pop music again, stopped listening to rock documentaries and now for the past maybe four or five months, I've come back to it again as a fan again. I found myself listening to a lot of [Bruce] Springsteen records that I wasn't listening to during the process."
Other than the aforementioned acts, where else did you look to for inspiration?
TJR: "There's a documentary called The History of the Eagles and it was really instrumental in writing this book. The Eagles are such a southern California band and they talk a lot about places they would go and bars they would play and that was helpful. But it was also the dynamics between them – the rivalries and the pettiness – things like that that was really helpful. 
"If I was to put it into a tier, the idea of everyone sleeping together came from Fleetwood Mac. Everything else was Springsteen, the Eagles and Linda Ronstadt."
(No spoilers for anyone currently reading or thinking of reading it!) Was the ending of the story one you had always envisaged for the characters?
TJR: "I knew how the story was going to end. I knew that the central conflict of the story would be two people who have been made to test each other's worst characteristics. If that is the arc of the story, that's a high tension balancing act. You're on a wire. I knew which way it was going to fall. I was much more interested in the journey there."
My favourite thing about the novel was how the female characters were written. Throughout the story, they're faced with difficult, often questionable decisions rendering them unlikeable in a lot of instances.
TJR: "It's the most important thing for me when telling a story – what are the women's stories that I'm telling? Who are the women that I'm representing or trying to make feel seen? The story features very different types of women with very different dreams and they chase them in different ways to varying degrees of success.
It was important to me that this story represented multiple different ways to succeed as a woman."
What was your reaction when you got the call about Reese Witherspoon featuring your book in her book club?
TJR: "It was wild! I never in a million years expected her to read the book. I have so much respect for her as an artist and as a business woman … I was just so flattered.
"Somewhat unsurprisingly, Reese Witherspoon can get things done very quickly. It's gone from her optioning it to going to series very quickly. They've already started writing it. I'm really excited to see what she does. She knows what she's doing and she prioritises telling women's stories.
Is there any apprehension when it comes to signing away a story like this for a TV show?
TJR: "I've sold stories before and they haven't made it to production so this will be the first thing I've seen. I don't feel nervous but maybe I'm wrong to. I feel really confident. I feel like they'll do a fantastic job.
"Once I'm done with a book, I've had to learn that it's no longer mine. It exists for the people reading it. It does become open to interpretation. I've let it go. We'll see what happens when I'm watching it, but right now I'm feeling very excited about it.
If she does what she did to Big Little Lies, I'm good."
Do you have a dream cast in mind for the series?
TJR: "I don't. I think I'm too close to it. I'm very fascinated to hear other people's ideas though.
"There's one or two people that I've heard but there's not been anyone that I've heard that I can say, 'oh it's definitively going to be that person'."
Daisy Jones & The Six by Taylor Jenkins Reid is out now.
DailyEdge is on Instagram!