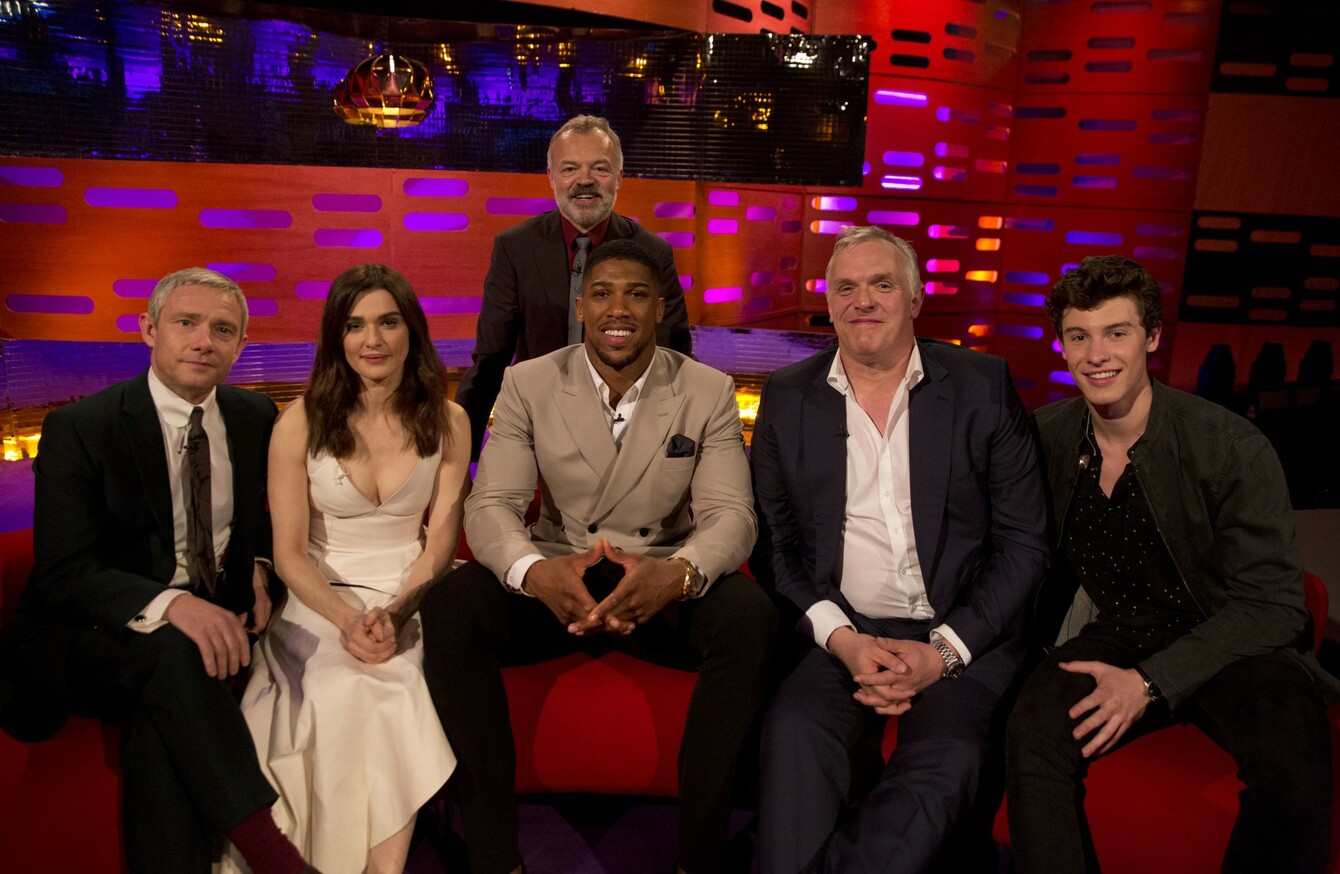 Image: PA Wire/PA Images
Image: PA Wire/PA Images
DailyEdge.ie rounds up the TV shows that you'll be tweeting about tonight and talking about tomorrow.
The Graham Norton Show (BBC One, 10.35pm/10.55pm)
An ~eclectic~ mix on the sofa tonight: heavyweight boxing champion Anthony Joshua, Oscar-winning actress Rachel Weisz, actor Martin Freeman and comedian Greg Davies are all in the house. While Shawn Mendes performs There's Nothing Holdin' Me Back. Not a stellar line-up, but we'll make do.
The Last Leg: Elegtion Special  (Channel 4, 9pm)
This extended edition deals with yesterday's UK General Election, and sees regular hosts Adam Hills, Alex Brooker and Josh Widdicombe go through the thrills and spills of the results with special guests including Steve Coogan, Jamie Oliver, Jon Richardson, Jessica Hynes, Brendan Cox and a host of politicians. Sit back and wait for the Theresa May jokes.
The Kennedys After Camelot (RTÉ One, 9.35pm)
No Late Late tonight, so get stuck into the first part of the drama detailing the life of former First Lady of the United States Jacqueline Kennedy in the aftermath of the 1963 assassination of JFK. Katie Holmes, Ted Atherton, Kristin Booth, Matthew Perry and Ari Cohen all star.
Everybody's talking about… the graphics on the BBC election coverage
Poor Jeremy Vine was wandering around inside a PS2 game:
We all thought it was 2017, but no:
That serious blocky aesthetic:
They spent all their budget on Dimbleby and yer man stood up on the balcony with the exit poll analysis.
Or flick over for…
Have I Got Election News for You (BBC Two, 9.30pm) All the jokes from a helter-skelter week in UK politics.
Road to Perdition (3, 9pm) Sing it to the tune of R Kelly's Remix to Ignition.
Yes Man (RTÉ 2, 9.40pm) Comedy starring Jim Carrey, Zooey Deschanel, Bradley Cooper and John Michael Higgins.
Versailles (BBC Two, 9pm) Louis XIV returns to Versailles in the third last episode of the beautiful period drama.
Layer Cake (3, 11.20pm) Crime thriller, starring Daniel Craig, Michael Gambon, Colm Meaney, Kenneth Cranham and Sienna Miller – and another Friday night movie to enjoy.
DailyEdge is on Snapchat! Tap the button below to add!