WOULD YOU SMEAR bog on your face if you thought it might hold the secret to eternal youth?
Over the past few days, this image has been doing the rounds on Twitter.
As you can see, it is an ad for "Irish peat skincare".
Yes, that's a peat facial. (To put that in layman's terms, that's a facial made with peat.)
People can't quite believe it's real.
But it is!
Peat facials are the brainchild of Ógra Skincare, an Offaly-based cosmetics company that prides itself on using peat in its products.
How much peat?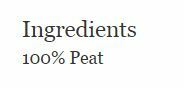 ograskincare ograskincare
So much peat.
According to the company's website, the peat is harvested from raised bogs and is excellent for your skin.
Peat contains strong anti-oxidants that can combat free radical damage. This free radical damage is generally recognised as the main cause of premature ageing.
And people seem to swear by it.
The power of peat, eh?