Image: MGM
IT HAS BEEN 50 years since Sean Connery got the mother of all scrub downs in Dr No and, conveniently, Bond is back.
Daniel Craig plays 007 for the third time in Skyfall and the baddies are not about to give him a moment's rest.
This time, however, he has a little bit of help from gun-toting office clerks, Ralph Fiennes – in ludicrously high-waisted trousers, a cheesed off M (Judi Dench) and a shiny, new Q.
Javier Bardem excels as Silva, a tortured soul who knows the pitfalls of the spy game all too well and gives Bond a with-me-or-against-me ultimatum.
Craig has taken the character that Ian Fleming intended, George Lazenby trialled and Timothy Dalton took too far, and added touches of humour, humanity and an ability to wear tiny swimming trunks.
There are visits to Turkey and China but the majority of the action, refreshingly, takes place in Blighty.
Here are seven moments in Skyfall that tick the Bond boxes:
The Connery
The brusque Scot womanised his way across the globe and back again in his six outings as Bond (and entertained between the sheets, aged 53, in Never Say Never Again). Craig has his hands full in Skyfall, as he tries to track down the holders of a stolen list of embedded MI6 agents, but still finds time for bedtime, and shower, breaks with three damsels. There is an inter-office dalliance thrown in too. Let's hope Human Resources don't find out.
The Niven
David Niven appeared as a retired Bond in the 1967 spoof called Casino Royale. Craig performs a similar act in the latest installment when a CNN broadcast, hosted by Buffalo's favourite news anchor Wolf Blitzer, inspires him to quit the booze and one-night stands to come to Britain's rescue once again.
The Lazenby
One of the best fights you will ever see in a Bond movie is Lazenby's hotel throw-down in On Her Majesty's Secret Service. Craig outdoes himself here by going all Jason Bourne and kicking lumps out of a sniper-rifle thug in the back-lit surrounds of a plush Shanghai high-rise. The fight, and its tense build-up, is one of Skyfall's best scenes.
The Moore
So many classic sequences from the Roger Moore Bonds – who will ever forget the holidaymaker's double-take at his bottle of wine when 007 careened down a Venetian street in a speedboat? However, the tip to Moore, and the Live and Let Die crocodile hop, comes when Bond attends a casino in Macau and soon ends up fighting for his life in a pit with a hungry iguana awaiting the loser.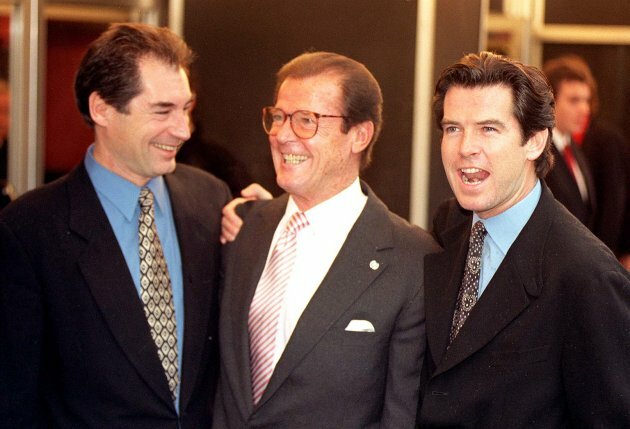 Tim Dalton, Roger Moore and Pierce Brosnan at a memorial service for Albert 'Cubby' Broccoli in 1996. A memorial service Pierce! (Fiona Hanson/PA)
The Dalton
Dalton, a noted Shakespearean actor, was aiming for cerebral when he took Bond from the '80s into the '90s but he generally came across as an angry man. On of his best Bond traits, in Licence to Kill, was his ability to refocus after witnessing some grizzly deaths of friends and colleagues. Craig displays a similar heartless streak as bedfellows, agents and mentors fall by the wayside. Hands off the Aston Martin DB5, though, or all bets are off.
The Brosnan
Pierce Brosnan's stint as 007 veered from the sublime to the ridiculous but he won the prize for becoming the first Bond to get captured and tortured by the North Koreans. When he emerged from captivity, 14 months later, Brosnan had a beard that would make Zach Galifianakis blush. Craig also goes through a rough, bullet-induced patch before showing up in London, raiding M's liquor cabinet and sporting some facial fuzz.
The Craig
Craig's performances have been brooding but restrained to date. With such a strong supporting cast, Craig strikes a new path in the 23-film series by playing the perfect ensemble actor role. Bardem, Dench and groundskeeper-cum-renegade Albert Finney are allowed to steal scenes, it is because Craig provides the restrained foil for them to do so.
YouTube credit: SonyPictures
The verdict
Directed with zest and due-diligence by Sam Mendes, with a steady stream of nods to the past 50 years of Bondisms, Skyfall keeps up the high standards set by the 2006 re-imagining of Casino Royale. Bardem and Finney chew up the scenes while Dench and Craig revel in the old-school tricks in a world gone mad.

*That's five and a half Bonds out of seven (or about 78%)
**Pic credits: PA Archive, Stefan Rousseau.