WE ALL REMEMBER those shoeboxes from school that we would fill up with stuff and send off to a charity at home or abroad.
Well, an eight year old girl from Galway sent away a shoebox with this note in 1999 – destined for Armenia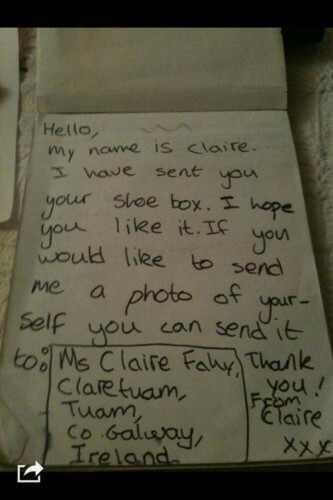 Facebook Facebook
Claire Fahy had completely forgotten about her act of charity when she was a kid, until yesterday when she received a special message on Facebook – as she recounts:
When I was 8 years old I wrote this note and put it inside a shoebox filled with crayons, gloves, a toothbrush and loads of other bits and it got sent off to children in disadvantaged countries. This morning, 16 years later, I got a message from a man in Armenia to say he's been searching for me for years to thank me for his gift box. He took a picture of the note and sent it with his message. This is amazing.
The man's name was Arsen, and he messaged her after all this time to express his gratitude for Claire's shoebox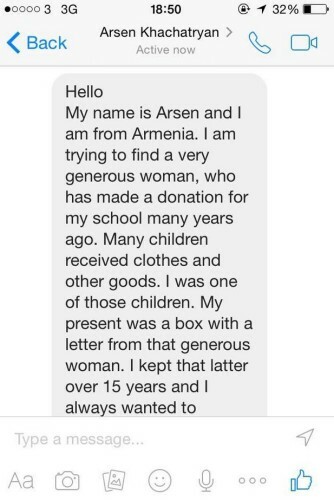 Facebook Facebook
Facebook Facebook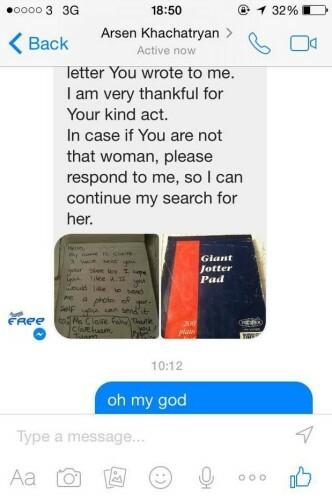 Facebook Facebook
As Claire tells DailyEdge.ie:

Myself and Arsen are delighted we're now friends for life!
Wonderful.