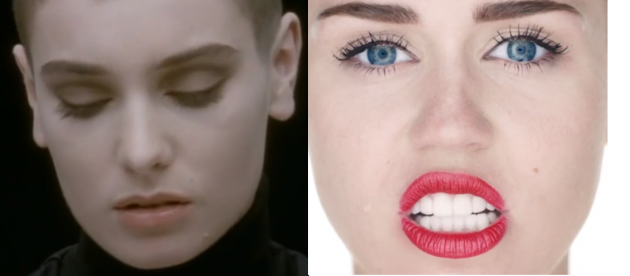 YouTube YouTube
SINEAD O'CONNOR HAS written an open letter to Miley Cyrus, warning her not to let stardom "make a prostitute of you".
O'Connor tells Cyrus that "men are making more money than you are from you getting naked", adding that sexual imagery is "sending dangerous signals to other young women".
She continues:
Whether we like it or not, us females in the industry are role models and as such we have to be extremely careful what messages we send to other women. The message you keep sending is that its somehow cool to be prostituted.
The letter comes after widespread comparisons between Miley's Wrecking Ball video and O'Connor's video for Nothing Compares 2 U.
The younger star said her video – in which she swings naked on, well, a wrecking ball – was inspired by O'Connor. Cyrus told Rolling Stone:
It's like the Sinead O'Connor video [for Nothing Compares 2 U], but, like, the most modern version. I wanted it to be tough but really pretty – that's what Sinead did with her hair and everything.
In her response, O'Connor writes: "I am happy to hear I am somewhat of a role model for you and I hope that because of that you will pay close attention to what I am telling you."
She continues:
The music business doesn't give a shit about you, or any of us. They will prostitute you for all you are worth, and cleverly make you think its what YOU wanted.. and when you end up in rehab as a result of being prostituted, 'they' will be sunning themselves on their yachts in Antigua, which they bought by selling your body and you will find yourself very alone.
O'Connor adds:
You are worth more than your body or your sexual appeal. The world of showbiz doesn't see things that way [...] Real empowerment of yourself as a woman would be to in future refuse to exploit your body or your sexuality in order for men to make money from you.
And asks:
Please in future say no when you are asked to prostitute yourself. Your body is for you and your boyfriend. It isn't for every spunk-spewing dirtbag on the net, or every greedy record company executive to buy his mistresses diamonds with.
Finally, O'Connor says that she understands the need for Cyrus to shed "the Hannah Montana image", but explains that "whoever is telling you getting naked is the way to do that does absolutely NOT respect your talent". She ends with the killer line:
Kindly fire any motherf**ker who hasn't expressed alarm, because they don't care about you.
You can read the full letter on Sinead O'Connor's website here.