THE CREATOR OF an Irish Facebook page which lets users pinpoint the identity of girls in nightclub photos has defended the group.
Who's Ur Wan is fast gaining popularity, with well over 40,000 likes and a considerable amount of user interaction.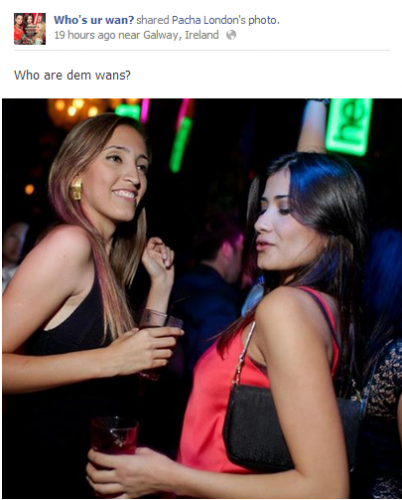 DailyEdge.ie has been in touch with one of the creators of the Facebook page, who said none of the girls featured have lodged any complaints or asked for anything to be removed.
He/she said that that if there was a problem…
I'm sure we would be more than happy to oblige.
There are two people currently moderating the page and the comments to some extent.
While there has been some concern expressed about the nature of Who's Ur Wan, the creators say they're pretty sure they're not breaking any rules.
There are many places on the internet where men comment on the appearance of women, just because this page is currently growing in popularity doesn't mean there's anything unique in that.
With regard to comments sometimes being disparaging, this is the internet and having people troll whatever's popular that's posted seems to be a fact of life.
They also said that they do their best to remove any offensive comments…
… but things can slip through, at that point it's up to people to realise there will always be counter-productive comments on anything posted public, be it here on Facebook or elsewhere on the web.
The policy at the moment is just 'common sense', if popularity continues to rise I'll lay out some guidelines and add more moderators as demand requires.
Some of the "wans" featured have interacted positively with the page