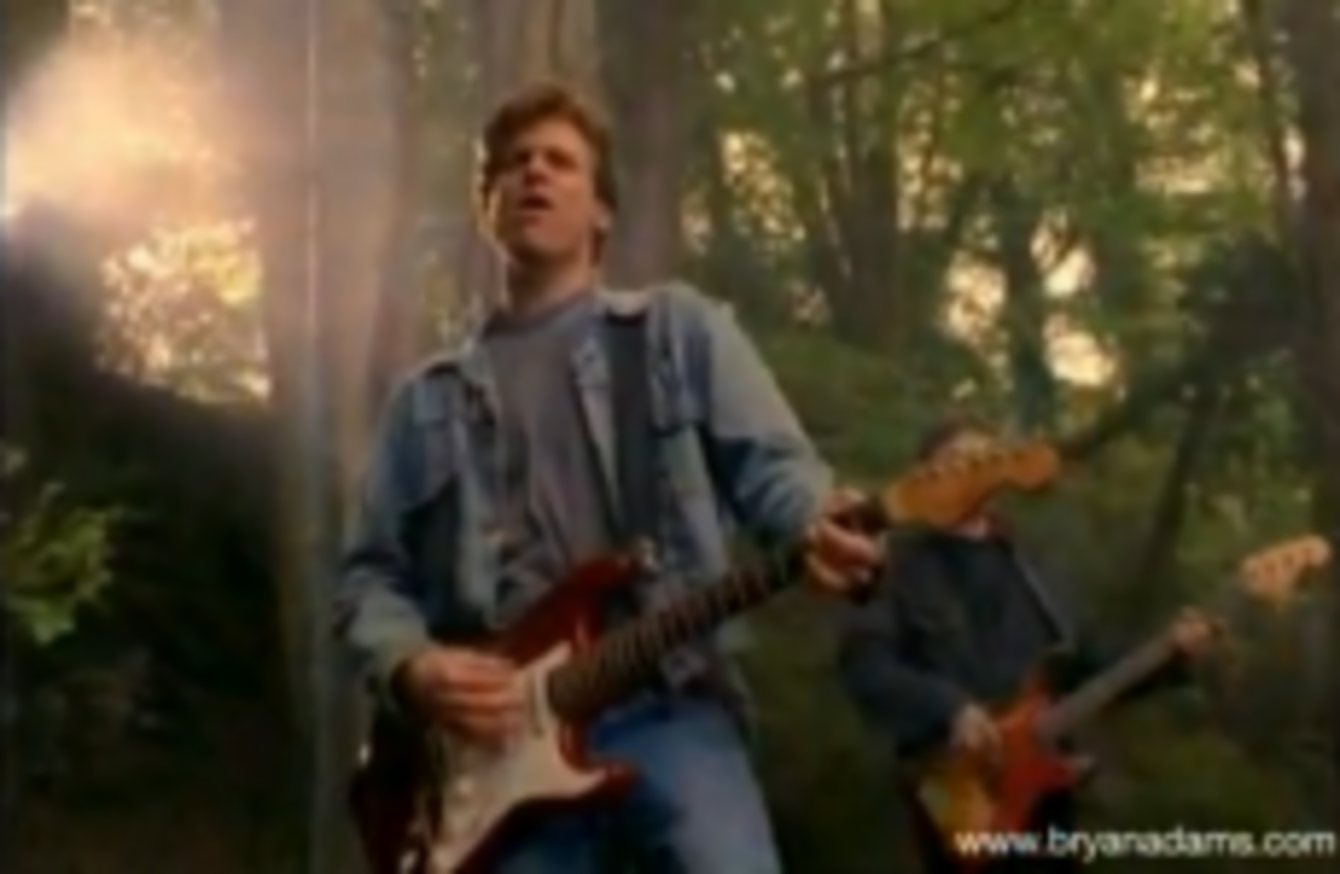 Bryan Adams: owner of the only denim jacket in Nottingham Forest
Image: YouTube
Bryan Adams: owner of the only denim jacket in Nottingham Forest
Image: YouTube
EVERYONE KNOWS THAT the most important part of any teenage disco is the slow song at the end.
The one you spent the entire evening planning for.
Then there was that awkward foot-shuffling dance. And if you were lucky, a clashing of noses and/or teeth braces  as you went in for the shift.
Chances are, at that very moment, you were hearing one of these tunes. Feel free to add your own in the comments.
1. Truly Madly Deeply – Savage Garden
YouTube/SavageGardenVEVO
2. Nobody Knows – The Tony Rich Project
"I'm missing you… and nobody knows it but me."
Also good for expressing your heartache if your crush dances with somebody else.
YouTube/candicejh
3. Extreme – More Than Words
It was as much about the hair as the music, wasn't it?
Youtube/LibraAnne
4. Think Twice – Celine Dion
Know what the guy in the video should have thought twice about? His double denim, that's what.
YouTube/Elbrandedcontent
5. I Don't Wanna Miss A Thing – Aerosmith
"AAH could stay awake just to HEEEEAH you BREATHIN."
YouTube/lisachii
6. Wonderful Tonight – Damage
They don't make slow jams like this anymore.
YouTube/DahjOkA
7. Love Me For A Reason – Boyzone
Let's be honest. This happened to all of us.
YouTube/BoyzoneVEVO
8. Jessie – Joshua Kadison
Sample YouTube comment: "Anybody know what happened 2 this guy? He wrote a good song!"
YouTube/Rey F. Velasco
9. Unchained Melody – Robson and Jerome
Sure, the Righteous Brothers sang the original. But where were they in the 1990s? Nowhere, that's where.
YouTube/mrbevboy2
10. November Rain – Guns N' Roses
At nine minutes long, the most epic smooching song EVER.
YouTube/UnOficialGNR
11. I Swear – All 4 One
"I'll love you with every beat of my heart." Never have we meant that so much as when we meant it about the girl who sat at the front of the class.
YouTube/VIETNAMESPORKROLLS
12. Never Ever – All Saints
Don't know about you, but round my way it used to be a thing that all the girls in the hall would link arms and chant the beginning bit. "You can tell me to my face / Or even on the phone."
Luckily I already had a pretty good line in standing around awkwardly.
YouTube/mikethehurt
13. Eternal Flame – The Bangles
OK, this was released in 1989. But it lived on in the strange netherworld of the slow set.
YouTube/QueenOfRockChannel
14. Unbreak My Heart – Toni Braxton
It's ironic, because as any teenager knows, hearts can NEVER be unbroken.
YouTube/zokji234
15. (Everything I Do) I Do It For You – Bryan Adams
Heroic outlaws! Damsels in distress! Flaming arrows! We all saw them, as we sweatily shuffled around the village hall smelling of hormones.
YouTube/bryanadams
16. K-Ci & JoJo – All My Life
I'll tell you something: these guys probably never happened across a girl's bra strap and wondered what it was while awkwardly stroking her back.
YouTube/KCiAndJoJoVEVO
17. I Will Always Love You – Whitney Houston
The ultimate slowdance tune. When all human civilisation turns to ash and the planet explodes, spotty teenagers will still be treading on each other's feet to this song.
YouTube/GermanGirly013