DON'T FANCY A pint of the black stuff this evening?
Or maybe you echo Steve Wall's sentiments about Arthur's Day?
Never fear, we've come up with some alternative ways of celebrating this most made up of holidays.
1: Watch Arthur 2: On the Rocks
The much-maligned sequel to Arthur, starring Dudley Moore, deserves another chance. Give it that chance today.
Uploaded by: TheTrailerGal
2: Pay tribute to Golden Girl Bea Arthur…
.. and her fallen Golden Girl comrades Estelle Getty and Rue McClanahan. Betty White, we salute you.
Idea via @Phlaimeaux/uploaded by Eagles770onCP
3. Read an Arthur Miller play
Death of a Salesman, The Crucible, A View from the Bridge… take your pick.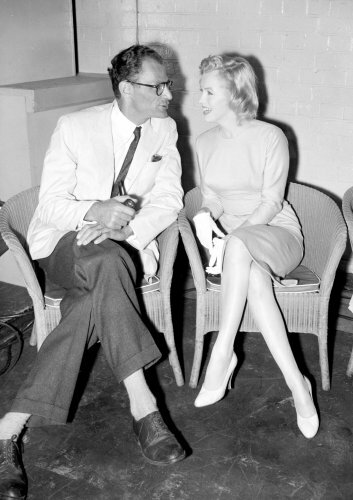 Arthur Miller with wife Marilyn Monroe, pictured in 1956 (PA/PA Archive/Press Association Images)
… and watch Monty Python and the Holy Grail.
Uploaded by UnlimitedProductions
5. Elementary my dear Watson!
Read one of Arthur Conan Doyle's Sherlock Holmes books. Or dazzle people with this bit of trivia: Sherlock Holmes never said "Elementary my dear Watson" in the Conan Doyle books. It actually came from the 1929 film The Return of Sherlock Holmes. So now.
6. Visit Arthur County, Nebraska
With a population of just 460 (making it the fifth smallest county in the US) you can make lots of friends. You can also visit one of Arthur County's two sites of historical interest: First Arthur County Courthouse and Jail and Pilgrim Holiness Church. Er… that's all we have to say about Arthur County. They may or may not serve Guinness there.