A BABY BEAR has been found dead lying in New York's Central Park, but nobody knows how it got there.
The three-foot-long bear was found lying in a grassy area, with trauma to the body. No animals have been reported missing from any zoo in the city.
It was discovered by two women, one of whom told AP that they initially thought it was "a bag of clothes or maybe a dead dog"
The discovery baffled officials and disturbed members of the public, who go jogging, relax, walk their dogs and play with their children in Central Park.
There is speculation that the bear may have been killed elsewhere and its body dumped.
CBS reports sources as saying that the bear had "stab and slash wounds" on its body, and that NYPD are now investigating as an animal cruelty case.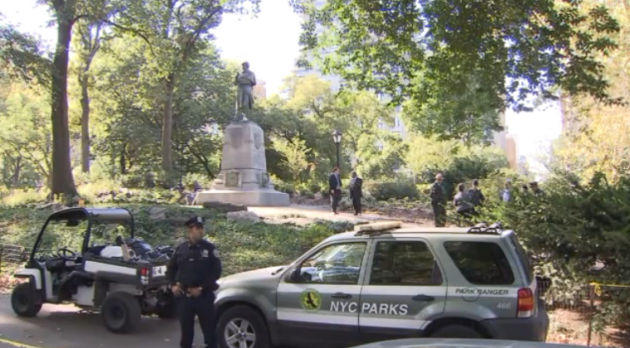 Pix11 Police officers in the park yesterday, in a still from a TV news report Pix11
"Very unusual," an elderly dog walker told NBC television. "I've lived in New York all my life and I've gone to Central Park with different dogs and I've never seen a bear."
Police told AFP that the body was taken to the Bronx Zoo after officers were called to Manhattan's largest public park shortly before 10am yesterday.
The bear, somehow separated from her mother, was later transported to New York's state department of environmental conservation in Albany for a necropsy to determine how it died.