PHILOMENA, THE TRUE story of an Irishwoman searching for a son taken by nuns, won a Bafta last night as Hollywood descended on London.
The film won the award for Best Adapted Screenplay as its inspiration – the real Philomena Lee, whose story was the basis of the film – looked on from the audience.
However 12 Years a Slave was the big winner, giving the Steve McQueen directed picture a huge pre-Oscars boost.
It claimed the best film award and lead actor Chiwetel Ejiofor walked away with the best actor prize, saying he was "so deeply honoured and privileged" to receive the it.
BBC
Jennifer Lawrence won the best supporting actress award for her role in American Hustle and Barkhad Abdi claimed the best supporting actor prize for his portrayal of a Somali pirate in Captain Phillips.
Claiming her best actress award for Woody Allen's Blue Jasmine, Cate Blanchett paid an emotional tribute to late colleague Philip Seymour Hoffman, calling him "a continual profound touchstone". She said: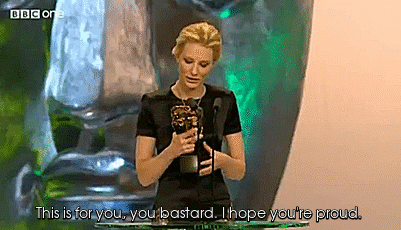 Hollywood stars including Angelina Jolie and Brad Pitt rubbed shoulders with British royalty at the ceremony.
The superstar couple made an unexpected appearance on the red carpet in matching tuxedos and signed autographs for hordes of fans camped outside the venue.
Bafta president Prince William was also at the ceremony, which was hosted for a ninth time by actor Stephen Fry.
Mirren, who has played Elizabeth II on stage and screen, was presented with the award by William, who called her "an extremely talented British actress who I should probably call granny".
Leonardo DiCaprio, Christian Bale and Tom Hanks, all nominated in the Best Actor category, were also in London for the event.
Here's Helen Mirren receiving her award:
BlackTV
Best film: 12 Years a Slave
Outstanding British film: Gravity
Actor: Chiwetel Ejiofor (12 Years a Slave)
Actress: Cate Blanchett (Blue Jasmine)
Supporting actor: Barkhad Adbi (Captain Phillips)
Supporting actress: Jennifer Lawrence (American Hustle)
Director: Alfonso Cuaron (Gravity)
Original screenplay: American Hustle
Adapted screenplay: Philomena
Animated film: Frozen
Documentary: The Act of Killing
Foreign film: The Great Beauty
Cinematography: Gravity
Costume design: The Great Gatsby
Editing: Rush
Make-up and hair: American Hustle
Music: Gravity
Production design: The Great Gatsby
Sound: Gravity
Visual effects: Gravity
Short animation: Sleeping with the Fishes
Short film: Room 8
Outstanding debut by a British writer, director or producer: Kieran Evans (writer-director, Kelly + Victor)
Rising Star award: Will Poulter