BOY OR GIRL? Frances or John? Blonde or brunette?
The big questions are being posed by bookmakers about the Royal offspring of the Duke and Duchess of Cambridge.
William Hill has opened its books on the obvious ones – whether it will be a boy or a girl and what its name will be. But there are some rather special predictions coming from all corners this morning as well.
The odds for it being male or female are the same at 10/11. Obviously, right?
The favourite names are Frances and John at 9/1, with Charles, Victoria and George following closely at 10/1. Questionably, Diana has been given odds of 12/1.
Also on the list are Phillip, Richard, Spencer, Mary, Henry, Sarah, Carole, William, Edward, Alice, Albert, Arther and Elizabeth, after great-granny.
The bookies have also offered bets on what colour hair the baby will have:
6/4 for brown
2/1 for blonde
5/2 for black
8/1 for ginger (like its uncle)
If you fancy guessing what day of the week Kate will give birth, you will get odds of 6/1 for every day. Other 'baby special' bets will see people try to forecast the weight of the newborn and whether it will go on to play Premier League Football or a Vogue cover model. The odds for those predictions? 1000/1 and 33/1 respectively.
Not to be outdone by its British rivals, Paddy Power has also come up with some interesting material.
On top of predicting the day the heir(ess) will be born, punters can guess the time of the birth. Every minute of the day is down at 11/4.
Also on its list of Royal Specials is a guessing game on who the godparents will be. Prince Harry is evens for the Godfather role, while Kate's sister Pippa is favourite for the role of the fairy Godmother.
The Daily Telegraph has led with a front page today, asking, "Could it be twins?" Paddy Power says the odds are 8/1 for that. Triplets? 100/1. And (god, forbid) quads or more? 500/1.
So, what else were the papers saying this morning?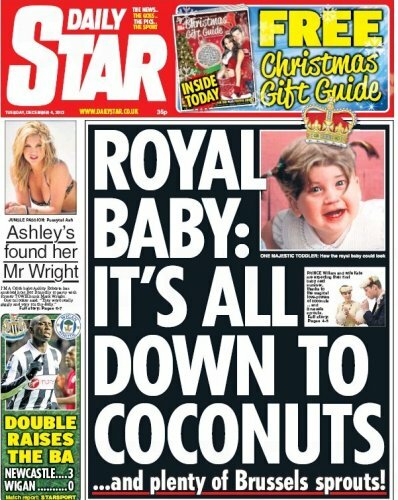 OK then. We're happy for Ashley too.