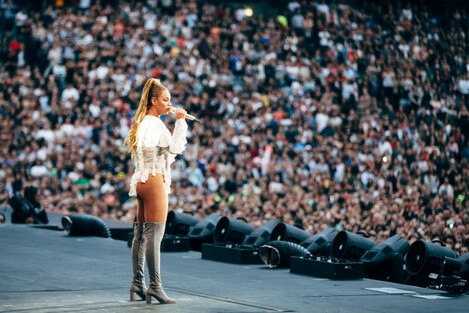 Source: Associated Press
BEYONCÉ HAS BEEN and gone from our shores like a glamorous, delicious, fragrant fart on the wind.
Or has she?
She played Croke Park on 9 July, and has been continuing her Formation tour around Europe since then, but has she been seeing a little more of Ireland on the side?
Well, if the Clare Champion (via Broadsheet.ie) is to be believed, she was maintaining her sea legs on yacht in Kilrush in the days after her big show at Croker. Not only that, but she was causing all the chat at a local council meeting.
Let's unpack the most enjoyable aspects of this gem:
People convinced, CONVINCED, it was Beyoncé's boat that was spotted arriving into Cappa (to be fair it's fairly well documented that she's been spending a lot of time on yachts on this leg of her tour).
The mention of Beyoncé at the West Clare Municipal District Meeting.
Councillor Ian Lynch's status as a 'Beyoncé fanatic'.
Councillor Ian Lynch's motion to undertake a coastline survey in the area in order to identify a location for a slipway, to avoid the possibilty of anyone slipping 'on their backside', a fate which could have befallen Beyoncé had she tried to venture ashore.
The puzzlement of the other councillors.
One councillor in particular claiming that he "couldn't place her".
Imaging that councillor's face as he tried to 'place her'.
Now, was it Beyonce's boat? Let's examine the evidence…
The yacht, the 'Grace E' was spotted in Kinsale earlier this month, around 4 July, around the time of Beyoncé's Formation gigs in London. (Irish Mirror)
It was spotted in the Shannon Estuary a couple of days later, on 7 July. (Clare Herald)
The week before her Croke Park gig on 9 July another 'super yacht' was spotted at Liverpool Cruise Terminal, rumoured to be Beyoncé's ride. The yacht was called the 'Jamaica Bay'. (Liverpool Echo)
The Friday before her Croke Park gig a "multi million pound yacht", also called the 'Jamaica Bay' was spotted in Belfast, with rumours that it belonged to Beyoncé. (Irish News, Belfast Telegraph).
On the night of 12 July,the Jamaica Bay was  spotted at Oban in Scotland, amid further speculation that Beyoncé and Jay Z were on board. (Scottish Sun)
The Grace E was spotted in Kilrush also on 12 July. (Clare Champion/Broadsheet.ie). It arrived from Galway (Clare Herald)
Our spies in Kinsale tell us that the Grace E was back in Cork this very weekend.
Source: Associated Press
From this evidence we deduce two possible solutions to the Beyoncé yacht riddle…
 Beyoncé has numerous yachts at her disposal and flits between them when it suits her. She is a queen after all
Beyoncé has discovered a hole in the space time continuum and can be in multiple places at once
We will not even entertain the idea that Beyoncé was never on a yacht in west Clare, because where is the craic in that? I SAID GOOD DAY.
DailyEdge is on Snapchat! Tap the button below to add!