A MAJOR US retailer has apologised for labelling the Bible as 'fiction' in its book section.
Chain store Costco was caught out when the pastor of a Christian congregation in Simi Valley, California found the books on sale.
Caleb Kaltenbach tweeted a photo, writing:
Costco has Bibles for sale under the genre of FICTIONHmmmm……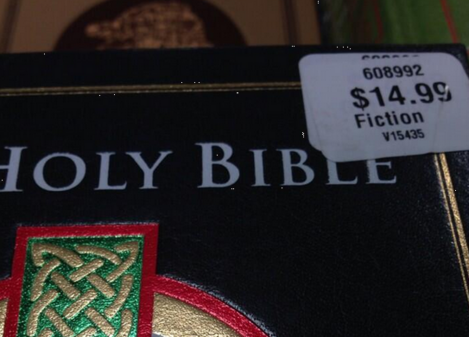 Source: @calebwilds/Twitter
When local media began to cover the story, Costco swiftly apologised. It said the labelling was an error and would immediately be altered.
In a statement reported by KTLA, the company said:
Costco's distributor mislabelled a small percentage of the Bibles, however we take responsibility and should have caught the mistake. We are correcting this with them for future distribution. In addition, we are immediately relabelling all mislabelled Bibles. We greatly apologise for this error.
However, it did not say what the Bibles would now be labelled as.
Following the apology, Kaltenbach wrote on Twitter:
Costco is the fifth largest retailer in the US, and was the sixth largest worldwide last year.