This article contains spoilers, obviously.
BREAKING BAD CREATOR Vince Gilligan has revealed five possible alternate endings for the series.
Speaking on the Breaking Bad Insider podcast following Sunday night's finale, Gilligan discussed various scenarios considered by the show's writers to end its five-season run.
He also revealed that the writing team gave Walt his M60 machine gun – which he is seen buying at the very beginning of season five – before they knew what he would do with it.
Here are the five possibilities, as explained by Gilligan:
1. Walt turns Rambo
Our original version was that Walt would use it somewhat in Rambo fashion. Hand held. But the closer we got to the end we realized how Walt's cancer would resurface and how sick Walt would be. That felt wrong for Walt to go out brawn over brain [...] Very late in the game we came up with mounting it in the trunk and using the garage door motor as a way of sweeping it back and forth and automating the process. Everyone, me included, loved the moments where Walt was MacGyveresque
2. Walt in a firefight with police
We thought, gee, is it too obvious he'd use it on a bunch of bad guys? … He wanted to be known as Jesse James. He wants the credit. So we had versions that we talked about for instance where the police come to get him. He uses it on the police. But we didn't like that. It just didn't seem right.
3. Walt breaks Jesse out of jail
We had a version where he goes and breaks Jesse out of jail just as the Nazis were gonna knock Jesse off in jail, and he comes in and uses an M60 to lay waste to an entire prison or a prison bus.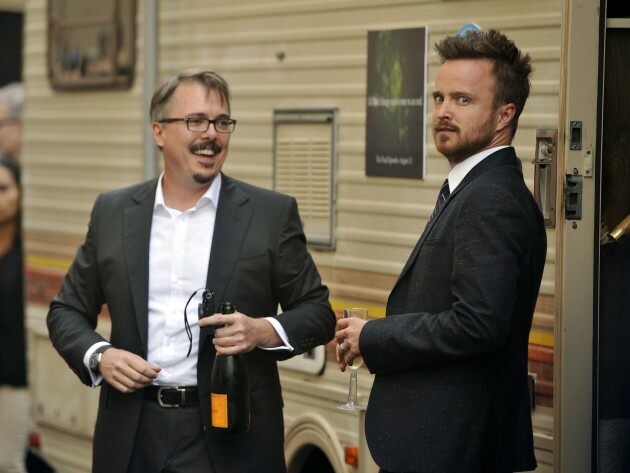 AP / Press Association Images Vince Gilligan, Aaron Paul and the RV at a premiere screening for the show's fifth season AP / Press Association Images / Press Association Images
4. Skyler disappears or commits suicide
I was leaning toward that and the other writers were like, that's a bridge too far. Let's not do that. And they were right. [...] One of them was that Skyler leaves with Walt and the Disappearer [...] But we could never figure out how to get Junior to go along [...] There's no bringing Junior if Junior doesn't want to go.

We talked about a possible version where Skyler and Walt are tied up at a Motel 6 kind of place and he's talking to her in a bathroom saying, 'It's going to be alright… I've got a plan. Skyler? Skyler?' And he finally forces the door open and she's in a bloody tub or something like that.
5. Jesse dies, then Walt Jr is killed too
This was a plot turn that Gilligan considered before the show even aired, he says in the podcast. It would involve a ruthless drug kingpin – still to be fleshed out at that stage – killing Jesse, and then being captured by Walt and imprisoned in a basement.
Walt is reluctant to execute the dealer personally, but tortures him and rigs up a mechanism with a shotgun and a wire so the man can kill himself if he wishes. However, Walt Jr discovers the man and goes to give him a drink of water – at which point the dealer tugs the wire and kills them both.
Gilligan was also interview on the Colbert Report. Here he is discussing the finale:
Jake005