DailyEdge.ie rounds up the TV shows that you'll be tweeting about tonight and talking about tomorrow. And it's a bumper list given it's Christmas Eve.
The Muppet Christmas Carol (Channel 4, 6.30pm)
Good call, Channel 4. An embittered Victorian miser hates the festive season and people in general, but on Christmas Eve, the ghosts of his former business partners, the Marley brothers, visit him in the night. They warn him three spirits are coming to make him change his ways by showing him visions of the past, the present and what the future may hold. Classic festive comedy, with Michael Caine and Steven Mackintosh alongside the iconic muppet characters.
Angela's Christmas (RTÉ One, 6.20pm)
Animated adaptation of Frank McCourt's children's book about a little girl in 1900s Ireland who is determined to make sure everyone is safe, warm and loved at Christmas. This looks like it could be adorable.
The Great Gatsby (BBC Two, 9.30pm)
There are premieres as far as the eye can see tonight. A naive writer arrives in Long Island in 1922 and befriends a self-made millionaire with a reputation for lavish parties. As he is seduced into this decadent lifestyle, he slowly uncovers his friend's mysterious dark past and lifelong obsession with his cousin. Period drama based on F Scott Fitzgerald's novel, starring Leonardo DiCaprio, Tobey Maguire and Carey Mulligan.
Frozen (RTÉ 2, 6.55pm)
Premiere. A princess with the power to freeze anything she touches loses control of her abilities and plunges the kingdom into a perpetual winter. She goes into hiding, but her sister remains determined that she can be saved from her own magic and sets off on a quest to find her, aided by a mountain man and a living snowman. Disney animated fantasy adventure, with the voices of Kristen Bell and Idina Menzel. Yes, it's perfectly acceptable to sing along.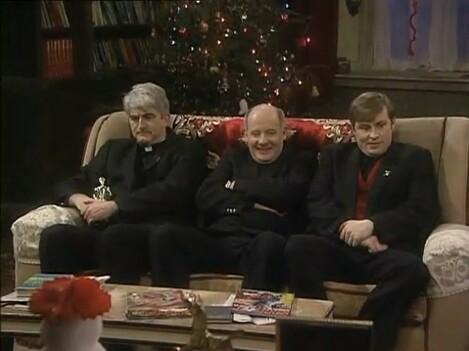 Source: Channel 4
Father Ted Christmas Special (RTÉ 2, 8.40pm)
Here we all are now, all the lads. Is it really Christmas Eve if you don't settle in to watch Todd Unctious wreak havoc on Craggy Island?
Ted (RTÉ 2, 10.15pm)
Not quite as good as Father Ted, but still. A lonely boy makes a wish at Christmas that his teddy bear will come to life, which is magically granted. The boy grows up to become a directionless slacker, with the foul-mouthed living toy still his inseparable friend – but his girlfriend thinks it is time for him to grow up. Comedy, starring Mark Wahlberg and Mila Kunis, directed by and featuring the voice of Seth MacFarlane.
Miracle on 34th Street (E4, 8pm)
This could be a good shout for the mid-evening family movie. A woman raises her six-year-old daughter to believe that Santa Claus does not exist, but they both have a change of heart after meeting a department store Father Christmas who claims to be the man himself. When the kindly fellow is accused of being a charlatan, his new friends engage a lawyer to prove his true identity. Remake of the 1947 family drama, with Richard Attenborough, Elizabeth Perkins, Mara Wilson and Dylan McDermott.

Or flick over for ...
Charlie and the Chocolate Factory (ITV2, 6.50pm) Warning: this is the Johnny Depp version, not the good one.
Bridget & Eamon Christmas Special: Four Funerals and No Wedding (RTÉ 2, 9.45pm) Bridget fakes Eamon's death so she can claim a widow's pension and his life assurance money. However, her late husband cannot resist putting in an appearance at his own wake.
Carols from the Castle (RTÉ One, 9.15pm) Mary Kennedy presents a concert of Christmas music from Dublin Castle.
Four Weddings and a Funeral (RTÉ 2, 12.10am) If you can't sleep thinking about Santy, this will keep you entertained into the wee hours.
Anchorman: the Legend of Ron Burgundy (Film4, 9pm) I'm Ron Burgundy?
Midnight Mass (RTÉ One, 11pm) If you're up late on a mad one.
Man about Dog (TV3, 11.20pm) Three down-on-their-luck lads find themselves in possession of a greyhound. Comedy, starring Allen Leech, Tom Murphy, Ciaran Nolan and Sean McGinley.
DailyEdge is on Instagram!