DANIEL O'DONNELL AND his wife Majella are heading Stateside for their new show, Daniel and Majella's USA Road Trip.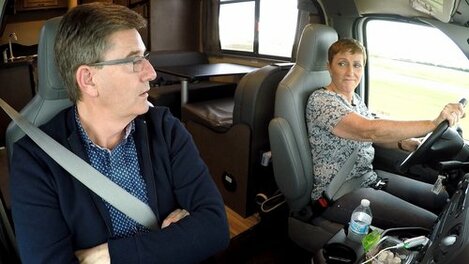 "Get in loser, we're going shopping."
As Daniel was preparing for a big gig in North Dakota, the pair decided to make a holiday out of it and rented an RV – much to Majella's shock and horror.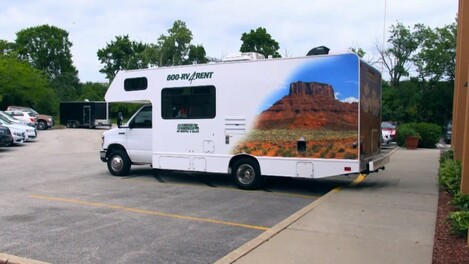 Wow, the pics from the set of 'Fast and Furious: Donegal' sure look promising! Source: RTÉ
"Where do the sides come out?" Majella asked incredulously, inquiring as to where the jacuzzi bath was. Cue DOD, laughing away to himself. (He was more concerned about the lack of facecloths and television in the thing – fair, TBH.)
I'm always looking for something bigger Daniel, you know that."
Source: RTÉ
Kicking off the trip in Chicago, Majella made the decision to drive while Daniel played Candy Crush on the iPad. Great yokes, they are.
"Maj, can I've your credit card there? I need some more extra lives." Source: RTÉ
Along the way, they decided to stop in on super fan Helen, who's lived in her trailer park for 20 years. After dedicating a whole room of the trailer to Johnny Cash, she's started replacing some of the memorabilia with photos of herself and Daniel. (Daniel reckons it's because he's still alive.)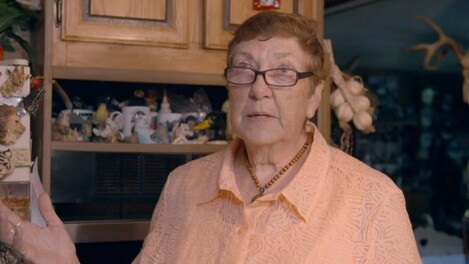 Source: RTE
"Daniel has this penchant for remembering people," she said. "He'll meet you three times, he'll remember you."
Helen reckons she has one of the biggest Daniel O'Donnell collections in the world, including this fetching belt. Who needs Gucci?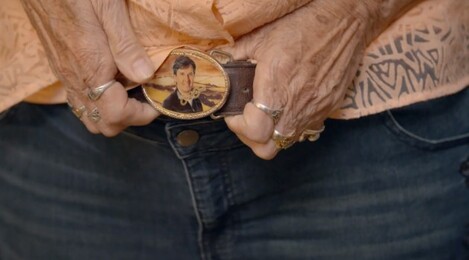 "Daniel gang, Daniel gang, Daniel gang ..." Source: RTÉ
Every room you go into in this house, Daniel's with, in some place, looking at you."
Yep, he sure is …
An ominously cropped photo of wee Daniel. Source: RTÉ
Helen usually has a plan when she meets Daniel, which involves putting on lipstick and giving him a kiss on the cheek. (Majella warned him against any lip kissing though, in case he gets a cold sore.)
Upon entering her home, Helen asked Daniel and Maj to "pretend you're in a museum". Given what was on display, they might as well have been.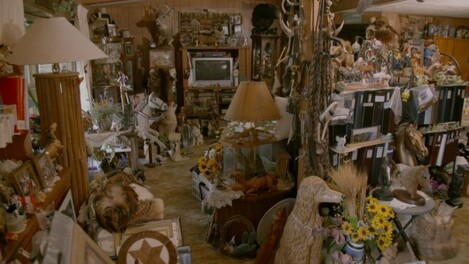 Source: RTÉ
Majella: "I knew she was a fan, but she had more photos of Daniel than I had."
Majella'll be getting an Instax for Christmas, by the sounds of things.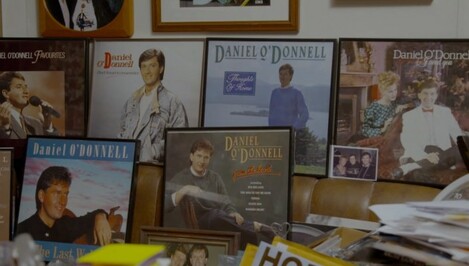 Source: RTÉ
The icing on the (urinal) cake? Helen's custom toilet seat cover, adorned with DO'D himself.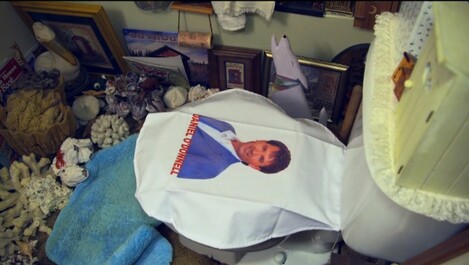 Has your arse been approved by the Donegal songbird? Source: RTÉ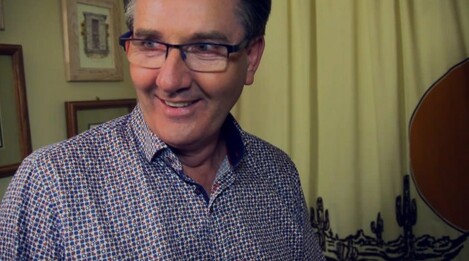 "Maj, is it too late to renegotiate our contract?" Source: RTÉ
The visit was capped off with a Johnny Cash sing-song, which moved Helen to tears.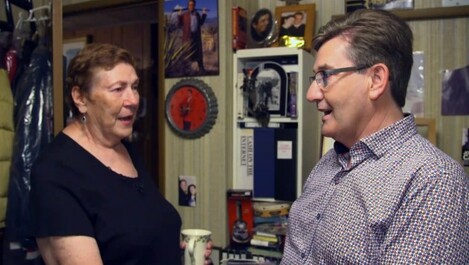 Source: RTÉ
Helen: "I got one of the things I've wanted to do all my life done. It's overwhelming."
I'm not crying, you're crying.
Daniel and Majella's USA Road Trip airs Sundays 9.35pm on RTÉ One.
DailyEdge is on Instagram!