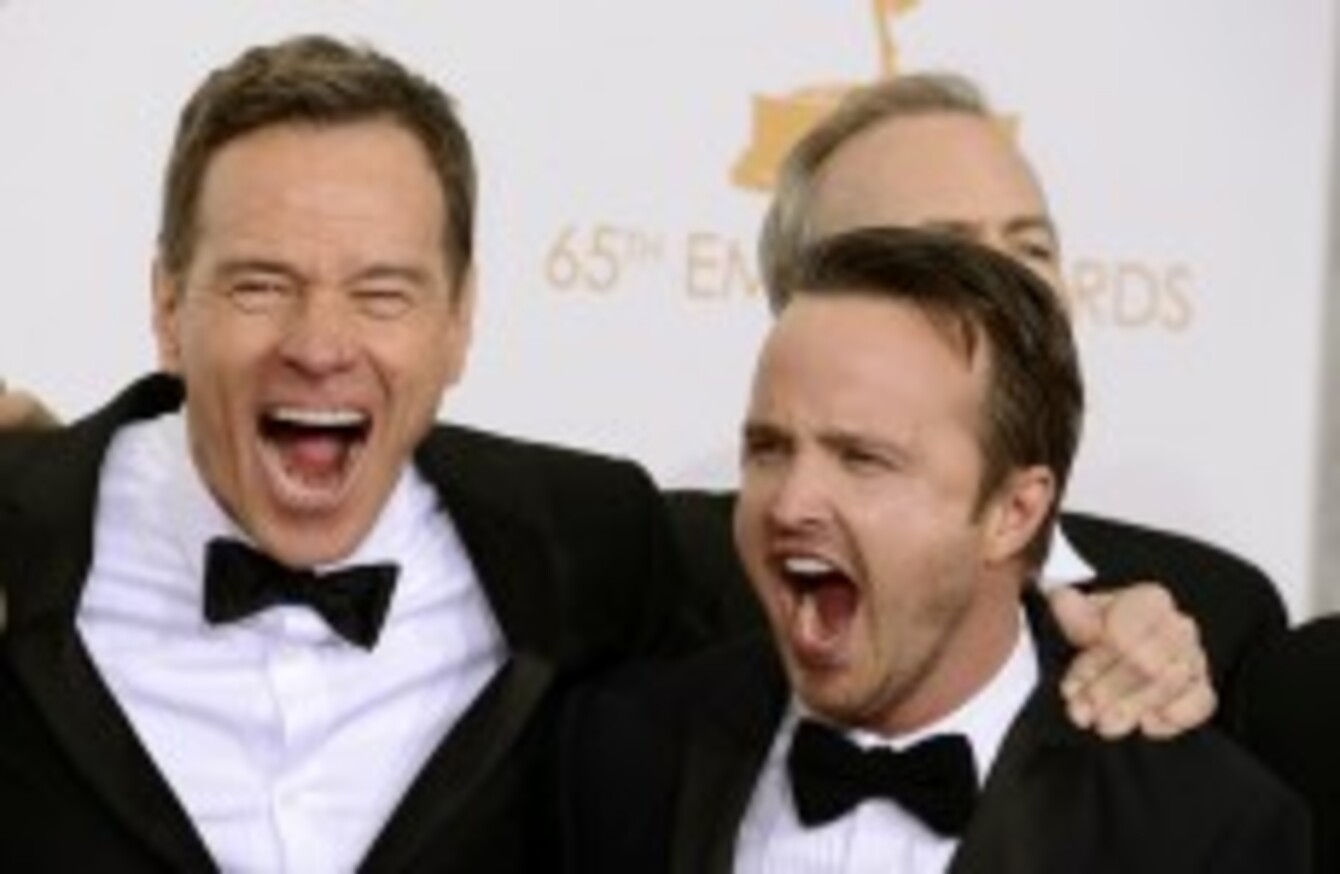 Breaking Bad's Bryan Cranston and Aaron Paul.
Image: AP/Press Association Images
Breaking Bad's Bryan Cranston and Aaron Paul.
Image: AP/Press Association Images
BREAKING BAD LAST night brought home its first Best Drama Emmy award, just as the series prepares to draw to a close.
In taking home the honour, the meth-fuelled show denied the online series House of Cards a history-making turn as the first digital contender for the top Emmy.
Breaking Bad creator Vince Gilligan accepted the award, saying:
I did not see this coming.
Modern Family won its fourth consecutive trophy for top comedy series even though its oft-honoured cast was shut out this time.
Jeff Daniels won the Emmy for best drama series actor for his portrayal of an idealistic TV anchorman in The Newsroom, with Claire Danes capturing top actress honours for her troubled CIA agent in Homeland.
The show also included upsets, among them the best supporting acting comedy awards for Merritt Wever of Nurse Jackie and Tony Hale of Veep.
Host Neil Patrick Harris said what everyone was thinking:
This just in. Nobody in America is winning their Emmy office pool. Surprises galore.
Saturday Night Live became the most-honoured series ever with Don Roy King's directing award; its cumulative 40 Emmys top previous record-holder Frasier.
Julia Louis-Dreyfus claimed her second consecutive best comedy actress award for her role in Veep, with Jim Parsons again claiming the top comedy acting trophy for The Big Bang Theory.
Laura Linney was named best actress in a miniseries or movie for The Big C: Hereafter.
'The Voice won best reality-competition program, and Tina Fey won for writing 30 Rock.
Michael Douglas was honoured as best actor for his portrayal of Liberace in Behind the Candelabra, besting his co-star Matt Damon.
The film also captured a top trophy as best movie or miniseries.
Douglas' acceptance speech was a lesson in double entendres:
This is a two-hander and Matt, you're only as good as your other hand. You want the bottom or the top?
Bobby Cannavale, from Boardwalk Empire, won as best supporting actor in a drama, and Anna Gunn (Sklyer) from Breaking Bad won the best actress award in the same category.
In the variety show category, The Colbert Report broke a 10-year winning streak held by The Daily Show with Jon Stewart. It also won for best writing for a variety show.
The ceremony's first hour was relatively sombre, with memorial tributes and a doleful song by Elton John in honor of the late musical star Liberace, the subject of Behind the Candelabra.
Jane Lynch paid tribute to Cory Monteith, her Glee co-star who died at age 31 in July of a drug and alcohol overdose.
His death is a tragic reminder of the rapacious, senseless destruction that is brought on by addiction.
Edie Falco recalled her late The Sopranos co-star James Gandolfini, saluting him for his "fierce loyalty" to his friends and family and his work with military veterans.