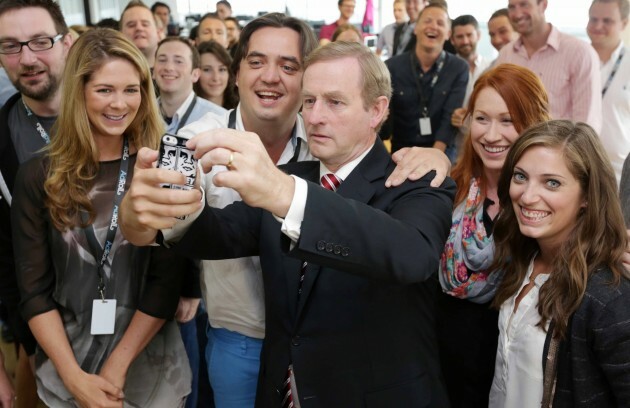 Laura Hutton / Photocall Ireland Whether or not the Taoiseach owns the modern art phone cover has not been confirmed by TheJournal.ie. Laura Hutton / Photocall Ireland / Photocall Ireland
OUR DEAR LEADER was in online advertiser Adroll today to announce 100 new jobs.
There was no sign of his famous Nokia 6310, Enda Kenny was all about the selfies with staff.
In fact, we may even have had the most meta Taoiseach moment ever when Adroll CEO Aaron Bell appeared to take a selfie with Kenny while the man himself was appearing through a an iPad.
Here's a collection for your viewing pleasure.
The selfie Taoiseach

Just relax and think and of the Five Point Plan.Source: Laura Hutton/Photocall Ireland

The selfie Taoiseach

Source: Laura Hutton/Photocall Ireland

The selfie Taoiseach

An Taoiseach had one red-headed staff member in tears of laughter.Source: Jason Clarke Photography

The selfie Taoiseach

"Definitely left the immersion on. Feck." Source: Jason Clarke Photography

The selfie Taoiseach

"It was big I'm telling ye, about this size."Source: Jason Clarke Photography

The selfie Taoiseach

"Actually no, was bigger, massive!"Source: Laura Hutton/Photocall Ireland

The selfie Taoiseach

Two Enda's are better than one.Source: Jason Clarke Photography

The selfie Taoiseach

What's. Going. OnSource: Laura Hutton/Photocall Ireland

The selfie Taoiseach

Because he's worth it. Source: Laura Hutton/Photocall Ireland

The selfie Taoiseach

Getting the leg over.Source: Laura Hutton/Photocall Ireland

The selfie Taoiseach

Relax lads, I'm here. Source: Laura Hutton/Photocall Ireland