EVERY WEEKDAY MORNING, DailyEdge.ie rounds up the best of the day's celebrity dirt from the top to the very bottom.

Source: Matt Sayles
The world might have fallen in love with the Fiji Water Girl at the Golden Globes, but the stunt left Jamie Lee Curtis feeling … Chilled.
The actress took to Instagram on Tuesday night to slam the company for their "blatant promotion" at the awards ceremony. According to the Halloween star, she was dismayed to find out that she was photo-bombed by the newly christened Fiji Water Girl.
Apparently, Curtis came to learn that she was included in a photo with Kelleth Cuthbert after her husband, who "doesn't look at a lot of show business news sites," read an article on CNN about the viral story. This prompted Jamie to inform her Instagram followers that she "specifically moved away from the blatant promotions by Fiji… where young women with their trays filled with their wares stood near a designated camera."
"I knew why there was a photographer poised there and I moved away as I said out loud that I didn't want to be doing advertising for either," she explains.
"Clearly this angle shows that I moved from her being behind me and yet from the side it still happens," she continues. "The sponsors of events need to get permission from people when they get them to take their picture next to products."
Awks. (Instagram/E! News)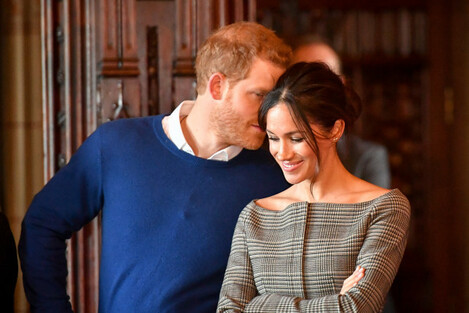 Source: PA Wire/PA Images
Meghan Markle's half brother has invited herself and Harry to his wedding. Sound of him.
Thomas Markle Jr. sent an invite to his little sister for his March nuptials in a last-ditch attempt to resolve the ongoing Markle family feud.
The 52-year-old revealed that he and his fiancée, Darlene Blount, hope that their presence would help to "put all the past behind everybody and move on and be a closer family again."
"Starting out the New Year by bringing our family closer together is definitely on the to-do list — it's very important," Markle Jr. said.
He also reckons his wedding is the perfect time to stage a reunion between herself and her dad, Thomas. It's believed that the father and daughter last spoke before her May wedding to Prince Harry, something which he continues to lament quite publicly. (Daily Mail)
Finally, Love Island's Jack Fincham has been slapped with a booze ban ahead of his backstage presenting gig at the National Television Awards. Dry January, anyone?
The award ceremony on 22 January will see Jack team up with girlfriend Dani Dyer but it's being reported that show bosses have been concerned about Jack's love of the "good times".
A show source said: "Jack has been warned not to party ahead of the NTAs and not to drink on the night."
So strictly will he be monitored that that, "even a sip of champagne or beer is off-limits," as there are people behind-the-scenes who are, "worried he's going to let down everyone working on the event." (The Sun)
And all of today's other dirt…
Beyoncé was spotted shopping at Target this week. (Mirror)
Come on Robbie, let's go party – Margot Robbie's playing Barbie in a live-action movie. (Goss.ie)
Kim K got all the baby girls in the fam-a-lam Louis Vuitton Speedy bags for Christmas – Stormi is obsessed with hers. (People)
DailyEdge is on Instagram!