MUMFORD AND SONS won album of the year at an eventful Grammy Awards in LA last night.
It was an event that even shocked the London folk-rockers. "We figured we weren't going to win anything because The Black Keys have been sweeping up all day, rightfully so," Marcus Mumford said.
Fun took home major awards best new artist, in something of an upset over Frank Ocean, and song of the year for the transcendent anthem We Are Young, featuring Janelle Monae.
Gotye took record of the year for 2012′s top-selling single, the viral hit Somebody That I Used To Know, featuring Kimbra, and finished with three awards.
Jay-Z and Kanye West had three wins — sharing one award with Ocean — along with Skrillex, and a slew of nominees had two wins apiece, including former best new artist winner Esperanza Spalding.
Ocean was shut out in the major categories, but took home two trophies, including best urban contemporary album.
Chris Brown, with whom Ocean scuffled last month, remained seated as the 25-year-old R&B winner walked to the stage during a standing ovation. Ocean beat Brown, who attended with girlfriend Rihanna, in the category.
Ocean also performed his song Forrest Gump, the love song written about a man that first started the buzz that led to his announcement that his first love was a man.
YouTube/Corrector132
Other winners included Rihanna, Beyonce, Mumford & Sons and Taylor Swift, who opened the show as the Mad Hatter. Swift dressed in white top hat, tails, shorts and tall boots during the surreal version of her hit We Are Never Ever Getting Back Togetherthat included a troop of mime clowns and a guy on a tricycle with a flame-thrower attached.
The singer pretended to talk to the offending boyfriend on the phone: "I'm busy opening the Grammys and we're never getting back together."
Justin Timberlake debuted new tracks Suit & Tie with Jay-Z and Pusher Love in a performance that was broadcast in retro black and white.
Adele won the first award of the night on the main telecast, taking home best pop solo performance for "Set Fire to the Rain (Live)," in one of the night's least-surprising moments — though the singer was somewhat taken aback.
"I just wanted to be part of the night, because I loved it last year, obviously," she said of winning a record-tying six awards in 2012.
Many stars showed a fair amount of skin despite CBS's mandate that stars dress appropriately with butts, breasts and other sensitive areas covered adequately.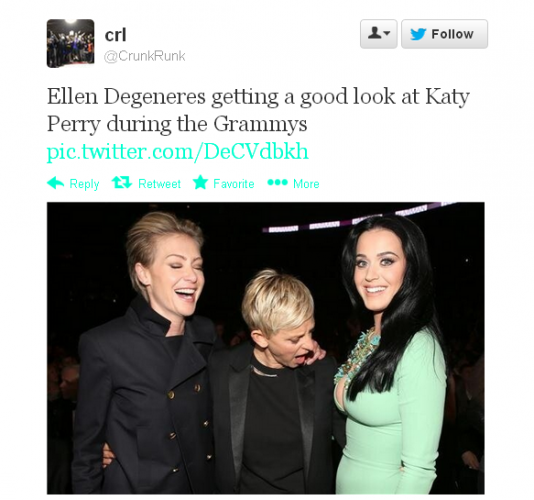 Meanwhile, Jennifer Lopez showed up on stage in a dress slit all the way to her hip.
"As you can see, I read the memo," Lopez joked.
- Additional reporting Michael Freeman