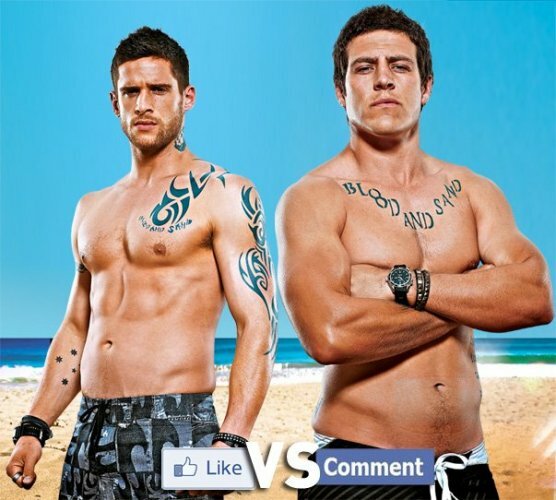 PG AUSTRALIAN SOAP Home and Away has just surpassed the one million fan mark on Facebook.
One million.
To put the feat in perspective, rival show Neighbours has a mere 500,000 Facebook friends. Pfff.
The show, which has been running daily for 24 years, has always been an inexplicable hit with Irish audiences. Yes, it has given us Isla Fisher, Dannii Minogue and Chris Hemsworth but we always thought it was just their slightly-embarrassing first gig. At first glance, here at the Daily Edge we couldn't understand the draw but on reflection, it's actually completely understandable.
Why? Impossibly beautiful cast members aside, here's just nine reasons we could think of:
1. Alf Stewart and his Alfisms
Stone the flamin' crows! You flamin' galah! Strike me roan! Flaming mongrels! Keep your flamin' hair on! Stone the flippin' crows! What the flamin' hell!
We don't know what half of them mean but they all put the fright of God in us. Ray Meagher, we salute you (with bonus Dannii Minogue).
2. There are very few pesky, strict parents to spoil the fun
The River Boys are the latest family to hit television screens sans mother and father but it's not a strange phenomenon. Those of us who grew up watching Pippa and Michael foster countless good-looking teens could be forgiven for believing the land down under was a Neverland of no parents.
Runaways, rebels and orphans fled to the bay in the hopes of finding a compassionate, but slightly imperfect, stand-in for their own parents. Sally and Irene took up the mantle from Pippa, while Leah is now running the half-way house of the tourist town.
3. Weather envy
A bit like pressing a bruise, we just love the golden beaches, blue seas and cloudless skies of the New South Wales coast. But every so often, we can smile smugly when an actress in a bikini shivers as a gust of wind blows by or a massive storm hits and we can sit back in the realisation that Australia is just much more dangerous than Ireland.
4. Summer Bay is an ageless society
There are no age limitations for dating, seeking advice, giving advice, having friendly chats, becoming a parent or drinking.
Just take school-girl Nicole Frankin's relationship history as an example.
Aden Jefferies (her brother-like character who she lived with)
Liam Murphy (her best friend's teacher)
Sid Walker (her friend's father)
Angelo Rosetta (the local policeman)
See, it's a free-for-all. All the time.
5. The theme tune
6. It appreciates its Irish fans
With so many young Irish folk travelling through Australia these days, Facebook feeds are full of pale twenty-something's visiting the set of Home and Away and posing with their favourite characters. The lucky ones even get to star as extras. Amazing!
And the popularity of the show in Ireland isn't lost on the scriptwriters. Daryl Braxton's latest tattoo gives a nod to all the die-hard fans out there who took the time to look up the meaning: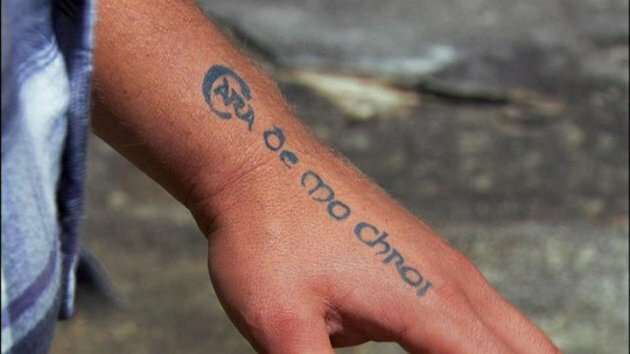 7. Weddings
Weddings in everyday, normal life are meant to be pretty stressful. Hotel venues, pre-marriage courses, fighting families and seating arrangements are all minor headaches in the build-up. But turning up and marrying the person who appears on the invite is usually the straight forward bit, right? Not in Summer Bay.
If a wedding goes off without a hitch, we are somewhat let down or left with that ominous feeling that something dreadful is just around the corner. Compelling stuff.
8. This happened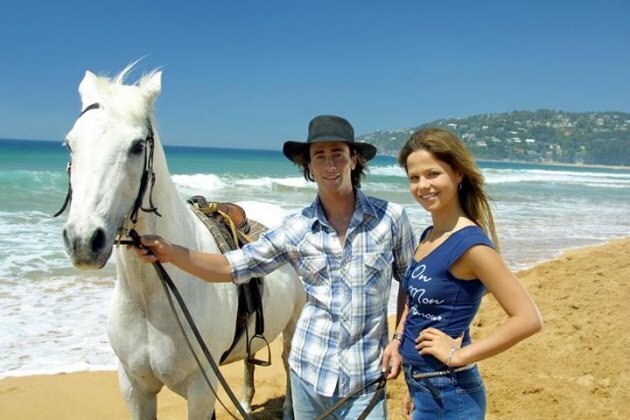 Scott could regularly be seen galloping down the beach on his white horse to meet girlfriend, Dani Sutherland.
9. Heath Ledger
Yes, one of his first jobs was to break poor Sally Fletcher's young heart.
Longer (but grainier) footage of his bad boy canoodling with Sally can be found here.
Have we missed any of the gems that Home and Away has to offer? (Yes, we know we've left out Brax and Heath – we thought the photo was obvious enough)