YOU MAY HAVE spotted this photo of a €20 note on your timeline this past week, and wondered what has become of the star-crossed lovers.
The image of a note with a love letter scribbled on it went viral on Irish social media, with the founder Denise O'Reilly hoping to locate Christy and reunite the two lovers.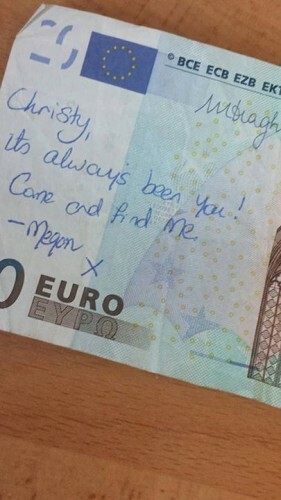 Denise O'Reilly Denise O'Reilly
The note reads
Christy,It's always been you. Come find me.Megan
The note has been shared over 15,800 times on Facebook, with people hoping to locate Christy to let him know about his mysterious admirer.
Eventually, on Monday, somebody tagged a man called Christy in the comments and he said he had 'been in touch' with Megan.
SERENDIPITY.
In a letter to Today FM, Christy said Megan was the name he used to call his ex girlfriend. He misheard her name and called her that for their first week dating, so it stuck.
I'm a musician and while we were going out, I wrote her a song called 'It's always been you.'
He went on to say that she wrote the note she used to pay into his gig about 6 months ago and thought he'd get the cash directly.
So does this mean it's all gonna work out?
Christy says Megan took it that he didn't want to talk, and their situations are quite different now.
Doesn't sound promising, but they've come this far…