HOZIER IS IRISH.
For some reason, some people still don't get this.
Here is Billboard referring to him as an "emotive Englishman".

Billboard Billboard
And here is BBC Newsbeat mistakenly referring to him as a "Brit".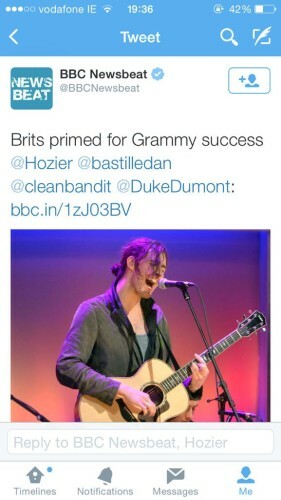 Mark L / Twitter Mark L / Twitter / Twitter
And now, it's happened again.
Yesterday, Huffington Post UK published an article about British artists making it big overseas entitled Brits Blitz: The Surprise Stars Flying the Flag in Music.
The likes of Florence and the Machine, Mumford and Sons, Ed Sheeran and Sam Smith all garnered mentions on the list.
As did Hozier.
Yes, the website lumped the Wicklow man in with "quiet Brits SMASHING it overseas" and people were not one bit happy.
Following the uproar, Huffington Post erased all mentions of Hozier from the article and apologised for including him in the first place.

Huffington Post Huffington Post
Don't let it happen again, guys.