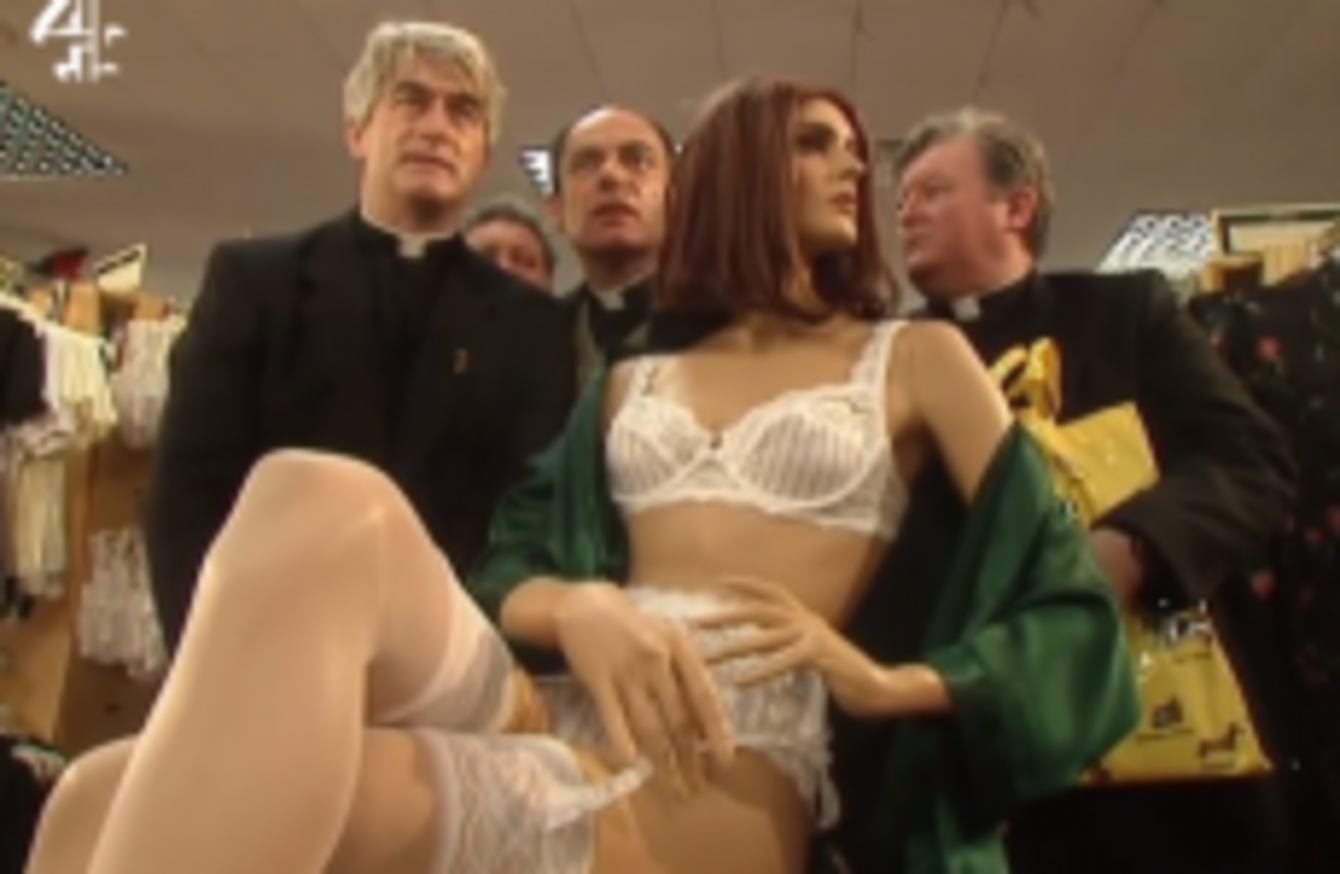 Father Ted hatches a plan
Father Ted hatches a plan
A COUNCILLOR IN Ennis, Co Clare has called for 'Ireland's largest lingerie section' from Father Ted to be officially recognised as a tourist landmark.
The famous segment of the Father Ted Christmas special sees Ted, Dougal and a number of fellow priests become trapped in the lingerie section of an unnamed department store. It was filmed in the Dunnes Stores in the centre of Ennis.
"It is now the fruit and veg section, because they've extended significantly," Green Party councillor Brian Meaney told DailyEdge.ie.
He wants the location to become a landmark to be visited by Father Ted fans, and believes it could help the town's tourist trade in a small way.
Father Ted has a cult following at this stage. There were various locations that were used for the filming of Father Ted, there are 'Ted tours' that visit them… This is something that's unique to Ennis.
Here's the area in question, as it was when the episode was filmed:
Councillor Meaney has written to Dunnes Stores, asking if they could put something up in the store to mark the location. However, he says he is yet to hear back.
The issue was raised at a meeting of Ennis Town Council this month, where it got a mixed response. While some people are supportive, Meaney says some councillors are resistant to the idea of marking a Father Ted reference:
I included in the petition a proposal for a marker for the Stone Outside Dan Murphy's Door [a landmark from the

folk song

of the same name], which is also in Ennis. They said to me they've no problem identifying this.But now we have a more modern up-to-date reference from Father Ted. I think it's important that we recognise the value of this.
Meaney is currently waiting for responses. But he says his international experience – he used to be the Green Party's spokesperson on Europe – has shown him the international popularity of Father Ted.
I gave a presentation in Brussels 18 months ago, and the room was filled with a cosmopolitan mix of nationalities. People from Eastern Europe, from everywhere. Explaining a bit about where I was from, I put up a picture of the Father Ted house with Dermot Morgan.There was an almost immediate chorus of "Father Ted!" from all across the room.
Needless to say, we're backing Cllr Meaney's campaign to the hilt. Here's that classic clip:
Source: Channel 4