FORGET SCHOOL PLAYS and panto – Ireland's new batch of entertainers are getting their start on Facebook.
By simply posting short clips and sketches on the social network, they can manage to get millions of eyes on them, and something of a fan base.
Dano McCormack is one such phenomenon. The 20-year-old from Portlaoise has become a well-known face in many an Irish person's timeline due to his snappy, and often baffling, Facebook clips.
I was just bored out my back garden and I started taping my baby sister on a slide. I thought it was original so uploaded it and people started asking me to make more.
The seven second video which simply shows Dano's sister Tasha sliding down a plastic slide covered in a glass of water, now stands at 15,834 likes and 682 shares, with over 2,000 comments–mostly of people tagging their friends to have a look.
https://www.facebook.com/DanoForEver/videos/vb.1593123827/10201109947102814/?type=3&theater
Click here if you can't see the video.
That was back in July 2013, now Dano has a Facebook following of 116,000 and regularly hits millions of views on his short videos.
He told DailyEdge.ie that he wasn't expecting such a reaction at all.
From the second I uploaded it I thought it would be a once-off thing. I gave it two months then put some thought into making more.
Dano says he was encouraged by his friend Fabu D, who also makes viral Facebook videos, gathering a following of 36,000 likes due to a mixture of vlogs and sketches.
Dano on the other hand, doesn't get too bogged down by the comedic details when it comes to making videos, and says it's all just "stuff that happens" to him.
They're all spur of the moment. I don't plan because of the stress, if it didn't go right I'd keep having to do it and it'd wreck my head. I prefer to do it in one go and keep it if I'm happy with it. It's just all stuff that happens me.
Most of them are simple, like this one entitled 'Walking into a nightclub like', and filmed by Dano himself. It has over four million views and over 57,000 likes.
https://www.facebook.com/DanoForEver/videos/vb.1593123827/10204290551135927/?type=2&theater
Dano McCormack is now a well-known name to most teens on Facebook due to their rapid tendency to share–his video can spread like wildfire if it hits the right nerve. It's a fame he says is translating offline.
I can't go anywhere without being recognised, I can't walk out my front door in Portlaoise, everyone wants a photo. It's expected here as they know me from around, but it happens when I go to Limerick and Cork as well.
His reach has even extended abroad, with Dano claiming a fan from Dubai said if he got a shout out he'd move over and bring all his money.
Did he give him the shout out? "No".
He's seemingly built up as big a fan base as an MTV star, often appearing alongside them on the bill at club nights, where he says he meets the fans and gets the odd few "smart comments".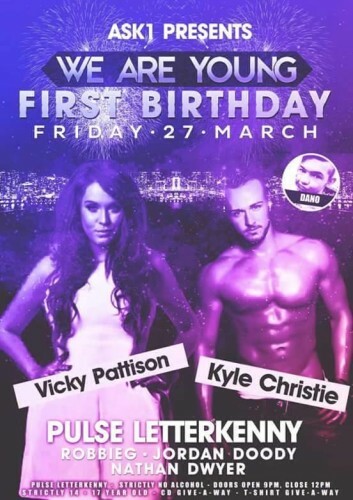 Dano McCormack An appearance in Pulse, Letterkenny, with two Geordie Shore stars. Dano McCormack
Part of the backlash comes from the fact that Dano largely takes the piss out of himself in his clips, or posts photos looking for a reaction.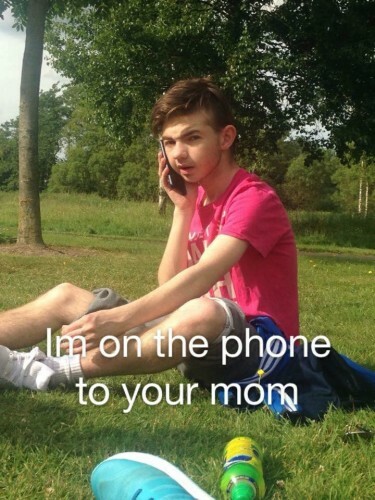 DanoMc DanoMc
Some of the hate he gets is intense, including death threats, rape threats, constant put-downs about his looks–many of which he posts to his page for his fans to comment on.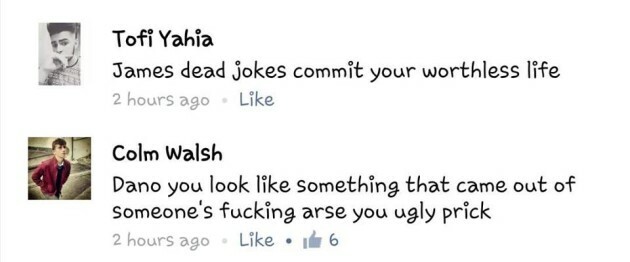 Dano McCormack Dano McCormack
It doesn't bother him too much though.
I consider myself an entertainer, if people are laughing at me or with me, I don't care as long as I put a smile on their face.
So where will this take him? He explains that he'd like to get into advertising like some of the larger YouTubers, or TV presenting–anything that doesn't involve acting, because he "can't act".
My ma and da were like 'where is this gonna get you?', and I'm just like 'sure I dunno'. I just did it to pass the time when everyone else was in school. They're supportive now but are still thinking, 'is this all you're doing?'
On the other hand, there are some teens who use Facebook with an eventual aim, and to showcase something they love–comedy. Perhaps the most popular is Cian Twomey, who currently has over two million likes on his page thanks to his short sketches parodying himself and his girlfriend Emily's conversations.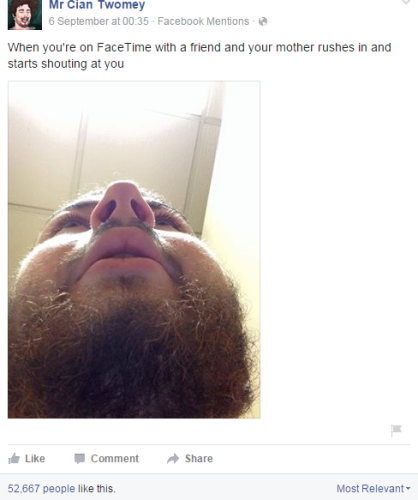 His videos often reach over two million views, with some nabbing up to eight million. He told DailyEdge.ie that he was able to quit his job as a result of his online success and is now fully dedicated to vlogging.
It's an option many young Irish people are taking to get their comedy and acting prowess noticed in an industry that's tough to break. Enya Martin from Neilstown in Dublin, gained a massive following on her Giz A Laugh page.
The 22-year-old has a relatively smaller following than the 'Facebook massif', but at over 50k, it's nothing to be (or not be) laughed at.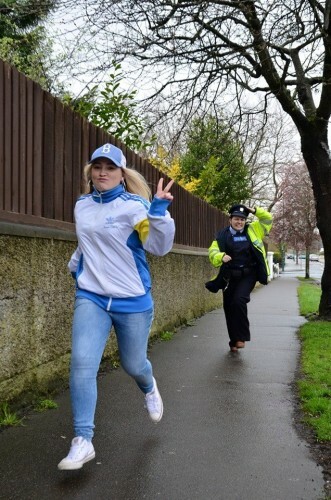 Gizalaugh Gizalaugh
Enya does comedy sketches, that are more planned out and crafted than simply vlogging. Her character Chantel (or Chanto) is a Dublin northside girl, but is also Queen of the Session Mots–a young one that's mad for it, basically.
She started out, like Dano, just messing around, but with perhaps a little more aim and a love of acting. She told DailyEdge.ie that she started off posting videos to her private page, before eventually developing Chanto and her mates.
I love acting, and wanted to do a character instead of going on a rant–that can annoy people.
Her first video featuring Chanto went viral–a character she says she developed from people she hung around with, and 'those annoying people on Facebook'. Being on Facebook, it resonated.
(NSFW language within)
Giz A Laugh / YouTube
The character isn't looking down on this specific type of Dublin female, but is more "a mix of people I hang around with, I grew up with, and people posting on Facebook, like– keep it to yourself". Part of her appeal is that people can recognise the characters as parodies of their own lives.
It's natural around where Chantel lives, I think it represents a good part of Dublin.
One of her most popular characters is her Irish mammy. This sketch about asking an Irish mammy for money has been viewed almost a million times on Facebook, with almost 15,000 likes.
Giz A Laugh / YouTube
She did her first public appearance last month, where she signed autographs and posed for photos at the Legends of the Old Skool gig in the Academy.
People in town come up to me now or when I'm out, saying they love Chanto, even when I'm not dressed as her.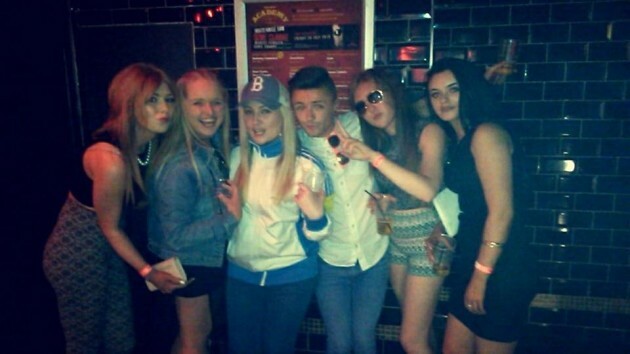 Giz A Laugh, Facebook Giz A Laugh, Facebook
She doesn't get as much hate as the likes of Dano and Cian, but what she does face doesn't bother her.
I want to entertain, a few on Facebook act like idiotsfor the likes, I think they get worse feedback.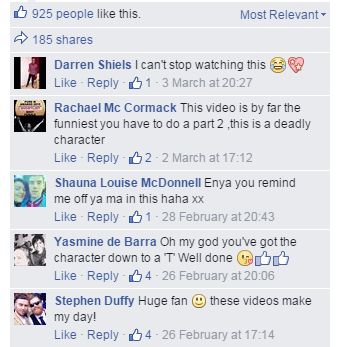 Enya and Dano both claim they make no money off the popularity of their videos, so are slowly making the turn to YouTube videos–that's where the money is. But for now, she's happy to keep it where the audience is.
If [ the sketches] weren't as successful I wouldn't be doing them, comments and shares keep me going.
Her eventual hope is that she could develop a TV comedy show along the lines of Mrs Browns Boys.
The success makes me think it's what I was born to do.
Could the new Billy Barry kids be about to go digital? Perhaps.